Admissions and campus visit procedures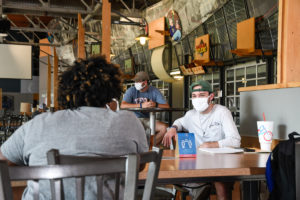 Louisiana Tech's Office of Admissions continues to monitor the progression of COVID-19. The safety of our visitors and campus community remains our top priority. Because of campus guidelines and restrictions, our office is locked. We have developed a process for welcoming visitors to campus as we move through the phases of our Return to Campus plan. Visitors to the Office of Admissions should follow these guidelines:
Remember to maintain physical distance – six feet between you and anyone else.
Remember to wear your mask.
Visitors may enter the building only for the use of a restroom.
We will be taking a digital reading of everyone's temperature.
We ask that all guests sign in upon arrival.
Those who come to the Office of Admissions for a campus visit should text 318.548.5756 and wait outside for an admissions professional.
If you or someone you are traveling with has a temperature of 100.4˚F, we will be unable to conduct a physical tour. However, we are happy to honor your schedule and conduct a Zoom tour with you. We apologize for this inconvenience and will continue to update our community as we learn more.