Guidance for on-campus work
If you work in an open environment, be sure to maintain at least 6 feet of distance from any others. Consider staggering chairs or desks to achieve 6 feet of distance. You should wear a face covering at all times while in a shared workspace or room. You should use your own computer, phone, headset and equipment, and not use colleagues' equipment.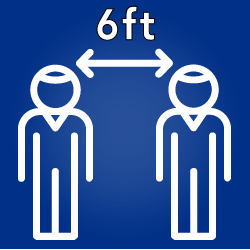 Departments should assess open work environments and meeting rooms to institute measures to physically separate and increase distance between employees and other co-workers such as:
Place visual cues such as floor decals, colored tape or signs to indicate where people should stand while waiting
Place one-way directional signage for large open workspaces with multiple through-ways to increase distance between employees moving through the space
Shared resources (e.g., community pen holders and pens, magazines in main office areas, etc.) should be removed.
If you work in a personal office, no more than one person should be in the office unless the required 6 feet of distance can be consistently maintained. If more than one person is in a room, face coverings should be worn at all times.
Face masks/coverings must be worn by every person in a reception area unless a clear plastic shield is in use. Face coverings must be worn at all times on campus in public settings (e.g., common workspaces, public spaces, hallways, stairwells, elevators, meeting rooms, classrooms, break-rooms, campus outdoor spaces, in restrooms, etc.).
Restrooms
Restrooms usage should ensure physical distancing is achieved. This may require the use of signage to indicate when a restroom is occupied.
Elevators
Elevator usage should ensure physical distancing is achieved. Using stairs whenever possible will assist vertical circulation given that elevator capacities may be challenged. If you are using the elevator, wear your face covering and wash your hands or use hand sanitizer with 60% alcohol upon departing the elevator. Custodial crews will be wiping down elevator buttons more frequently during the day.
Meetings
Convening in groups carries a high risk of viral transmission. Gathering sizes are governed by university restrictions determined at each phase.
Meetings should be held using online collaboration tools (e.g., Zoom). When allowed, in-person meetings are limited to the restrictions of gathering sizes, assuming individuals can still maintain 6 feet of separation for physical distancing requirements. Departments should remove or rearrange chairs and tables (e.g., consider staggering seats) or add visual cue marks in meeting rooms to support physical distancing practices between attendees. During your time on-site, you are encouraged to communicate with your colleagues and supervisors as needed by email, Skype messenger, telephone or other technology. You can also use a range of available collaboration tools (e.g., Zoom).
Gatherings
In Phase 1, gatherings are not allowed.  In Phase 2, gatherings are allowed as long as physical distancing can be maintained, a room can contain less than 50 percent of its capacity, and safety protocols (e.g., face coverings) are followed. Changes to gathering size restrictions will be communicated as we ramp up.
Food
If obtaining food from dining sites on campus, you should wear your face covering when picking up food. If you are eating in your work environment (break room, office, etc.), maintain 6 feet of distance between yourself and others. Individuals should not sit facing one another. Eating alone is encouraged. Observe occupancy limits and avoid crowding of break rooms. Remove your face covering only in order to eat, then put it back on. Wipe down the table and chair you used once you are done. Common break room food and beverage items should not be used (e.g., shared coffee pots, shared water pitchers, etc.). Reusable kitchenware (e.g., forks, plates) should not be used and should be replaced with disposable options.
Parking
Faculty, staff,  and students with parking permits should park in their designated zones.
Building cleaning and disinfection protocols
Enhanced cleaning protocols are in place on campus for high-risk and high-touch areas (e.g., door handles, light switches, handrails, interior doors, door push plates, common spaces, flat surfaces such as tables, elevator buttons). Increased cleaning will be performed in restrooms in common areas. Hand sanitizer dispensers will be placed at entrance and exit points for buildings on campus, as well as near elevators.
If an individual in a building tests positive for COVID-19, the entire building might not be shut down. Whenever possible, the immediate space occupied by the positive person will be deep-cleaned based on CDC protocols and will be re-opened once sanitized.