Campuswide approaches to safety and the practice of physical distancing are important as individuals can be without symptoms and still be COVID-19 positive.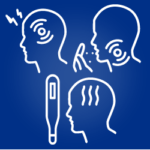 Individuals who have been authorized to return to campus must conduct symptom monitoring every day before coming to campus to work. It is our shared duty as a community to act responsibly as we return to campus. You must be free of ANY symptoms related to COVID-19 to be on campus.
For those who work in a higher-risk environment for infection with COVID-19 (e.g., some research facilities, dining, child care, etc.), your department may require temperature monitoring upon arrival to work and symptom assessment. Your supervisor will advise you on this requirement prior to your return to campus.
In order to ensure compliance with privacy laws, records of temperature screenings or symptom assessments should not be maintained by departments. Departments may note that a staff member was not able to work on a given day(s) because they could not be cleared to work.