COVID-19 Vaccinations
There are a lot of questions related to the COVID-19 vaccines. Here we provide answers to some of the most frequently asked questions in order to provide helpful information. For the most up-to-date information on vaccine distribution in Louisiana visit https://ldh.la.gov/covidvaccine/. As with any vaccine make sure to consult with your physician about any questions or concerns you have prior to receiving the COVID-19 vaccine.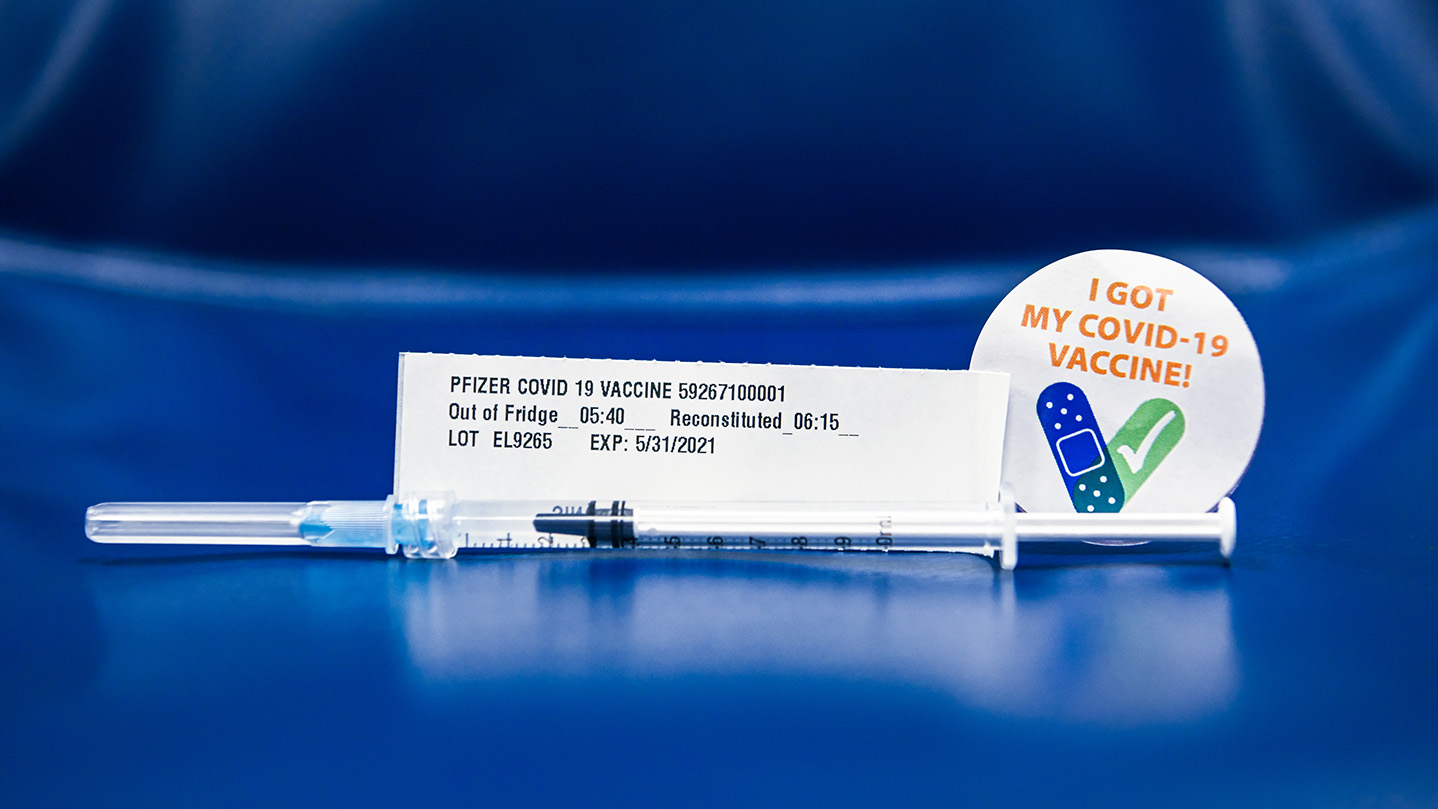 For general information and an overview of the COVID-19 vaccine visit:
Frequently Asked Questions
What are vaccines?
Most vaccines are made by using some form or portion of the pathogen (virus or bacteria) and weakening it so that the body is prompted to initiate an immune response. The person does not actually become sick or infectious when the vaccine is given but may have side effects like fever, swelling, or soreness.  Basics of vaccines, including videos: https://www.cdc.gov/vaccines/vpd/vpd-vac-basics.html
The currently available COVID-19 vaccines were created by using pieces of the viral genome that the body will use to create harmless protein that allows the body to start an immune response to ward off future infection. For more information on how each of the vaccines was made, visit: https://www.nytimes.com/interactive/2021/health/how-covid-19-vaccines-work.html
In all cases, the goal of a vaccine is to prepare the body for potential infection so that the cells of the immune system can respond quickly to infection, thereby preventing illness and transmission.  If the virus is stopped before it has a chance to infect the host, then the individual does not develop symptoms and there is not enough live virus present to infect others.
COVID-19 vaccines: https://www.cdc.gov/coronavirus/2019-ncov/vaccines/different-vaccines/how-they-work.html
How will I know how or when to get my second shot?
When you receive the first shot of the vaccine, your provider will work with you to schedule your follow up appointment for the appropriate time.  It is critical that you receive your second vaccine on the determined date at the same location.  Vaccines are being distributed by location, so in order to ensure they are used properly, you must return to the same location.
Can you receive two shots of different vaccines? Will you have immunity if you only receive one dose of a given vaccine?
You must receive two doses of the same vaccine. This is the only way to ensure increased protection against COVID-19.
Why do I need a vaccine if I have already had COVID?
Recovering from COVID-19 does not always generate a high level of immunity. The vaccines appear to generate higher levels of longer-lasting immunity.
Will vaccines be required to be a student at Louisiana Tech?
LDH approved the COVID-19 vaccine on its list of required vaccinations for college students. What that means for all students is that students are now required to provide proof of:
vaccination according to the appropriate vaccination protocols,
a doctor's letter noting the medical reasons for not taking the vaccine, or
a letter of dissent to receiving the vaccine.
The portal for uploading COVID-19 vaccination verification is now live at latech.medicatconnect.com.
Will I be notified by the University when I am eligible to receive a vaccine?
Check the Louisiana Department of Health website regularly for updates on vaccine distribution.   Dr. Guice may include updates in his emails to the University as phases of distribution change.
Why do I need to wear a mask if I have been vaccinated?
Even after receiving a COVID-19 vaccination, people should continue to wear a mask, stay six feet from others, avoid crowds, and wash their hands. Although the Pfizer and Moderna vaccines are about 95 percent effective at preventing people from developing COVID-19, we are still too early in the process of vaccinating and understanding COVID-19 to know for sure the rate of potential transmission that may still follow vaccination.  The expectation is that as more people are vaccinated, we will slow the transmission of COVID-19, and we will be able to validate the effectiveness of the vaccine to eventually return to more activities that do not require the current safety protocols of mask wearing and social distancing. 
Who should not get vaccinated?
Not everyone will be able to receive a vaccine.  There are some individuals with specific allergies* or underlying health conditions for whom receiving the vaccine may have negative side effects.  The more people around those individuals are vaccinated, the closer we are to creating herd immunity, thereby protecting those individuals from COVID-19 who are not eligible for vaccination. 
*People who are allergic to PEG or polysorbate should not get an mRNA COVID-19 vaccine.
What is herd immunity?
Herd immunity is generated when about 70 percent of the population is vaccinated against and therefore immune to a specific infection.  With that percentage of the population protected, the pathogen has a limited number of hosts and so is no longer able to infect, multiply, and spread to others in the community.
How safe are the current vaccines being administered?
In clinical trials, side effects that happen within seven days of getting vaccinated were common but were mostly mild to moderate. Side effects such as fever, chills, tiredness, and headache throughout the body were more common after the second dose of the vaccine. Most side effects were mild to moderate. However, a small number of people had severe side effects that impacted their ability to do daily activities.  The vaccines were tested in thousands of individuals before being made available to the public and throughout that period mild side effects were reported by most, few infections were reported, and zero deaths were reported.  Both the Moderna and Pfizer vaccine are about 95 percent effective in protecting against COVID-19.
How much is the vaccine with and without insurance?
According to the CDC, vaccine doses purchased with U.S. taxpayer dollars will be given to the American people at no cost. However, vaccination providers can charge an administration fee for giving someone the shot. Vaccination providers can be reimbursed for this by the patient's public or private insurance company or, for uninsured patients, by the Health Resources and Services Administration's Provider Relief Fund. No one can be denied a vaccine if they are unable to pay the vaccine administration fee.
Will the vaccine protect against new variants of SARS-CoV2?
Companies are still investigating how their vaccine works against variants and developing boosters to address variants of SARS-CoV2 as they are being discovered.
How long has the vaccine been in circulation including clinical trials?
Does the COVID-19 vaccine affect fertility?
The vaccine has not been shown to have any effects on fertility or breastfeeding. Initial trials for the currently available vaccines did not seek to include pregnant women, although women did become pregnant during the trial and have shown no negative effects from the vaccine. Pregnant women commonly receive vaccines like the flu shot when pregnant not only to protect themselves but often to be able to pass on antibodies to their newborn children through nursing.  There is no reason to believe that this vaccine will behave any differently from those already administered. As clinical trials are expanded groups like pregnant and nursing women along with younger age groups will be tested.
What is the difference between the three vaccines available?
 
Pfizer/BioNTech
Moderna
Johnson & Johnson/Janssen

 
Clinical Trial Evidence
Clinical Trial Evidence
Vaccine type
mRNA
mRNA
Time between shots
21 days
One dose
Approved for ages
16 years of age and up
18 years of age and up
18 years of age and up
Potential Side Effects (all reported to be mild)

In the arm where you receive the shot:

Throughout the rest of your body:

Chills
Tiredness
Headache

In the arm where you receive the shot:

Throughout the rest of your body:

Chills
Tiredness
Headache

Common side effects within the first three days include:

feeling tired
fever
body aches
headache
soreness from the shot

These are the normal effects the vaccine can have on your body, they typically go away in one to two days.
How is the Johnson & Johnson vaccine different from the Moderna and Pfizer vaccine?
The main difference between the Johnson & Johnson vaccine compared to Moderna and Pfizer is the way the instructions are delivered. Moderna and Pfizer vaccines use mRNA technology and the Johnson & Johnson vaccine uses a disabled virus to deliver these instructions. The modified virus produces an immune response to help fight off infection by SRAS-CoV2 and the onset of COVID-19. The viral vector used in the Johnson & Johnson vaccine will not cause disease. 
What are the benefits of there being only one dose of the vaccine?
The benefits include a simpler method of distribution as it only requires one dose of vaccine to be effective enough to prevent severe illness.
What does it mean when the Johnson and Johnson vaccine was administered for EUA?
All vaccines have been administered under the Emergency Utilization Act. This allows the FDA to enhance public health by facilitating the availability and use of medical countermeasures, like effective vaccines during the COVID-19 pandemic.
Is the Johnson & Johnson vaccine less effective?
Johnson & Johnson announced on Jan. 29 that the vaccine was 66% effective overall in protecting against COVID-19, and 85% effective in preventing severe disease which includes illnesses requiring hospitalization. In the United States, the vaccine provided a 72% level of protection against moderate to severe COVID-19 infection. The vaccine was also found to be fully protective against hospitalization and death and the protection against severe disease included multiple variants of COVID-19, including the B.1.351 variant found in South Africa. For more information on this vaccine visit the CDC.
How long does it take to build immunity for the J&J vaccine?
In general, it takes a few weeks to build immunity following vaccination. In clinical trials, protection started as early as 14 days after the vaccination. For more information on this vaccine visit the CDC.
What vaccine is right for me?
All three vaccines are safe and effective at preventing serious illness and death from COVID-19. We encourage consultation with your physician if you have any questions or concerns.