Personal Counseling
Counseling services are free and confidential for ALL university students!
"A place to talk about anything"
Are you…
• feeling overwhelmed?
• trying to gain control of your life?
• struggling to make the grades?
• feeling blue or depressed?
• dealing with a traumatic experience?
• finding it difficult to handle the past?
• wondering about your future?
• wishing you could stop your life for a moment?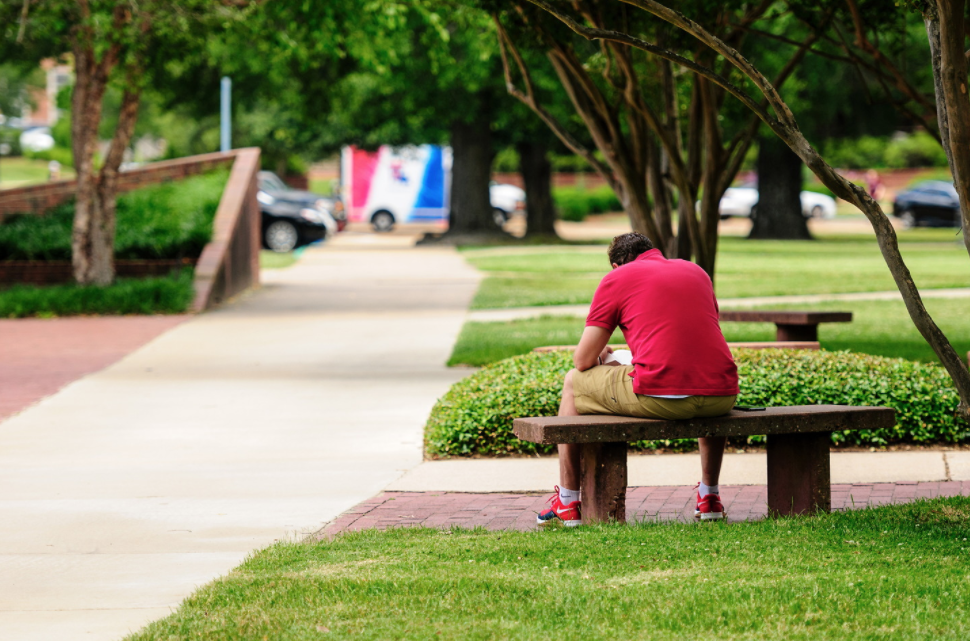 There ARE solutions! There is a way to cope! That is what counseling is all about – finding answers, relief and hope!
Professional counseling, both group and individual, is provided free of charge for all enrolled university students. Your counselor's role will be to 1) assist you in identifying areas of concern that interfere with your educational, emotional, and social well-being and 2) design goals to address those challenges. The amount of sessions are negotiable between you and your counselor. The number of sessions ranges from three to ten depending on the nature of your concerns. A 50 minute time period is set for each session.
To schedule an appointment drop by Counseling Services in: Keeny Hall, Room 310, call us at (318) 257-2488, or email us at counseling@latech.edu
Office Hours
Monday – Friday
8:00 am – 12:00 pm
1:00 pm – 5:00 pm
IN CASE OF AN EMERGENCY AFTER OFFICE HOURS
Call Campus Police
(318) 257-4018
Campus Police will notify a counselor on your behalf
The years you spend in college will be exciting and rewarding, but they can also be fraught with stress, anxiety, and challenges. Counseling Services is a place for you to visit when you feel uncomfortable or overwhelmed with those challenges. You can talk to a professional in a completely confidential setting.
What is Counseling?
Counseling results are more favorable when clients understand what to expect from the process, so we would like to provide some information to assist you in understanding the counseling process. First, it may be helpful to address those areas most misunderstood about counseling.
Counseling is not just for those who suffer from serious psychological problems. Our mission is to assist students in identifying needs with regard to academic achievement, emotional/psychological and physical health, career development, leadership growth, and responsible decision making. We then deliver services to empower the student to meet those needs.
We do assist individuals who are suffering from sever emotional distress, such as depression, eating disorders, substance abuse, and self-injurious behavior. We also work with students who have issues of adjustment and who will benefit from examining a problem and discovering solutions to the problem. Areas to work on may include career indecision, disappointing academic results, loneliness, isolation, or relationship concerns.
Seeking counseling is not a sign of weakness.
On the contrary, it takes courage to explore sensitive feelings and painful experiences.
The counselor will not give you advice or tell you how to fix your problems. Counseling is not a quick fix, and your counselor will not tell you what you should do. Rather, you will have the opportunity to explore your values, thoughts, concerns, feelings, and develop goals and steps leading to those goals, all the while guided by your counselor. The choices are yours; your counselor's role is to allow you the freedom and time to sort out the options.
Counseling is an interactive process in which both client and counselor participate. Counseling can be hard work where the benefit outweighs the risk. To benefit from this process it is necessary to be consistent with appointments and to try as much as possible to deal with the difficulties at hand. In return, the counselor will give you considered options and guidance. This is how trust is built.
Counseling has both benefits and risks. Risks sometimes include experiencing uncomfortable feelings like sadness, guilt, anxiety, anger, frustration, loneliness, and helplessness. Counseling may involve recalling unpleasant aspects of your personal history. In addition, counseling may result in your choosing to make changes in your current relationships. The benefits that can result from engaging in this process include a significant reduction of feelings of distress, improved relationships, resolution of specific problems, increased self-esteem and self-awareness. Although there are no guaranteed outcomes, most students who use our services find that the benefits outweigh the risks.
In one or two sessions, your counselor should be able to offer you some initial impressions of what the work will include and what the process will be. You should use your own judgment to assess your level of comfort working with your counselor. If you have any questions or doubts, you should try to discuss them whenever they arise. If your doubts persist, your counselor will be able to refer you to another counselor at the Counseling Services or in the community.
Confidentiality and Personal Records
The staff of the Counseling and Testing Center respect client confidentiality to the fullest extent allowed by law. Information about the student's participation in counseling will not be released outside of the Counseling Services to anyone without the student's written authorization. There are, however, limits to the confidentiality as required by law. These limits may include the following:
Threat to life or harm to another
Suspected child or elder abuse
Previous abuse by a counselor
Court order
Students who seek counseling often have questions about the confidentiality of Counseling Services and professional records. Maintenance of records is in accordance with professional, legal, and ethical guidelines. Other than authorized Counseling Services staff, no one will have access to those records unless you release them in writing. They will not become part of your academic file, and even the fact that you have come to the Counseling Service will not be divulged to anyone without your permission.
You have the right to have access to your treatment records. Because these records contain information that can be misinterpreted by someone who is not a mental health professional, the policy of Counseling Services is to have your counselor review your records with you. If your counselor is no longer at Counseling Services when you request your records, another counselor will be available to review them with you. We are willing to release your records to another mental health professional with your written permission.
An exception to confidentiality would be a situation in which you are assessed to be a danger to yourself or others, your records were subpoenaed, or in reporting abuse (e.g., of abuse or neglect to a minor) as required by law. In these cases, you would be informed, if possible, and no more information that is necessary would be released.
There may be times when you and your counselor decide that it would be beneficial for your counselor to communicate with a person outside the Counseling Services. In such instances, the counselor will do so only after you have given permission. A Release of Information Form is used for written permission.
As a client of the Counseling Services you have certain assurances:
ADHERENCE TO STANDARDS of the Louisiana Licensed Professional Counselors and the American Psychological Association Codes of Conduct, requiring counselors and psychologists to:

Work only within the limits of their expertise and competence levels
Safeguard information obtained from interviews, testing or consultation
Inform clients of any aspects of the potential client/counselor relationship likely to influence the client's decision to enter or continue counseling (recording the interview, possible value/role conflicts, etc.)
Protect the welfare and dignity of clients they serve at all times

CONFIDENTIALITY: Information obtained in counseling sessions or in written form through testing will not be disclosed to any outside agency without your written permission except when required by law.
RESPECT: The counselor can be expected to respect you as a human being and convey this respect by:

Keeping appointments or contacting you if a change is necessary
Giving you complete attention during sessions and avoiding interruptions during sessions
Providing the most effective counseling possible

PROMPT SERVICE: Counseling begins as soon as a counselor is available after you call or come by to make an appointment.
NEGOTIATION: Frequency, number of sessions, goals, type of counseling (individual or group), and to a certain extent, counseling techniques will be negotiated between you and your counselor.
DURATION OF COUNSELING: Since the Center serves a large on-campus population, most counseling is on a short-term basis. If the needs of the student exceed the resources of the Center, appropriate referrals in the community will be furnished.
COST: Counseling, or testing used for counseling purposes, is free to full-time Louisiana Tech students. A referral will be given for learning disabilities and Attention-Deficit/Hyperactivity Disorder (ADHD) testing.
EVALUATION: During the counseling process, you may periodically discuss your progress and review your goals with your counselor.
QUESTIONS: If you have any questions/suggestions about the approach being used, discuss these concerns with your counselor. If you feel suggestions are inappropriate, you may refuse to accept them.
AUDIO/ VIDEOTAPE SESSIONS: If taping is to occur, your counselor must obtain your written permission prior to your sessions.
Our purpose is to serve you. In order to provide the best possible services, we may exercise certain options in the course of the counseling process such as:
SEEKING CONSULTATION WITH OTHER PROFESSIONALS: Although information will not be released to outside agencies without your written permission, your counselor may confer with other professionals within the Counseling and Testing Center.
TERMINATING OR REFERRAL TO OTHER PROFESSIONALS: When we feel our services are not or will not be appropriate, we may terminate counseling or refer you to a more appropriate agency. We will discuss any changes with you before they take place.
As a client of the Counseling and Testing Center, you have certain responsibilities:
ACTIVE PARTICIPATION: For counseling to be effective, it is necessary for you to take an active role in the process. Participation involves:

Listening
Being honest
Discussing concerns about the process
Completing outside assignments
Providing feedback to your counselor

KEEPING APPOINTMENTS: It is unfair to your counselor and other clients if you arrive late or do not cancel in advance of your appointment date. Please call the front desk (318-257-2488) when you believe that you may be late or need to cancel.
TERMINATION/CONTACTING ANOTHER AGENCY: This decision is part of the counseling process, and it should be discussed with your counselor.
CONSIDER BEING VIDEO/AUDIOTAPED: Sometimes it is helpful if your counselor can review a session(s). No one outside Counseling Services staff will review these videos/tapes. The recordings will be destroyed. Taping will not be done without your written permission.
INFORM YOUR COUNSELOR OF ANY PHYSICAL CONCERNS THAT YOU MAY HAVE AND/OR ANY MEDICATIONS YOU MAY BE TAKING: If you have not had a physical examination within the past year, it is recommended that you do so.
EVALUATING SERVICES THAT YOU RECEIVE: You may be asked to complete a brief interview or questionnaire either during counseling or after you have finished.
Staff
The staff of the Counseling Service consists of experienced counselors. Your counselor consults with supervisors and colleagues to provide you with the highest quality services possible. Data are complied on Counseling Services activities, and from time-to-time Counseling Services staff members make presentations and write articles as part of their work in a college academic and research setting. In theses instances, specific identifying information is absent and case material is disguised.
All supervision is conducted in a confidential manner, with the purpose of being able to provide you with the highest quality of service.
For more information, please visit the "Meet Our Staff" link.
Meetings
Counseling sessions are often scheduled for every other week, and may last 45-50 minutes, though you and your counselor may decide that it is appropriate to meet more of less often. Generally, psychotherapy at Counseling Services is relatively short-term.
In the interests of accommodating a maximum number of clients, initial appointments are made on a first come first served basis, with special consideration for urgent requests. Subsequent appointments will be offered as available, according to the treatment plan arrived at between therapist and client. Depending upon demand, it is possible that there will be waiting periods before clients can be seen in successive sessions. In a limited number of cases, clients will attend sessions at regularly schedules weekly appointments. Weekly appointments are subject to the therapists' available time in conjunction with considerations of clinical necessity.
It is important for you to arrive to your appointments on time, and call preferably 24 hours in advance if you cannot attend a session. If you miss a session without notifying us, we cannot guarantee you the same day/time for subsequent appointments. If you are thinking of ending your counseling, we suggest that you discuss your decision with your counselor before you stop. Your counselor can help identify possible future options.
Because we are a no-fee agency with limited staff resources, we have to place some restrictions on the amount of services that we can offer. Although we do not limit the number of sessions that a student can have, we emphasize a short-term counseling focus. If you require services beyond the scope of what we can provide, we will refer you to other resources within the community. Much of our focus is on helping reach educational goals and working to remove blocks to that process.
Getting Help Between Sessions
The Counseling Center is open during the academic year Monday through Friday, 8:00 AM to 5:00 PM. If you need to speak to a counselor before a scheduled session, you can leave a message during these hours. If it is urgent, please inform the front office staff. If we cannot contact your counselor immediately, another counselor will be available to speak with you.
After hours or weekends, a counselor is on-call to respond to urgent crisis calls. The counselor on-call may be contacted through the University Police. The Dispatcher will contact an on-call counselor who will return your call. Callers utilizing the University Police should note that such calls are routinely logged as part of the University Police Emergency Service, and are thus inherently not private to the same degree as calls placed directly to the Counseling Services.
If you have other questions or concerns, please do not hesitate to talk with your counselor, or any other members of the Counseling Services staff. Welcome to Counseling Services!
How to Set an Appointment
Call (318) 257-2488 during office hours* to schedule an individual, confidential appointment around your class and/or work schedule. You may also come by Keeny Hall Room 310 to schedule an appointment at the Counseling Services front desk. Appointments are available for currently enrolled students only.
Office Hours
Monday – Friday
8:00 am – 12:00 pm
1:00 pm – 5:00 pm