Capital Projects
Academic Facility Upgrades
$10 million total; numerous individual naming opportunities
A 21st Century Campus priority is a $10 million investment in the modernization and renovation of academic facilities throughout the campus. The colleges of Applied and Natural Sciences, Business, Education, Engineering and Science, and Liberal Arts have each designated their priorities for renovation of classrooms, laboratories, and libraries in keeping with 21st Century technology and collaborative-focused learning. College development officers will be pleased to talk with donors about related naming opportunities.
Campus Beautification
$10 million capital investment, plus 10 named endowments of $50,000
To ensure that future generations of Louisiana Tech alumni continue to be charmed by the "pleasant walks and noble trees" of Louisiana Tech's alma mater, campus beautification is a 21st Century Campus priority. Projects include a renovation of the historical campus quadrangle, enhanced campus entrances, and a major initiative to develop "Tech Green," a green, pedestrian-friendly corridor in the center of campus. In addition, we seek 10 donors to create $50,000 endowments that will sustain and enhance special gardens, which can be named for the donors or their designees. Together, these endowments will generate about $20,000 a year, which will support annual landscape expenses and ensure the gardens are beautifully maintained for generations to come.
Engagement Centers
$5 million total; individual naming opportunities
Understanding that Tech programs are strengthened when faculty and students interact across Tech's five colleges, these engagement centers are designed to nurture communication and collaborations. Still being designed, these spaces will be located in multiple campus locations, will have facilities for meetings and work sessions, and will showcase Tech achievements that exemplify innovation, entrepreneurship, and collaboration.
Athletic Academic Center Facility
$5.5 million naming opportunity
At Louisiana Tech, student-athletes are truly both students and athletes. We are very proud that our athletes graduate at the rate of more than 80 percent. Still, it is no easy task for student athletes to juggle team practices, travel, and fitness regimes with the rigorous demands of their Tech classes. To support these student-athletes, a 21st Century Campus priority is a new Athletic Academic Center facility, where all student athletes will be able to attend tutoring and study sessions, as well as special lectures and workshops. The Athletic Academic Center facility will benefit every student in every Louisiana Tech sport and will serve as a powerful recruitment tool for our coaches.
Capital Projects: Tech Pointe II
The $19.5 million Tech Pointe II will expand the hub for industry, government, and community partnerships in the center of campus and drive growth along the I-20 Corridor.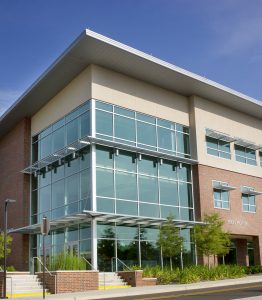 Strong corporate partnerships have helped Louisiana Tech become the epicenter of high-tech growth along the I-20 Corridor in north Louisiana and an engine for the region's economic development. These partnerships in the university's research, innovation, and educational activities:
Enable development and commercialization of leading-edge technologies in health, cyber, defense, energy, and infrastructure.
Provide resources for emerging technology companies and innovators to establish and grow new ventures along the I-20 Innovation Corridor.
Advance the region's competitiveness in the knowledge economy by building a 21st Century workforce and infrastructure.
Enhance educational and career opportunities for our students.
Contribute to revitalizing the economic core of our communities.
Expanding Tech's Enterprise Campus is vital to the continued development of our corporate partnerships. Thus, the $19.5 million Tech Pointe II building is a key priority of the "Forever Loyal" Campaign. Like the fully leased Tech Pointe I, this will be a multi-tenant facility designed to support the stringent demands of 24/7 high-tech companies like these current partners:
Fenway Group, which provides clients worldwide with innovative IT solutions and services. At Fenway's Ruston operation, Tech students and graduates are bringing IT work back from overseas competitors and developing critical software products for some of America's largest companies.
Radiance Technologies, a prime contractor providing services to the Department of Defense and intelligence community.  At Radiance's Ruston operation, Tech students and graduates are developing software and hardware products designed to protect our nation's most critical defense assets.
CenturyLink and CSRA, major global technology companies.
Pierry Software, an international digital marketing company.
Innovation Enterprise Fuels Growth
Along with corporate partnerships, Tech's economic development mission is fueled by an Innovation Enterprise recognized as a national model by the National Science Foundation and U.S. Departments of Commerce and Agriculture. Our Innovation Enterprise team wins national and regional competitions for funding around novel business incubation and acceleration programs, technology development initiatives, and entrepreneurial student learning.
What happens when donors invest in Tech's Innovation Enterprises?
Inventions
In the last five years, Tech faculty and students have filed 85 reports of invention and had 18 licenses and options executed. The Association of University Technology Managers (AUTM) ranks Tech in the Top 20 universities for invention per research dollar.
Patents
Tech is in the Top 10 U.S. universities for number of U.S. patents issued per research dollar. Over the last five years, Tech has applied for 58 patents and had 30 U.S. and 14 foreign patents issued.
Startups
New businesses that grow out of research or innovation ideas can have far-reaching economic benefits. Tech has launched six startup companies in the last five years and ranks among the Top 5 national universities for number of startups formed per research dollar.