Innovation & Research Seed Grants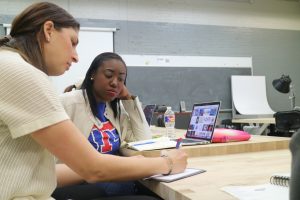 A strong culture of entrepreneurship drives Tech faculty and students to explore innovations in teaching and research and ideas for pioneering new products. Donor support for competitive innovation and research grants empowers students and faculty in their pursuit of entrepreneurial dreams for the betterment of the university, the region, and the nation. Annual presentation events will give grant recipients the opportunity to publicly share the achievements made possible by these grants.
Innovative Teaching and Learning Grants
Gift of $5,000 for a one-time named award / Gift of $125,000 for a named endowment
These competitive grants will enable Tech professors to implement innovative ideas that engage and excite their students in learning and build skill sets needed in the ever-evolving job market. These grants can be used, for example, to buy special equipment or class resources or to bring in visiting instructors. Students and student organizations also will be eligible for these grants, since they often take the initiative in pursuing innovative learning experiences, including participation in national competitions.
Entrepreneurship Grants
Gift of $10,000 for a one-time named award / Gift of $250,000 for a named endowment
New jobs and economic vitality is the goal of Tech's nationally recognized model of technology incubation and acceleration for new product and business ideas. Entrepreneurship Grants will be transformative initial investments in the products, ventures, and entrepreneurs of the future, helping energetically engaged Tech students, faculty, and community partners nurture new ideas from the lab or the dorm room to the marketplace. These competitive grants can be used as entrepreneurship competition prize funds, seed grants for promising new entrepreneurship startups, and funding to develop new product concept prototypes.
Research Seed Grants
Gift of $15,000 for a one-time named award / Gift of $375,000 for a named endowment
At the nation's leading universities, seed funding for promising research gives faculty an important head start in the highly competitive pursuit of national research grants. Donor-funded Research Seed Grants will provide the same advantage for promising Tech research, especially endeavors in our Grand Challenge focus areas. These competitive grants will position our professors to secure major funding from entities like the National Science Foundation and National Institutes of Health. Further, these grants can advance commercialization of their research, maximizing the benefits of Tech's game-changing innovations for our region, the nation, and the world.
Tech's Grand Research Challenges
Cyber Security
Developing solutions for protecting critical military, economic, and personal assets against ever-growing and sophisticated cyber-threats.
Health and Wellness
Addressing global health and wellness challenges for children and adults through innovation in health analytics, biomedical engineering, kinesiology, nursing, and psychology.
Energy
Securing our energy future through research in advanced materials, sensor technology, energy storage, and critical infrastructure.