INSTITUTE FOR MICROMANUFACTURING
Bruker D8 Discover – X-Ray Diffractometer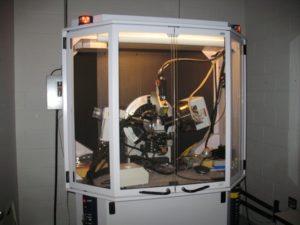 The Bruker D8 X-ray diffractometer (XRD) is a very useful tool for analyzing solid crystalline materials. This system has monochromatic x-ray source with Cu anode for operating in spot focus mode with x-ray collimators of different sizes. This system is also equipped with a Göbel mirror assembly, Hi-Starr 2D area detector, and a motorized 5-axis sample stage designed in a centric quarter cradle configuration. For routine use, one can employ 500 µm or 800 µm size collimators to increase the X-ray counts. In addition, it has a laser video system for precision alignment of samples and heating stage to collect data at elevated temperatures.
Capabilities:
• Fast 2q scans with Hi-STARR area detector

• Phase analysis of materials with ICCD database

• Samples can be heated up to 800oC. Phase transition studies can be performed. 

• X-ray spot size can be varied with different collimators.

• Laser video system for accurate adjustment of sample height.

• Software packages such as Diffrac EVA, TOPAZ, LEPTOS and ICCD 2007 database are available.

Contact Person:  Davis Bailey Email: dbailey@latech.edu Tel: 318-257-5111