Louisiana Tech computer science students prepare for a "Cyber Storm"
Louisiana Tech University's Department of Computer Science and the Center for Secure Cyberspace are providing students with a unique opportunity to experience cyber security first-hand during the 2010 Cyber Storm competition, May 7 in the Louisiana Tech Student Center.
The day-long "hackfest" will pit two teams against each other in a fierce battle to defend networks while simultaneously attempting to infiltrate the opponent's domain.  Throughout the event, various tasks and scenarios will be ordered by an administrative team to further challenge the students.
Admission to the event is free and the public is invited to attend.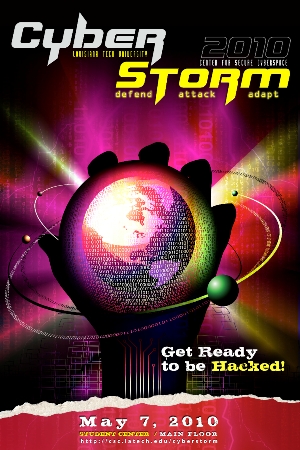 "Today's cyber threats can be very significant," said Dr. Jean Gourd, assistant professor of computer science at Louisiana Tech.  "A sophisticated attacker could attempt to take down our entire infrastructure as happened in Estonia in 2007."
"Cyber attacks don't just involve home or office computers.  They can also hamper our ability to receive quality drinking water, electricity and food."
The Cyber Storm competition coincides with Louisiana Tech's numerous cyber-related academic and research activities.  Tech's 400-level cyber security course is one of the first of its kind, employing an offensive component while using hands-on, applications-based approaches to raise awareness of the security issues encountered in cyberspace.  Students learn how to setup networks, defend them and adapt to cyber threats as they occur.
Computer science students enrolled in the senior capstone course developed all of the hardware and network infrastructure for the Cyber Storm as well as designing and implementing a number of critical components that will provide overall situational awareness during the competition.
Gourd hopes students participating in the Cyber Storm competition will walk away with a heightened awareness of the issues and ethical consequences that exist within cyberspace, particularly in the context of cyber security.
"The most important component in the fight to secure cyberspace resides between the computer monitor and the back of the chair," said Gourd.  "And often, that's also the weakest link."
"If we can get our students to think about security whenever they operate in the cyber domain, they can play a crucial part in assisting cyber security experts as opposed to potentially hindering them."