Louisiana Tech receives $200K USDA grant to assist, support emerging rural businesses
Louisiana Tech University's Technology Business Development Center (TBDC) has received a $200,000 grant from the U.S. Department of Agriculture (USDA) to provide technical assistance and training services to small and emerging private business enterprises in 17 rural Louisiana parishes.
The grant, funded through the USDA's Rural Business Enterprise Grant program, was awarded during a check presentation ceremony on Thursday at Louisiana Tech's campus in Ruston.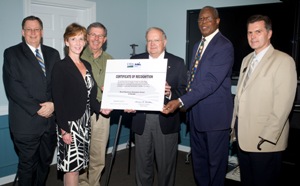 "This grant will provide opportunities for Louisiana Tech to support and serve the small rural business enterprises that are so vital to the long-term economic growth of our region," said Louisiana Tech President Dan Reneau.  "We are grateful to the USDA and their commitment to business development throughout the rural communities of north Louisiana."
The Rural Business Enterprise Grant program helps to finance and facilitate the development of new and existing businesses in rural America. Funds can be used for start-up and working capital loans, building and plant renovations, transportation improvements, project planning and other business needs.
According to the USDA, the 17 rural parishes (Bienville, Caldwell, Claiborne, DeSoto, East Carroll, Franklin, Jackson, Lincoln, Madison, Morehouse, Red River, Richland, Tensas, Union, Webster, West Carroll, and Winn) are located in special emphasis and persistent poverty areas.  60 jobs are expected to be created as a result of this program.
"The TBDC is pleased to expand our business development assistance to enterprising individuals across north Louisiana," said Kathy Wyatt, director of the TBDC.  "We will continue to serve both new and existing companies that are eager to adopt new technologies and integrate innovation into their operations in order to expand and strengthen their business ventures."
"This funding will allow us to assist business innovators throughout the entire north Louisiana region."
USDA Rural Development serves as the lead federal agency for rural development needs by offering financial and technical assistance to individuals, businesses and communities through programs such as funding for day care centers, fire trucks and other community facility projects, and loans and guarantees to rural businesses to save or create jobs.
"Rural Development is committed to investing in our communities by providing resources to create and support job opportunities," said Clarence Hawkins, state director for USDA Rural Development.  "Today, rural residents say there is more potential for economic growth in rural America than any other time in decades." 
"And with a vision shared by the federal government, state and local partners, non-profits, and private enterprise, I know we will build a stronger rural economy for the 21
st
century so that communities across rural Louisiana remain the best places in this state to live, work, raise a family, and create economic opportunities."