Tech, Murphy USA form strategic partnership for educational development
Louisiana Tech University and Murphy Oil USA announced a groundbreaking partnership Tuesday, to provide targeted educational and professional development programs, rooted in Louisiana Tech's strong academic traditions, to Murphy employees globally.
The announcement was made at a press conference on the Louisiana Tech campus by Louisiana Tech President Dan Reneau and an executive delegation from Murphy USA and its parent company, Murphy Oil Corporation.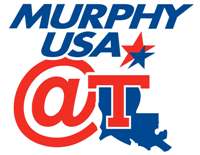 The collaborative venture, called "MurphyUSA@LaTech," will provide the infrastructure for developing various educational programs to meet the needs of Murphy USA, dedicated student and academic support services, and a web portal for accessing information pertaining specifically to MurphyUSA@LaTech students.
"This is a proud day in the long and distinguished history of Louisiana Tech University," said Louisiana Tech President Dan Reneau.  "Murphy USA and Louisiana Tech have created a shared vision for meaningful and successful educational collaboration which will provide unprecedented opportunities for both organizations and their stakeholders."
"In addition to the educational impacts of this partnership, MurphyUSA@LATech has significant economic and workforce development potential for our region."
Through this venture, Louisiana Tech achieves its mission of teaching and research, and is able to positively impact economic development in the region.  It also allows the University to enrich its academic programs through close engagement with a Fortune 125 company headquartered in our region and provides new learning and networking opportunities for our students and graduates.
MurphyUSA@LaTech will afford Murphy USA the opportunity to leverage the academic strengths and reputation of Louisiana Tech to promote continuing education and professional development to their employees as well as the benefits of educational attainment within the company.  The customized programs will further help Murphy USA develop and retain a skilled workforce that can better serve the needs of their stakeholders and support the company in its growth.
"At Murphy USA we always strive to provide our employees with platforms of personal and career development," said Murphy USA President, Hank Heithaus. "Through the collaborative agreement with Louisiana Tech University, we demonstrate a shared commitment to enhance our employees' education while developing career paths promoting educational advancement."
Murphy USA will announce the MurphyUSA@LaTech program to retail employees during the 2011 National Manager Meeting and Expo in Orlando, FL on January 23 – 25.  MurphyUSA@LaTech students will be able to begin the application and enrollment process for the 2011 Spring academic quarter.