Tech student housing earns award for design and construction excellence
Louisiana Tech University's newest student housing community, Park Place, has earned South Central Construction's Best of 2010 Award of Merit in the higher education/research category.
Opened in September 2009, the modern Louisiana Tech residential life facility was chosen for design and construction excellence from over 100 similar projects throughout Alabama, Arkansas, Kentucky, Louisiana, Mississippi and Tennessee.
"Campus development must meet the changing expectations of students," said Dr. James King, vice president for student affairs at Louisiana Tech.  "Traditional dormitory living does not offer the range of choices that our students and parents expect.  Our students that live on campus should have the opportunity to build relationships, connect with each other and their university, and sustain an enduring sense of belonging."
"The high quality design exceeded student expectations, offering five unique floor plans to appeal to the needs of a diverse graduate and undergraduate student population."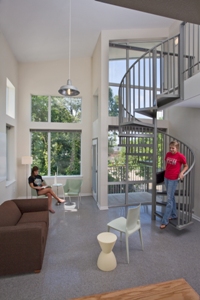 Park Place
provides apartment style living for 348 residents in a housing community consisting of twelve 4-story buildings.  All units have patio or balcony openings facing the street in an effort to maximize activity, visual interest, and visibility for residents, neighbors and campus visitors.
Within the complex itself, the project's architects sought to create a series of intimate courtyards by pushing the buildings to the sidewalk's edge along the street.  A prominent framed portal entry provides access to each courtyard at each of the building groupings. 
In addition to meeting the housing needs of the institution, the project also met the vision and expectations of the City of Ruston with
Park Place
representing the first significant project within the City's newly created Tech Village Overlay District.  This District encourages higher density, pedestrian friendly development within the zone between the Louisiana Tech campus and the historic downtown.
The
Park Place
project was a collaborative effort with Tipton Associates of Baton Rouge and Ashe Broussard Weinzettle Architects of Alexandria comprising the architectural design team, and Lincoln Builders of Ruston serving as the project contractor.