Tech speaker, graduates stress importance of education
Brooke Hoefler's two-week old daughter, Molly, was not present Saturday to see her mother walk across the stage in Thomas Assembly Center for Louisiana Tech's winter graduation ceremonies. But Hoefler said she hopes her daughter will learn from her own example and Molly's father's, Doc Hoefler, also a Tech graduate, and pursue a college education.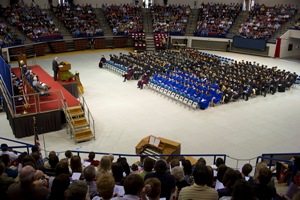 "Doc and I are both in the education field, so I feel we'll push her more to be dedicated to getting her education," said Hoefler, a Ruston resident who received her bachelor's in elementary education. "I'm glad to be done. It feels like a big accomplishment."
Hoefler said her professors were instrumental in assisting her with planning her senior year schedule around the time of her daughter's birth.
"It was hard, but they were very willing to work with me, which was great," she said. "They helped me organize my classes so I wouldn't be so full right before I had the baby. When I found out I could finish in time to have her, I knew I was going to finish no matter what."
Commencement speaker Winfred Sibille, chairman of the Board of Supervisors for the University of Louisiana System, said he hoped that Tech's graduates understood how important education is to society. He urged the graduates to reflect on the contributions of previous and current graduates, faculty and staff and from parents of every Louisiana Tech graduate.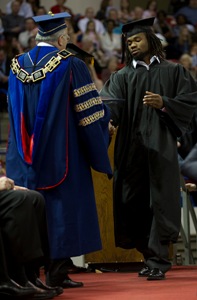 "I will say that for my part that a civilized society expects – no, demands – that each of its succeeding generations contribute to society the advancements, both moral and substantive, that guarantee a reasonable chance for success for succeeding generations," Sibille told the 350 graduates.
Sibille, a World War II veteran, said that our forefathers pledged their lives so that generations today might live, love and prosper.
"The preceding generations of graduates of this university have contributed, by their sacrifices during military action, their monetary contributions during their lifetimes, and their individual contributions in the ways of human knowledge an appreciation of the arts, the sciences and recreational opportunities of Louisiana Tech," he said.
For Debbie Chunn, a health informatics master's graduate from Monroe, continuing her education was not so much of a desire as it was necessary for her job as health information director at Bastrop Rehabilitation Hospital and with her own medical transcription consulting business, Bright Consulting.
"Our area is about to change," Chunn said. "We've done so many things with paper for so long, and now we're going to have to do everything electronic. The coding classification is going to be different, and if I had not gone to classes for that, I wouldn't have been prepared for when that deadline came. My whole job is changing."
Chunn said the master's at Tech was a great opportunity for her to continue her education on her own schedule.
"I found out they had the master's program online, and is thought that would be great now, because it's flexible and I can work at the hospital and do that," she said. "I really liked the format and that you had a deadline every week of what you had to do. It was easier to do with a deadline."
She added that, with her job, she has to continue her education to stay ahead and be on top of coding and other processes. However, she added that she had enjoyed her time at Tech.
"You have to learn it or you get left behind," she said. "I'm probably going to be a lifelong learner."