Louisiana Tech named to President's Higher Education Community Service Honor Roll
Louisiana Tech University has been named to the 2010 President's Higher Education Community Service Honor Roll and been recognized by the Corporation for National and Community Service (CNCS) for its leadership among institutions of higher education in Louisiana in supporting volunteerism, service-learning, and civic engagement.
Louisiana Tech was the only public university in north Louisiana and one of just three public institutions in the state to earn this national distinction.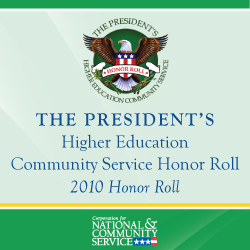 "The positive impacts that our faculty and students are having throughout the region, as a result of these outstanding service-learning projects, are central to the mission of our University," said Louisiana Tech President Dan Reneau. "Their commitment to community service and engagement is matched only by their passion for helping create a better world for the people around them.  I am pleased to see that their efforts are being recognized on a national level."
Six projects from a diverse group of faculty and disciplines comprised Louisiana Tech's 2010 entrants.  They included "The Big Event" (Barry Morales – student affairs), "Trust Builder" (Kevin Singh – architecture), "Design and Build" (Kevin Stevens and Robert Brooks – architecture), "Multimodality Language Learning in Children" (Kerri Phillips – speech), "Tech Women's Soccer: Giving Back to the Community" (Lisa Merrit and Kevin Sherry – athletics), and "Safety Saturdays" (Nancy Darland and Shirley Payne – nursing.)
Honorees are chosen based on a series of selection factors, including the scope and innovation of service projects, the extent to which service-learning is embedded in the curriculum, the school's commitment to long-term campus-community partnerships, and measurable community outcomes as a result of the service.
"This recognition is a reflection of the continued commitment of our faculty, staff, and students to educating Tech students for life," said Dr. Kenneth Rea, vice president for academic affairs at Louisiana Tech.  "The identified projects exemplify how best to involve students from academic disciplines, athletics and service organizations to provide meaningful learning and service to our community and our children. We are proud of this accomplishment."
The President's Higher Education Community Service Honor Roll recognizes institutions of higher education that support exemplary community service programs and raise the visibility of best practices in campus-community partnerships.  A total of 851 institutions applied for the 2010 Honor Roll, representing a nine percent increase over last year.
According to Dr. Rick Simmons, the George K. Anding Endowed Professor of English and director of the Center for Academic and Professional Development at Louisiana Tech, being named to this year's Honor Roll was a significant accomplishment due to some new and more rigorous criteria.
"In the past, any type of community service project was acceptable," said Simmons.  "We just had to pick the six best projects.  This year, however, applicants could submit three general projects, but the other three had to be in the special focus area, which dealt with educational opportunities for children."
CNCS oversees the Honor Roll in collaboration with the U.S. Departments of Education and Housing and Urban Development, Campus Compact, and the American Council on Education.  They serve as a catalyst for service-learning programs nationwide that connect community service with academic curricula.
"As the class of 2011 crosses the stage to pick up their diplomas, more and more will be going into world with a commitment to public service and the knowledge that they can make a difference in their community and their own lives through service to others, thanks to the leadership of these institutions," said Patrick Corvington, CEO of CNCS.
Congratulations to Louisiana Tech University and its students for their dedication to service and commitment to improving their local communities."