Louisiana Tech takes the checkered flag again at Shell Eco-marathon
A team of engineering students from Louisiana Tech University won first place for design and first place for diesel fuel mileage in the Urban Concept class and first place for Team Spirit at the 2012 Shell Eco-marathon Americas, held this past weekend in Houston, Texas.
The team from Louisiana Tech also earned second place for gasoline fuel mileage in the Urban Concept class.
Tech's new Urban Concept vehicle, "Hot Rod," won the diesel fuel competition in Urban Concept with a fuel efficiency mark of 488.7 miles per gallon.  "Hot Rod" also won for best design with its retro hot rod look and red and white paint design featuring flames on each side of the front of the car.  "Roadster," which set an American fuel efficiency record of 646.7 miles per gallon in the Urban Concept class in last year's competition, took second place with 321 miles per gallon.  "Roadster" retained its American record through this year's competition.
"I couldn't be more proud of our team and the way they have represented us," said Dr. Heath Tims, assistant professor of mechanical engineering and one of the team's faculty advisors.  "Even as we competed and worked to correct problems with our cars, we were still assisting other teams, especially the high schools from Louisiana that competed in this year's event."
The two-day competition challenged students to design, build and test fuel-efficient vehicles in an attempt to travel the farthest distance possible using the least amount of energy.  High school and university teams from throughout North America took part in the event.
Benton High School, Airline High School, Haughton High School and North Desoto High School all competed in this year's event and received assistance from Louisiana Tech during the school year.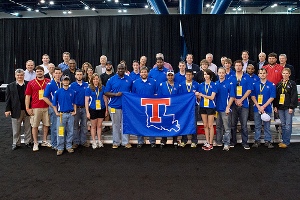 The Louisiana Tech students, who come from many different academic degree programs, participate in the project as volunteers and do not receive any class credit.  They design, build, paint and test the cars on their own time, usually in the evenings, after class and on weekends.  They also assist with fundraising and publicity.
While employing skills they learn in the classroom, these students are also developing leadership and project management skills that will serve them throughout their careers.
Tims said the team will use this year's prize money to develop new and more dynamic vehicle concepts in anticipation of next year's competition.  Team members have already begun looking for ways to improve upon this year's success.
Written by Brandy McKnight – mcknight@latech.edu