Tech adds 326 to its alumni community at fall commencement
Go forth and make a brighter future while remembering who granted you that opportunity was the point of the message presented to graduates as Louisiana Tech University held its 302ndCommencement Exercise at the Thomas Assembly Center.
Tech President Daniel Reneau conferred 329 degrees on 326 graduates — there were three dual major graduates.
"You've all come a long way from you freshman year," Reneau told the new graduates. "Many of the friends and colleagues you've made at Tech are not here with you. You are the ones who never lost sight of your goal. This is a milestone day in your life. You may forget the details, but you'll never forget this day and what it means."
There were 13 doctoral degrees conferred and eight summa cum laude graduates (3.9-4.0 GPA), 13 magna cum laude graduates (3.70-3.89 GPA), 16 cum laude graduates (3.5-3.69) and two Distinction Associate Degree graduates (3.7-4.0 GPA).
As Reneau introduced keynote speaker Phyllis Taylor, he spoke of the crucial role she and her late husband Pat have played in the lives of college students in the state of Louisiana. The Taylor Opportunity Program for Students (TOPS) is a program of state scholarships for Louisiana residents who attend either one of the Louisiana Public Colleges and Universities, schools that are a part of the Louisiana Community and Technical College System, Louisiana approved Proprietary and Cosmetology Schools or institutions that are a part of the Louisiana Association of Independent Colleges and Universities.
In 2008 the Louisiana legislature recognized Pat Taylor's contribution to the implementation of the program by changing the "T" in TOPS, an acronym, from "Tuition" to "Taylor." Pat Taylor, who died in 2006, spearheaded the program, which made all academically qualified students eligible for state-paid college tuition. Twenty-one other states have adopted versions of the "Taylor Plan."
"Some 88 percent of our entering freshmen are on TOPS scholarships," Reneau told Phyllis Taylor. "We owe you a great debt of gratitude. I don't know of anyone who has provided so much to so many. Thank you very much."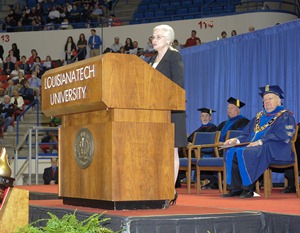 Taylor reminded those in attendance that she and her husband had help as TOPS advocates.
"It's your taxpayer dollars," she said. "If you approve, let your congressman know. TOPS scholarships are needed now more than ever. By providing a college education for those who are prepared, the state benefits as a whole."
Taylor urged the graduates to remember their history and use it to build a brighter future in tough times. To stress the point she presented each graduate with a Congressional Medal of Honor Commemorative $1 Silver Coins.
"These coins are legal tender and not in circulation and feature images symbolizing the values embodied in the Medal of Honor — a reminder of having the courage to do the right thing and to think of others before oneself," Taylor said.
"We are at loggerheads with where we should go (as a country). We can only look back at history to find common ground. It's the perfect time remembering the War of 182 and looking back at how we gained our freedom is important toward building our future."
She also urged the graduates not to take their opportunities for granted.
"Rights are earned … they aren't a gift from the government," Taylor said. "This is a time for you to celebrate. But it's also a time to think seriously about the future and express thanks to your family, friends and faculty who helped you overcome the obstacles you've faced."
The graduates also received medallions that were originally presented to them during freshman convocation. The freshman toss the medallions into the Lady of the Mist fountain at the heart of the Tech campus, and are later presented with the medallions to keep upon graduation.
"You medallions have been enhanced with your graduation year and they now serve as a token of your lifetime commitment to Tech," Reneau said.
Written by T. Scott Boatright – boat@latech.edu