Tech earns national recognition for leadership in volunteerism, service to community
The Corporation for National and Community Service (CNCS) has named Louisiana Tech University to its 2013 President's Higher Education Community Service Honor Roll for leadership among institutions of higher education in Louisiana in supporting volunteerism, service-learning, and community involvement.
Louisiana Tech is the only public university in north Louisiana and only institution in the University of Louisiana System to have made the Honor Roll every year since 2008.
"Our faculty, staff, and students continue to demonstrate amazing leadership and compassion for our community," said Louisiana Tech University President Dan Reneau.  "Service learning and community enrichment are cornerstones of Louisiana Tech's mission.  The work our campus community does throughout north Louisiana is important and I'm happy to see these efforts recognized on a national level.
"I want to congratulate and commend our faculty, staff, and students for making positive impacts and creating a better region for all of us."
This past year, 149 faculty and staff members and 4,594 students logged a total of 44,705 hours of service – all record numbers for Louisiana Tech.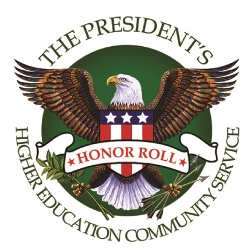 The Honor Roll recognizes higher education institutions that reflect the values of exemplary community service and achieve meaningful outcomes in their communities.  It is recognition from the highest levels of the federal government for commitment to service and civic engagement on a university's campus and throughout the nation.
Six faculty projects from a variety of disciplines comprised Louisiana Tech's 2013 entrants.  They included "Aviation Mock Disaster" (nursing – Carol Owens, Shirley Payne, Patti McFadden); "The Engineering Community Service/Service Learning Program" (engineering – David Hall and Heath Tims); "Engaging the Aging" (human ecology/family child studies –  Julie Rutledge); "My Vision, My Voice" (art/photography – Jes Schrom); "Ruston Junior High Connections Leadership Program" (kinesiology – Tammy Schilling, Lanie Dornier; Scott Levin – English); "Pediatric Partnerships" (nursing – Donna Hood.)
"This recognition confirms the values and principles that we have articulated in the Tenets of Tech and that have become the hallmark of the Tech Family," said Dr. Terry McConathy, vice president for academic affairs and dean of the Graduate School at Louisiana Tech.  "Service to others is an essential component of educating our students and building the future."
Honor Roll institutions are chosen based on a series of selection factors, including the scope and innovation of service projects, the extent to which service-learning is embedded in the curriculum, the school's commitment to long-term campus-community partnerships, and measurable community outcomes as a result of the service.
Dr. Rick Simmons, the George K. Anding Endowed Professor of English and director of the Center for Academic and Professional Development at Louisiana Tech, says being named to the Honor Roll for six straight years is a significant accomplishment, especially given that today's faculty in higher education are being forced do more with less.
"It's amazing to me how hundreds of faculty members found the time and energy to direct thousands of students in so many exceptional community service and service learning projects," said Simmons.  "Our faculty and students are incredibly dedicated to giving back to the community, and the results prove that.  It's due to them that year after year, Louisiana Tech is recognized as one of the most exceptional service-oriented universities in the nation."
CNCS oversees the Honor Roll in collaboration with the U.S. Departments of Education and Housing and Urban Development, Campus Compact, and the American Council on Education.  They serve as a catalyst for service-learning programs nationwide that connect community service with academic curricula.
"We congratulate the awardees and their students for their dedication to service," said Wendy Spencer, CEO of CNCS.  "These institutions have inspired students and faculty alike to roll up their sleeves and work alongside members of the community to solve problems and improve their neighbors' lives."