Tech to offer high school students unique academic, collegiate experiences
Louisiana Tech University is once again providing high school students from Louisiana GEAR UP schools with a unique opportunity to experience life as a college student this summer as part of LA GEAR UP's Summer Transitions Programs (STP.)
"Soaring Through the Skies with STEM" and "Sports STARS: Striving Together to Achieve Readiness and Success' are two Louisiana Tech STPs that have been awarded funding through the Louisiana Office of Student Financial Aid (LOFSA) and LA GEAR UP.  LA GEAR UP (Louisiana Gaining Early Awareness and Readiness for Undergraduate Programs) is a federally-funded national initiative supported by the U.S. Department of Education which gives grants to states or institutions of higher learning to create partnerships with high-poverty middle or high schools.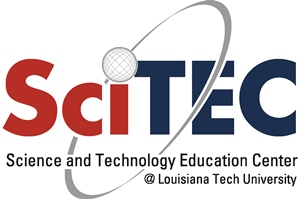 The aviation STP was initiated by Louisiana Tech's SciTEC (Science and Technology Education Center) – an active outreach program housed in the College of Education which serves as an umbrella for Louisiana Tech educational initiatives such as the IDEA Place and the NASA Educator Resource Center.  The Sports STARS program was led by Dr. Tammy Shilling, associate professor of kinesiology in Louisiana Tech's College of Education.  SciTEC led the effort to obtain the funding needed for many of the STPs at Louisiana Tech.
"Students taking part in the Summer Transition Programs at Louisiana Tech will experience life as a student on our campus and will visit many of the academic and recreational facilities that our campus has to offer," said Lindsey Keith-Vincent, interim director of SciTEC.  "Students will also meet and work with many of the faculty and staff members on campus, and will understand how fun and exciting life as a student at Louisiana Tech can be!"
"Soaring Through the Skies with STEM" is a program developed by Louisiana Tech's Department of Professional Aviation and is unlike any other LA GEAR UP-funded program.  Students are exposed to various academic areas of professional aviation and some of the same simulator flight sessions that incoming freshman aviation students would experience during their first quarter at Louisiana Tech.  They also engage in simulation training at Davison Hall on the Louisiana Tech campus, and Ruston Regional Airport.
"The main objective of this year's aviation experience is to equip the students with valuable information about their options after high school," said Jordan Lyons, assistant professor of professional aviation and aviation STP coordinator for Louisiana Tech.  "Students will be able to make more informed decisions about the many career opportunities available while being exposed to an academic focus of their choosing."
In addition to the academic and flight simulator experiences, students will visit Barksdale Air Force Base to tour the base facilities gaining access to historic buildings and artifacts, learning about American military heroes, and touring the 8th Air Force Museum.
"SciTEC is grateful for the opportunity to serve Louisiana students and collaborate with Gary Odom and Jordan Lyons in the professional aviation department at Louisiana Tech, and Terry Snook, president of the 8th Air Force Museum at Barksdale," said Keith-Vincent.
Another Louisiana Tech STP to receive funding from LA GEAR UP is "Sports STARS: Striving Together to Achieve Readiness and Success" – a program developed by Tech's Department of Kinesiology and designed to align with courses and careers in kinesiology. This STP promotes knowledge, skills, and experiences in four main areas: emergency skills and procedures, health and fitness assessment and intervention, prevention, recognition, and treatment of injury, and strength and conditioning assessment and training.
"The academic content of this STP is also aligned with state and national standards and is taught by faculty members in the Department of Kinesiology," said Dr. Tammy Schilling, associate professor of kinesiology and director of the Sports STARS STP.  "Afternoon sessions of the program will include hands-on experiences in leadership, college preparation, and career exploration.  These sessions incorporate experiences with ACT assessments and study plans, the ACT ENGAGE Tool Shop, and Louisiana Connect tools.
"It will be a challenging and fun environment in which participants experience the responsibilities and privileges of being a college student."
Among the expected outcomes, "Sports STARS: Striving Together to Achieve Readiness and Success" seeks to increase proficiency in standards-based mathematics, science, and English/Language Arts skills, increase competency in basic skills used in the careers of emergency medical technician, personal trainer, athletic trainer, and strength and conditioning coach, and increase proficiency in applying content-based skills and knowledge to real-world problems and associated career settings.
Keith-Vincent says the LA GEAR UP programs benefit not just the students that attend, but also Louisiana Tech.
"The STPs serve as a recruiting mechanism for future students from across the state of Louisiana and also allow our current students to work as program counselors gaining valuable, hands-on experience in teaching and mentoring of high school students," Keith-Vincent said.  "They also provide faculty and graduate students opportunities for teaching within our academic explorations, which allows them to spread their passion about their field of study and to hone their teaching skills."