Campus leaders to speak to new students 'Navigating the First Year'
800×600
Normal
0
false
false
false
EN-US
X-NONE
X-NONE
MicrosoftInternetExplorer4
/* Style Definitions */
table.MsoNormalTable
{mso-style-name:"Table Normal";
mso-tstyle-rowband-size:0;
mso-tstyle-colband-size:0;
mso-style-noshow:yes;
mso-style-priority:99;
mso-style-parent:"";
mso-padding-alt:0in 5.4pt 0in 5.4pt;
mso-para-margin:0in;
mso-para-margin-bottom:.0001pt;
mso-pagination:widow-orphan;
font-size:10.0pt;
font-family:"Times New Roman","serif";}
Louisiana Tech University President Dr. Les Guice, Athletics Director Tommy McClelland and Assistant Professor of Nutrition and Dietetics Dr. Pei Liu will share their first-year experiences with new Louisiana Tech students, October 8, as part of the "This I Believe" speaker series.
"Navigating the First Year" is the first of the three-part series based on "This I Believe II" – a collection of inspiring and thought-provoking essays written by famous and ordinary authors.  The book serves as the 2013 Common Read selection for students enrolled in the First-Year Experience program's University Seminar course.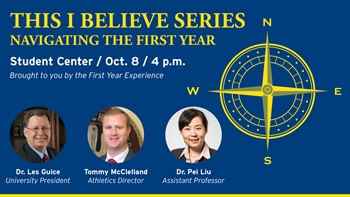 The seminar will begin at 4:00 p.m. in the Louisiana Tech Student Center, and is free and open to all students, faculty and staff.  Members of the community are also cordially invited to attend.
"We are so excited to have Dr. Guice, Mr. McClelland and Dr. Liu share some of their thoughts on beginning a new journey in life, not unlike our first-year students," said Stacy Gilbert, director of co-curricular programs and testing and disability services at Louisiana Tech.  "Transitions are not always easy and I think hearing three successful individuals share that message will help our students with their adjustment to college-life."
Guice, McClelland and Liu will speak in ten-minute segments on their insights and experiences during their first year of their positions at Louisiana Tech.  Guice became Louisiana Tech's 14th president on July 1, McClelland joined Tech as athletics director on August 1, and Liu became a member of the School of Human Ecology faculty in September 2012.
"The over-arching theme, 'This I Believe,' supports the first-year experience common read," said Dr. Linda Griffin, dean of student development at Louisiana Tech.  "Additionally we hope  the speakers' perspectives on navigating the first year will be instructive to those students also involved in a new life experience, their first year of college. The bonus is having three illustrious and diverse professionals to convey the thoughts surrounding this experience."
Louisiana Tech's First-Year Experience program is designed to provide the first-year student the resources and support needed to successfully transition to college. Louisiana Tech has a long history of providing services to first-year students with support and guidance coordinated and implemented under the First-Year Experience umbrella.
For more information about the "Navigating the First Year" seminar, the "This I Believe" speaker series, or the First-Year Experience program, contact Gilbert at (318) 257-4730 or stacyc@latech.edu.