Nursing faculty represent Louisiana Tech at annual conference
800×600
Normal
0
false
false
false
EN-US
X-NONE
X-NONE
MicrosoftInternetExplorer4
/* Style Definitions */
table.MsoNormalTable
{mso-style-name:"Table Normal";
mso-tstyle-rowband-size:0;
mso-tstyle-colband-size:0;
mso-style-noshow:yes;
mso-style-priority:99;
mso-style-parent:"";
mso-padding-alt:0in 5.4pt 0in 5.4pt;
mso-para-margin:0in;
mso-para-margin-bottom:.0001pt;
mso-pagination:widow-orphan;
font-size:10.0pt;
font-family:"Times New Roman","serif";}
Three faculty members represented Louisiana Tech University's Nursing Department on Oct. 21-24 at the International Association of Forensic Nurses' annual conference in Anaheim, Calif.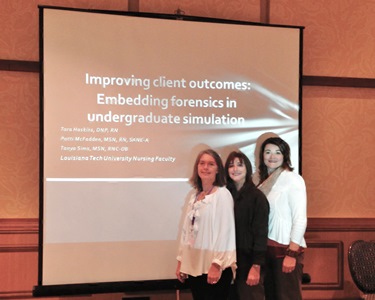 "Improving Client Outcomes: Embedding Forensics in Undergraduate Simulation" was presented by Division of Nursing Assistant Professor Dr. Tara Haskins, Assistant Professor Patti McFadden and Associate Professor Tanya Sims.
The presentation, which focused on sexual assault, domestic violence and elder abuse recognition, resulted from a collaboration team effort of Division faculty to integrate forensic nursing principles and Quality Education and Safety for Nurses (QSEN) core competencies into the nursing curriculum through simulation.  Michael Williams, an assistant professor from Louisiana Tech's School of Architecture, provided film vignettes of the simulation to enhance the presentation.
Forensic nurses provide specialized care for patients who are victims of trauma. This emerging nursing specialty has specialized knowledge of the legal system and expertise in forensic science.
The International Association of Forensic Nurses has more than 3,000 members from 22 countries, with more than 700 in attendance at the conference.
Written by T. Scott Boatright – boat@latech.edu