Professional aviation program receives positive program, accreditation review
800×600
Normal
0
false
false
false
EN-US
X-NONE
X-NONE
MicrosoftInternetExplorer4
/* Style Definitions */
table.MsoNormalTable
{mso-style-name:"Table Normal";
mso-tstyle-rowband-size:0;
mso-tstyle-colband-size:0;
mso-style-noshow:yes;
mso-style-priority:99;
mso-style-parent:"";
mso-padding-alt:0in 5.4pt 0in 5.4pt;
mso-para-margin:0in;
mso-para-margin-bottom:.0001pt;
mso-pagination:widow-orphan;
font-size:10.0pt;
font-family:"Times New Roman","serif";}
Louisiana Tech University's Aviation Department recently received its Final Visiting Team Report submitted following the Aviation Accreditation Board International (AABI) Review Committee's visit this fall to study the school's aviation program, and came away from the review with positive findings.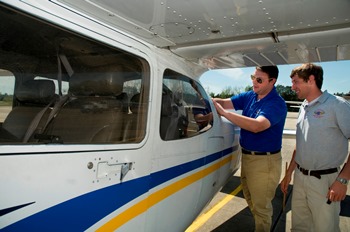 In addition to the favorable assessment, the Federal Aviation Administration (FAA) has granted authority to Louisiana Tech to certify graduates of its authorized aviation degree program(s) to be eligible for an Airline Transport Pilot certificate with reduced aeronautical experience.
"The recent authority granted by the FAA will allow our graduates from the Professional Aviation degree program to be hired by a United States regional airline with as little as 1,000 flight hours as opposed to 1,500 flight hours (for the general public)," said Louisiana Tech Aviation Department Head Gary Odom.  "The 500-hour difference will help our graduates obtain airline employment sooner than others.  With the forecast for a shortage of airline pilots over the next 15-20 years, our graduates will be able to have a more favorable seniority number, which ultimately means higher salary, better domicile options, and superior flight schedules in the future."
Louisiana Tech's aviation programs evaluated by the four-member AABI accreditation review team were undergraduate programs in aviation management and professional aviation.  Throughout the visit, nearly 60 students were interviewed both through classroom visits and a pre-arranged meeting of student leaders.
The report said that overall the students are extremely proud of their institution and had many positive comments about the faculty, safety culture and connections with alumni.  AABI's report said that a visited institution "must address recommendations, suggestions are considered informational and may be addressed, if the institution so elects."
While the report listed a number of suggestions for Tech's aviation program, no formal recommendations were listed.
"Our faculty, staff, and students are extremely pleased with the results of this five-year reaffirmation process through AABI," said Odom.  "Tech continues to be a leader in collegiate aviation covering both flight and aviation management. Our faculty and staff work tirelessly to make sure our students receive a first-class education so they will excel in the real world after graduation."
Tech has been given the opportunity to respond to the suggestions or submit additional information no later than Dec. 4.  The response, along with the Final Visiting Team Report, will be forward to AABI's Accreditation Committee for review and final recommendation on accreditation/reaffirmation action at the next meeting of the committee.
The Board of Trustees of the AABI will consider the recommendations from the Accreditation Committee during its February 2014 meeting.
Written by T. Scott Boatright – boat@latech.edu