Innovation, entrepreneurship collide at Louisiana Tech's "Thingery"
800×600
Normal
0
false
false
false
EN-US
X-NONE
X-NONE
MicrosoftInternetExplorer4
/* Style Definitions */
table.MsoNormalTable
{mso-style-name:"Table Normal";
mso-tstyle-rowband-size:0;
mso-tstyle-colband-size:0;
mso-style-noshow:yes;
mso-style-priority:99;
mso-style-parent:"";
mso-padding-alt:0in 5.4pt 0in 5.4pt;
mso-para-margin:0in;
mso-para-margin-bottom:.0001pt;
mso-pagination:widow-orphan;
font-size:10.0pt;
font-family:"Times New Roman","serif";}
America has been called the "Great Melting Pot" with a wide variety of people and experiences coming together to form new opportunities from which all can benefit.  Louisiana Tech University's "Thingery" is embracing this same notion, bringing innovation and entrepreneurship together for the benefit of communities and economies throughout all of north Louisiana.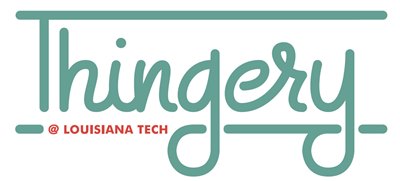 "The Thingery is the result of an informal interdisciplinary working group involving faculty and staff from engineering and science, business, art and architecture who are exploring avenues for collaboration around common design and development activities," said Dr. Dave Norris, executive director of enterprise and economic development at Louisiana Tech.  "This group has initiated several smaller collaborations focused on innovative product design and new venture planning. The Thingery is the latest collaborative effort of this group to support a broader emphasis on industrial design, entrepreneurship and innovation."
Designed as a community resource, the Thingery exists to give innovators access to the technical and intellectual resources needed to fully explore their ideas.  This exploration may include design work, prototyping, packaging, manufacturing, and distribution for their new concepts.  These innovators are makers and entrepreneurs, and they bring their knowledge and skills together to provide resources to imagine and create new products and new business ventures in the region.
Norris says the driving force behind the Thingery is ultimately whatever comes out of the minds of the students, faculty, and community partners for whom it was built.
"This is for all members of the Louisiana Tech family, and it is their creativity that is determining what happens with the resources in the space," Norris explains.  "They are making jewelry, gifts, and Christmas ornaments to give to underprivileged children at families during the holidays.  They are building robots that will fight against each other in a sumo wrestling competition.  They are designing bio-medical devices to deliver drugs more effectively.  They are building wireless electronic devices for home entertainment, and they are learning the fundamental skills required to use the creative technical resources of the space is ways not yet imagined."
The Thingery is managed by Louisiana Tech's Center for Entrepreneurship and Information Technology (CEnIT.)  Norris and Program Coordinator Bilal Dia say there is no charge for students and faculty to use the Thingery, and community members can gain access to its resources through partnering with Louisiana Tech.  Those resources are also directly linked to the entire array of entrepreneurial support and business development assistance available from Louisiana Tech and its regional partners.
Norris believes "maker-spaces" like the Thingery represent an emerging asset in the economic development field, particularly as it relates to advanced manufacturing and product development.  The Thingery model integrates workforce development, entrepreneurship, and business development in a single focal point to generate tremendous potential for hi-tech and creative economy growth in a region like north Louisiana.
"The possibilities for the Thingery are just beginning to develop," Norris said.  "We are implementing a strategy to leverage the region's first maker-space for economic development benefits and connect that activity to partners in this project throughout the region.  This strategy will involve an integration of technical and entrepreneurial training, and support for makers in addition to partnerships with regional businesses for new product development and business expansion."
Through combining the capabilities of the equipment available with the creative and technical skills of Louisiana Tech's students and faculty, Norris sees the Thingery continuing to grow and providing a unique resource and opportunity for the region and the entire State of Louisiana.
"We can develop and test new products, train workers in new cutting-edge skills for the 21st century economy, and build the foundation for new business ventures and new economic vitality in north Louisiana," said Norris.  "Innovation really starts with people just having fun with creating. It's about people who are courageous enough to try something new and different. That's what is happening at the Thingery right now.  And we just want more of it."