PayScale.com ranks Louisiana Tech No. 1 in state in starting, mid-career salaries for graduates
Graduates from Louisiana Tech University earn higher median early career salaries and mid-career salaries than graduates from any other university in Louisiana, according to PayScale.com's recently released 2014-2015 College Salary Report.
Louisiana Tech ranks No. 1 among the state's public and private institutions with early career graduates earning an average of $49,200 annually, followed by LSU with an annual average of $48,100 and McNeese State University at $46,400. Louisiana Tech was also tops in the state in median mid-career salaries at $86,500, followed by Tulane University at $85,900 and Louisiana State University at $85,300.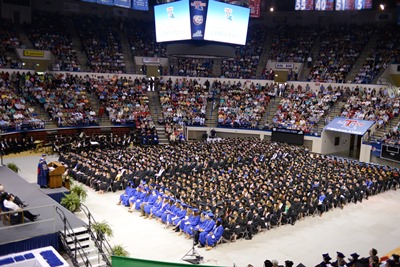 In addition to leading the State of Louisiana, Louisiana Tech is ranked No. 59 in the nation in median mid-career earnings among graduates from public institutions and No. 95 in the nation in median earnings for graduates from research universities.
"Preparing our students to be outstanding contributors and leaders in their fields is at the core of Louisiana Tech's commitment to student success," said Louisiana Tech President Les Guice. "This ranking from PayScale.com shows how valued and sought after Louisiana Tech's graduates are and how effective our faculty have been in preparing our students to be successful professionals.
"The national accolades we continue to receive are the result of a campus-wide focus on student engagement and support, and I congratulate all our faculty and staff on this achievement."
PayScale.com classifies early career graduates as those who are employed full-time with five years of experience or less in their career or field, and who hold a bachelor's degree and no higher degrees. Mid-career graduates are employed full-time and have at least 10 years of experience in their career or field, and who hold a bachelor's degree and no higher degrees.
According to PayScale.com, the 2014-2015 College Salary Report includes over 1,000 schools, which is representative of institutions that enroll over 75 percent of the estimated undergraduates in bachelor's degree programs in the U.S. The report, which analyzes the company's database of more than 40 million unique compensation profiles, provides a critical perspective on the relationship between college selection and post-graduation salaries.
"Prospective college students are being asked to make critical decisions about their financial future without all of the necessary information," said Lydia Frank, editorial director for PayScale.com. "If students understand a bit about their future earning potential before making choices about where to attend, what to major in and how much to borrow, they'll be in a much better position financially once they graduate and enter the workforce."
This is the second time this year that PayScale.com has recognized Louisiana Tech as the state's top institution. In their 2014 College ROI Report released in March, Louisiana Tech University ranked No. 1 among all Louisiana universities in return on investment (ROI), for both in-state and out-of-state students.
Louisiana Tech also earned its fourth consecutive Tier One National University ranking from U.S. News & World Report last week and was recently recognized by Money Magazine as one of the best college values in the nation, according to the publication's 2014 Best Colleges list.