Poinsettia auction supports scholarships, launches the holiday season
Louisiana Tech University will know the Christmas season has officially started when the Department of Agricultural Sciences holds its annual Poinsettia Show and Auction on Dec. 2 at Squire Creek Country Club.
A reception will kick off the event at 6:30 p.m. with the auction set for a 7 p.m. start.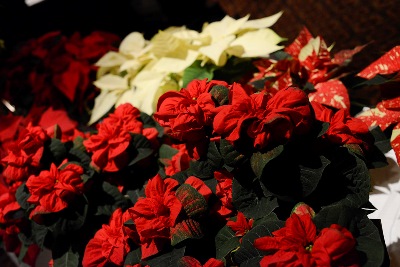 A varied collection of poinsettias of all shapes and colors will be available at the auction, with proceeds going to the Department of Agricultural Science's scholarship fund and to support maintenance of Tech Farm.
"We have the usual shapes and colors," said Gary Kennedy, head of Louisiana Tech's Department of Agricultural Sciences. "We'll be auctioning a pot that is that is a single plant but thicker than most that we call the F. Jay Taylor variety.
"And we'll have a special piece included again this year. Former Tech Vice President Virgil Orr is known for his work with stained glass and we'll have a piece for auction he's working on that will be Tech XXI and a poinsettia and together. The best thing about all of this is that the auction is for a great cause."
Last year, $18,000 in scholarships were handed out, which came from money raised from the Poinsettia Show and Auction. "This is a very important event for us and it's also a great way to start the Christmas season," Kennedy said.
Kennedy said he expects around 32 poinsettia pots will be sold at the auction, each being different with some lots consisting of a single large plant while others will be a combination of different varieties.
"The plants we have up for auction are our cream of the crop," Kennedy said. "They're the biggest and best plants we have and will brighten up any home."
Tickets for the auction are available for $10 for an individual and $60 for a table of six. They are available at Community Trust Bank and at the Marbury Alumni Center.
"The day after the auction the poinsettia plants will go on sale during normal hours at the Tech Farm Sales Room," Kennedy said. "So there will be plenty of chances to purchase poinsettias this holiday season."
Written by T. Scott Boatright – boat@latech.edu