Louisiana Tech first-year, senior students highly rate overall college experience
Ninety-three percent of first-year students and 88 percent of seniors at Louisiana Tech University said they would rate their entire educational experience at the institution as "excellent or good," according to the National Survey of Student Engagement's (NSSE) "Bringing the Institution into Focus – Annual Results 2014" survey report.
In addition to their feedback on their overall experience at Louisiana Tech, 92 percent of first-year students and 82 percent of seniors said that, if given the chance to start over in selecting a college or university to attend, they would "definitely or probably" choose Louisiana Tech again.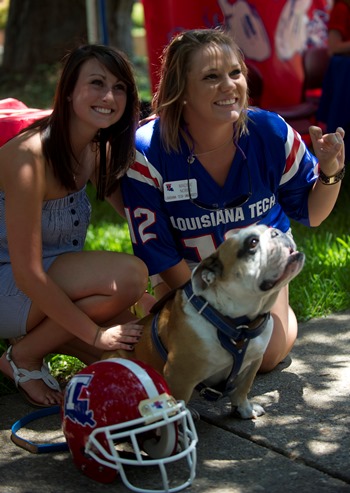 "The commitment to an unparalleled and interdisciplinary educational experience for our students has long been the foundation for and focus of our mission as a national research university," said Louisiana Tech President Les Guice. "I believe strongly that student engagement and success is what defines Louisiana Tech and I'm pleased that the dedication of our faculty and staff is effectively translating into student satisfaction. This is truly a campus-wide effort and something that will always be a top priority at our institution."
The objective of the annual NSSE survey is to gauge student opinions and perspectives on all facets of academic and student life for the institution's undergraduates. Louisiana Tech plans to use this data and other interactions with students to improve the overall educational experience, supplement state accountability and accreditation efforts, and support the mission and vision of its Tech 2020 strategic plan.
"Louisiana Tech has a very engaging campus in which students are active participants in campus governance," said Dr. Jim king, vice president for student advancement at Louisiana Tech. "Our students are valued partners in the educational process as we continually seek ways to improve the experience for all."
When evaluating the perceived gains that seniors made in their base of academic knowledge, skills and personal development during their time at Louisiana Tech, 86 percent considered the gains in thinking critically and analytically to be "very much" or "quite a bit." In working effectively with others, 82 percent said they had gained "very much" or "quite a bit." Approximately three out of every four seniors said they had also gained "very much" or "quite a bit" in learning experiences such as speaking clearly and effectively, writing clearly and effectively, and acquiring job- or work-related knowledge and skills.
"Measuring student satisfaction helps us close the loop in our overall program of assessing and implementing strategies for institutional effectiveness," said Dr. Terry McConathy, vice president for academic affairs for Louisiana Tech. "Louisiana Tech's superior college experience includes academic and co-curricular opportunities that are meaningful to the growth and maturation of our students in all aspects of their career at the university."
The NSSE survey was administered online to Louisiana Tech first-year and senior level students during the 2014 spring quarter. Students were sent a series of invitation emails soliciting voluntary participation. Both segments of the student body received and responded to the same set of questions.
NSSE annually collects information from hundreds of four-year colleges and universities around the nation about student participation in programs and activities that institutions provide for their learning and personal development. The results provide an estimate of how undergraduates spend their time and what they gain from attending college.
For more information on the NSSE and its "Bringing the Institution into Focus – Annual Results 2014" survey report, visit http://nsse.iub.edu.