Louisiana Tech alumni making major impacts in Dallas-Fort Worth Metroplex
The Louisiana Tech University Bulldogs are looking to make big waves when they take on the University of Illinois in the Zaxby's Heart of Dallas Bowl on December 26 in the Cotton Bowl.
And all those Bulldogs have to do to learn about making a major impact in "Big D" is look to the university's alumni base and what they have been doing for many years.
Some of Louisiana Tech's most successful and distinguished alumni have become vital assets to the Dallas-Fort Worth Metroplex as Louisiana Tech Vice President for University Advancement Corre Stegall noted.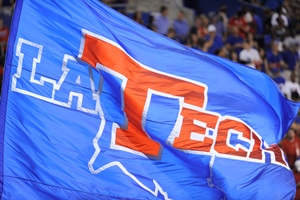 "With more than 5,000 Tech alumni in the Dallas-Fort Worth area, Louisiana Tech is pleased to have the opportunity to showcase our University through our football team's participation in the Heart of Dallas Bowl," Stegall said. "Our area alumni are more engaged than ever before as they assist with recruitment of students and in so many other areas of university support."
The namesakes of Louisiana Tech's Wyly Tower of Leaning located at the heart of the campus, Sam and the Charles Wyly became huge contributors and successes in the Dallas area while former Bulldogs quarterback Terry Bradshaw has owned a ranch outside of the Metroplex for many years.
In addition to the Wylys, many other Louisiana Tech alumni have make their mark in Dallas-Fort Worth communities including Ray Wallace, retired president and CEO of Trinity Industries; Ed Stout, retired president and CEO of Acme Brick; Wayne Stevenson, retired Chairman and CEO of CSI Control lLSystems, International and Charles Spruell, retired President of the Mobil Foundation, Inc.
Cardiovascular Surgeon David Moore; James Albritton, president of Exodyne Technologies, Inc.; Jerry Box, board chairman of Newpark Resources and David Campbell, president and COO of Horizon Air are just a few others who have taken their Louisiana Tech educations and used them to benefit the people and communities of Dallas-Fort Worth.
It's an impressive list, but one that is incomplete as the ties between Louisiana Tech and the "Big D" continue to grow with every graduate that heads 260 miles to the west to begin their careers in the Metroplex.
"The association between Tech and the Metroplex is growing, and we're eager to strengthen this connection," Stegall said. "This great bowl game is a wonderful opportunity for that and we look forward to the gathering of Louisiana Tech alumni from across the area at the game and pre-game activities, which are sponsored by Community Trust Bank (CTB) and Mortgage Contracting Services."
CTB has become known as one of Louisiana Tech's strongest partners, and its presence in and contributions to the Dallas-Fort Worth Metroplex continue to escalate.
"Community Trust employs many Louisiana Tech alumni in the Dallas-Fort Worth area, and indeed, their CEO Drake Mills is one of Tech's most honored alumni," explains Stegall. "Rick Shirley of Flare Resources is also a Louisiana Tech graduate and serves on the Board of Directors for CTB. Rick has remained a strong supporter of our university.
"CTB's beautiful Dallas offices are often utilized for Louisiana Tech meetings and recruiting events. This is further evidence of the growing bond between our university and the Dallas-Fort Worth area."
Wes Cavin, director of alumni relations at Louisiana Tech, knows how big the Heart of Dallas Bowl will be for the university and its Dallas-Fort Worth alumni base.
"The Heart of Dallas Bowl is a great opportunity for Louisiana Tech University to compete and gain exposure on a national stage," Cavin said. "We have an amazing alumni base in the Dallas-Fort Worth area, and this is a great way for them to get involved with Louisiana Tech and cheer on the Bulldogs close to home.
"We have thousands of loyal alumni in the Dallas-Fort Worth area who love to show their Bulldog pride. They also help recruit students, host game watching parties and anytime there's a Tech event in the area, they always bring great crowds."
Louisiana Tech Bulldog pride and passion may have been born in Ruston, Louisiana, but it definitely has a strong heartbeat in the Dallas-Fort Worth Metroplex.
Written by T. Scott Boatright – boat@latech.edu