Ten stories that defined leadership, achievement at Louisiana Tech in 2014
Changes in leadership, growth in enrollment and a number of institutional rankings and achievements are just some of the successes that defined 2014 at Louisiana Tech University.
In chronological order, here are ten of the most noteworthy institutional stories released by Louisiana Tech this past year.
Louisiana Tech, CSC partner to produce high-tech opportunities across region
Louisiana Tech entered into a partnership in February with global IT leader Computer Sciences Corporation (CSC), Louisiana Economic Development (LED) FastStart, and the Cyber Innovation Center in Bossier City to offer current and prospective students a comprehensive suite of cyber-related programs and career opportunities designed to meet the current and future needs of CSC. The partnership is expected to have an 800 direct jobs impact statewide, within the next four years.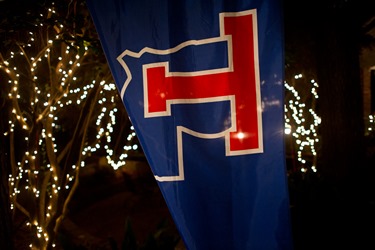 Bridge to Bulldogs opens doors
Louisiana Tech's admission requirements have become increasingly selective over the past several years and becoming part of the Tech family can offer some academic challenges for even some of the best students. Bridge to Bulldogs is a program that launched in March, in partnership with Bossier Parish Community College, which is designed to help students who might just miss the ACT/SAT scores for admission or may fall just short in other areas, and offer them another pathway for admission to Louisiana Tech.
Guice 'honored, grateful' for opportunity to lead Louisiana Tech into the future
Nearly 1,000 friends, colleagues and members of the campus and local communities gathered in Louisiana Tech's Howard Auditorium in April, to celebrate the Investiture of Dr. Leslie K. Guice as Louisiana Tech's 14th president. University of Louisiana System President Dr. Sandra Woodley officially conferred upon Guice the office and authority of the presidency, and was joined by University of Louisiana System Board of Supervisors Chair E. Gerald Hebert to present Guice with his presidential medallion.
Biggest graduating class, bright futures celebrated at spring commencement
Louisiana Tech's 308th Commencement Exercises in May featured its largest graduating class ever, resulting in a packed Thomas Assembly Center with nearly 10,000 graduates, faculty, family and friends in attendance to celebrate Tech's newest group of alumni. A total of 966 degrees were conferred, which included nine dual degrees and 11 doctorates. Louisiana Tech President Emeritus Dan Reneau, who had retired in June 2013, returned to the podium to deliver the keynote address.
Money magazine ranks Louisiana Tech among nation's best college values
Money magazine ranked Louisiana Tech as one of the nation's best college values, according to its 2014 Best Colleges list released in July. Of the nation's approximately 1,500 four-year colleges, Money ranked the top 665 institutions in the U.S., placing Louisiana Tech at No. 154 nationally and second among all Louisiana public and private institutions. The rankings were based on educational quality, affordability, and alumni earnings data provided by PayScale.com.
Louisiana Tech freshman enrollment up nearly 20 percent for second consecutive year
For the second consecutive year, Louisiana Tech saw a substantial increase in both the quantity and quality of its freshman class. According to the university's fall 2014 enrollment report released in September, the number of first-time freshmen enrolled at Louisiana Tech grew by 19.4 percent with a total of 1,853 new students registered for the fall quarter. Louisiana Tech's first-time freshman enrollment has grown by 546 students over the past two years, which represents a nearly 42 percent increase since fall of 2012.
PayScale.com ranks Louisiana Tech No. 1 in graduates' starting, mid-career salaries
Graduates from Louisiana Tech earn higher median early career salaries and mid-career salaries than graduates from any other university in Louisiana, according to PayScale.com's 2014-2015 College Salary Report released in September. In addition to leading the State of Louisiana, Louisiana Tech was ranked No. 59 in the nation in median mid-career earnings among graduates from public institutions and No. 95 in the nation in median earnings for graduates from research universities.
Louisiana Tech earns Tier One ranking from U.S. News & World Report
In September, Louisiana Tech achieved a Tier One ranking among "National Universities" for the fourth consecutive year, according to U.S. News & World Report's 2015 Best Colleges list. Louisiana Tech, along with LSU and Tulane University, were the only institutions in the state to achieve a Tier One "National Universities" ranking. In addition to earning a spot on the Tier One National Universities list, Louisiana Tech ranked among the Top 40 in the nation for graduating students with the least amount of debt, for the fifth time in the past six years.
Louisiana Tech first-year, senior students highly rate overall college experience
Ninety-three percent of first-year students and 88 percent of seniors at Louisiana Tech said they would rate their entire educational experience at the institution as "excellent or good," according to the National Survey of Student Engagement's "Bringing the Institution into Focus – Annual Results 2014" survey report released in November. In addition, 92 percent of first-year students and 82 percent of seniors said that, if given the chance to start over in selecting a college or university to attend, they would "definitely or probably" choose Louisiana Tech again.
Louisiana Tech receives $1.45 million grant to support STEM teacher preparation
The National Math and Science Initiative and the Howard Hughes Medical Institute awarded Louisiana Tech a $1.45 million grant in December to support teacher preparation in science, technology, engineering and math (STEM) fields, as part of the national UTeach program. Louisiana Tech is one of just five universities nationwide selected to receive the highly-competitive grant and to join an exclusive national network of research universities in the expansion of the UTeach teacher preparation program.
For more info on these and other Louisiana Tech stories from the past year, visit the News@Tech webpage at
http://news.latech.edu
and subscribe to the RSS feed at
http://www.latech.edu/rss/
for future articles distributed by the university.