Tech ensemble to perform big band jazz
Louisiana Tech's Jazz Ensemble will present its winter concert starting at 7:30 p.m. Friday, Feb. 20 in Howard Auditorium.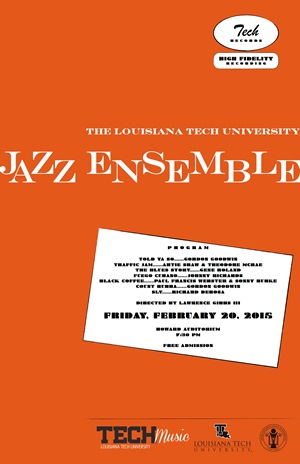 Lawrence Gibbs, an associate professor of music and director of jazz activities, said the concert will be entertaining for anyone who enjoys big band jazz music.
"This is our Winter Quarter Concert which presents all genres of big band jazz from the 1930s Swing Era to the latest rock/funk compositions," Gibbs said. "We will be focusing on the music of Stan Kenton, Artie Shaw and Gordon Goodwin and the Big Phat Band. The concert will also feature Louisiana Tech vocalist Emily O'Rear. We invite everyone who loves big band jazz to come out and check us out."
The concert is free and open to the public. For more information, contact Gibbs at 318-257-5472.
Written by Judith Roberts – jroberts@latech.edu