Master's in accounting program one of most affordable in nation
Students pursuing a master's degree in accounting from Louisiana Tech University's College of Business are enrolled in one of the nation's most affordable residential programs, according to Accounting Degree Review's list of the "30 Most Affordable Residential Master's Programs in Accounting 2015."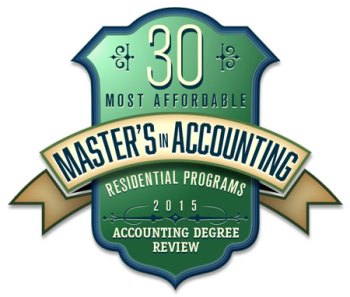 The national rankings, released last week, placed Louisiana Tech at No. 18 in the nation among residential master's degree programs in accounting that are accredited by the Association to Advance Collegiate Schools of Business (AACSB), the premier accreditation agency in the world for business and accounting programs. There are currently 170 U.S. institutions with AACSB accounting accreditation.
"Our faculty and programs in accounting are exceptional, and I am pleased to see another national publication recognizing the value of a degree from the Louisiana Tech College of Business," said Dr. Tim Bisping, interim dean of the College of Business. "The strength of our programs in the School of Accountancy and Information Systems, and throughout the College of Business, lead to impressive career opportunities for our graduates, and this continues to be reflected in the opinions of those who measure value in higher education."
Accounting Degree Review researched the tuition and fees of graduate accounting programs in the United States for an out-of-state full-time student with a bachelor's degree in accounting who started the program in fall 2014. Louisiana Tech was the only university in Louisiana to earn a spot on the Top 30 list.
Weber State University topped the 2015 list followed by Missouri State University, the University of Central Missouri, Western Kentucky University and the University of Southern Mississippi.
According to the Accounting Degree Review list, Louisiana Tech offers a 30-credit hour master of professional accountancy program in which students must complete 21 hours of accounting courses, 6 hours of business electives, and a three hour course called Business Law for Accountants. The program's courses cover topics including accounting theory, analysis and controls, and income taxes.
Louisiana Tech's accounting programs are helping to produce graduates into high-growth industries and to fill high-demand workforce needs in the State of Louisiana, as identified by the Workforce and Innovation for a Stronger Economy (WISE) program. The WISE program provides $40 million in funding to higher education institutions for the purpose of strategically aligning new investments in higher education with the workforce needs and emerging growth sectors in Louisiana's economy.
Louisiana Tech has the only AACSB accounting-accredited program in the state that offers bachelors, masters, and doctoral accounting degrees. It was one of the first accounting-accredited programs in the United States and the first in the State of Louisiana. Louisiana Tech's School of Accounting is a charter member of the Federation of Schools of Accountancy and currently holds full membership in the organization.
For more information on Louisiana Tech's master's degree program in accountancy, visit http://www.business.latech.edu/accounting. To view the complete list of the 30 Most Affordable Residential Master's Programs in Accounting 2015, visit http://www.accounting-degree.org/most-affordable-masters-degrees-in-accounting.