Concrete canoe, steel bridge teams win big at ASCE competition
The Louisiana Tech University's American Society of Civil Engineers (ASCE) Concrete Canoe and Steel Bridge teams swept the 2015 Deep South Conference competition in Oxford, Mississippi recently, bringing nine awards back to Louisiana Tech and earning spots in the national competitions.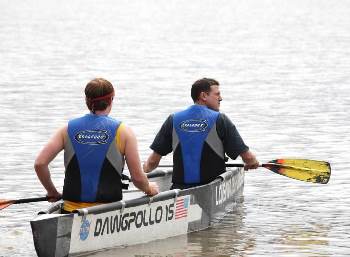 Louisiana Tech won first place overall in the concrete canoe competition, earning awards in the Women's Sprint, Men's Sprint, Coed Endurance Race, Coed Sprint, and Design Paper and Oral Presentation categories. In the steel bridge competition, Louisiana Tech took second place overall and placed first in the Display category.
"I am proud that our students represented Louisiana Tech so well at the event," said Sanjay Tewari, Louisiana Tech's ASCE team advisor and an assistant professor of civil engineering and construction engineering technology. "This year, our concrete canoe team, composed mostly of sophomores, has faced and overcome many challenges. Our steel bridge team worked hard as well and I am excited to see these groups of students compete at the national level."
Senior civil engineering student and Louisiana Tech ASCE chapter president, Mallory Dupont described the experience as a lesson in not only technique, but in the success that follows perseverance.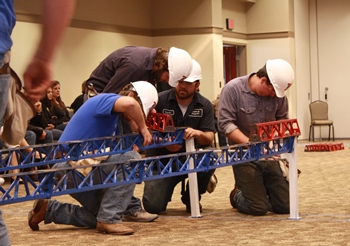 "What are obstacles?," asked Dupont. "I am not sure either of these teams knows anymore, as obstacles seemed to occur every day during conference preparation. Despite the doubts and late nights, our team continued to work hard. I am overly excited and proud for the steel bridge and concrete canoe teams to represent Louisiana and Louisiana Tech University at the national competition."
The Deep South Conference, which includes teams from university's in Arkansas, Louisiana, Mississippi and Tennessee, is held annually to enhance student knowledge of techniques, professionalism and ethics as they relate to civil engineering, and to allow students to apply the principles and concepts they have learned in their undergraduate studies. The 2015 Louisiana Tech teams consisted of students from a variety of engineering and science majors as well as students from outside the College of Engineering and Science.
"The concrete canoe and steel bridge competitions were exciting to say the least," Allie De Leo, student success specialist for the College of Engineering and Science said. "Seeing our students put so much effort into their projects, cheering for their teammates as they competed and achieving their goals was a very rewarding experience. I am very proud of our students and cannot wait to see them compete at nationals."
Written by Brandy McKnight – mcknight@latech.edu