Louisiana Tech entrepreneurs selected to compete in TOP DAWG Championships
Eleven teams of student entrepreneurs from Louisiana Tech University emerged from the preliminary round of the TOP DAWG New Venture Championships last week and will compete in the final round on April 24.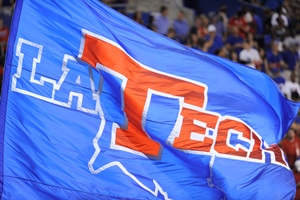 The teams to reach the final round are as follows:
• BetaFlix: delivers a visual, interactive method of teaching tomorrow's workforce that enhances the ability to learn and retain knowledge and skills.
• Delta Advising Group: provides study abroad students with online mentoring services, based on a network of students, alumni, and universities around the world.
• Epifocus: provides more accurate diagnoses and a better treatment for one of the world's most debilitating diseases – epilepsy.
• Grapheno: a conductive coating that protects sensitive electronics by absorbing harmful and unnecessary electromagnetic interferences.
• Heel Clip Appeal: offers a form of foot protection that will make it much easier and practical for people to prevent heel blisters.
• Lightonics: provides an innovative and high performance computer microprocessor technology that can turn a normal computer into a high performance computer.
• One Barrel Brewery: offers restaurants a way to enter the brew-pub industry without the complexities involved in the beer brewing process.
• ReLIK: helps prosthetists and their patients in providing a cutting edge prosthetic device fitting system, which will ensure better fitting prosthetics for amputees.
• RotoRanger: provides desktop rotational molding machines that bridge the gap from do-it-yourself creations to small scale manufacturing.
• The Plastic Eaters: designed to effectively shred water bottles into chips, melt them down, and extrude them into the filament that 3D printers utilize.
• Solar Therm Power Bank: micro device used to increase the efficiency and battery life of smartphones.
Members of the campus and local communities are welcomed and encouraged to attend to final round of the competition beginning at 8:30 a.m. in University Hall on the Louisiana Tech campus.
The total prize package is $8,000 with Louisiana Tech's College of Business and College of Engineering and Science funding a total of $5,000 to be awarded to first, second and third place teams. The Innovation Enterprise Fund is sponsoring a $1,000 award which will supplement the prize money presented to the first place team.
A $2,000 Jones Walker Entrepreneurial Spirit Award, funded by Jones Walker, will be presented to the team with the most entrepreneurial spirit. Since its inception in 1937, Jones Walker is one of the largest law firms in the United States, serving local, regional, national and international business interests in a wide range of markets and industries.
Bulldog Entrepreneurs (BE) hosts both the TOP DAWG Idea Pitch and TOP DAWG New Venture Championship events each year to encourage students to build innovative, creative products and services that create value in the marketplace. The TOP DAWG events give Louisiana Tech students, faculty and alumni the opportunity to work together and develop innovative ideas into real businesses. Throughout the competition, each team is mentored by business experts and attends training sessions designed to help them build their investor decks.
The New Venture Championship also showcases intellectual properties developed by Louisiana Tech researchers and students. Participants promote new technologies as well as create non-technology based ventures.
In the finals, teams will be judged on the written decks, oral presentation, and business feasibility. Judges include Bill Hogan (president, Bank of Ruston), Michael Leachman (partner, Jones Walker), Keith O'Briant (CEO/Founder, The Heron Group), Ron Ondechek, Jr. (fund manager, New Louisiana Angel Fund 1) and Blair Suire (associate, Jones Walker.)