College of Engineering and Science hosts senior projects conference
The "hands-on education" that has become synonymous with Louisiana Tech University's College of Engineering and Science and its focus on solving real-world problems was on full display last week during the 2015 Senior Projects Conference held on the Louisiana Tech campus.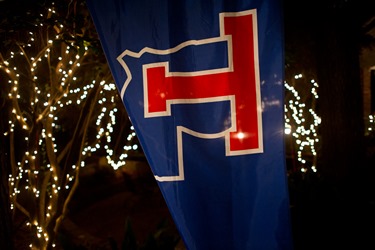 Each year, the College of Engineering and Science partners with local industrial leaders for the senior capstone experience – a yearlong project in which student teams work to solve problems, develop new products and perform leading edge research.
"It always impressive to see the complexity of the projects and professional quality of the student presentations," said Dr. Hisham Hegab, dean of the College of Engineering and Science. "This event is a showcase for the all hard work and long hours that students and faculty advisers have devoted during the year."
Dr. Jenna Carpenter, associate dean for undergraduate studies with the College of Engineering and Science says that these projects help prepare students for the workforce. "Our faculty and students work hard all year long on these substantial projects which require students to assimilate content from all four years of their program and prepare them to tackle similar projects after graduation," she said.
Throughout their senior year, students work with community and industrial leaders to identify and solve real-world problems through collaboration, and develop prototypes with practical applications. These projects also offer tangible, economic advantages to the area companies and organizations that sponsor them. In 2014, senior projects saved these industrial partners more than $5 million.
"It is always exciting to see the innovative solutions that our students develop to these real-world problems," Carpenter said. "We appreciate our corporate and community partners who support the education of our engineering undergraduates and increase our ability to make meaningful contributions to our community."
Sponsors for the 2015 Senior Projects Conference include University Health at Shreveport, LSU Health Shreveport, Shriner's Hospital for Children, Legacy Rehabilitation Center, Electric Power Research Institute, Louisiana Transportation Research Center, Max Foote Construction Co., Alliance Compressors, Continental Structural Plastics, Clement Industries, Southwestern Electric Power Company (SWEPCO), Cameron, Bill Lewis' Outdoors, A.J. Weller Corp., the Louisiana Tech Eco Car team, Lamb Weston of ConAgra Foods, Georgia Pacific, Bandit Buster, Intralox, Freedom Mobility, the National Science Foundation and the Louisiana Alliance for Simulation-Guided Materials Applications (LA-SiGMA.)
Written by Brandy McKnight – mcknight@latech.edu