Winners of "Won in One" Idea Pitch competition announced
A diverse group of entrepreneurs from across the region highlighted the "Won in One" Idea Pitch competition, which challenges innovators to present their new ventures as part of Louisiana Tech University's Innovation Enterprise.
Like contestants on the popular television show "Shark Tank," the competitors pitched their ideas recently with the goal of impressing the audience and a panel of business experts who judged and selected the most appealing opportunity. The audience also participated by voting for their favorites.
The competition's top prize of $1,000 went to West Monroe's Dawn Hodges of "Dreamcatcher's Enterprises" for her multipurpose sleeping sack coveted by outdoor enthusiasts and others looking for a convenient and complete bedding option for overnight stays.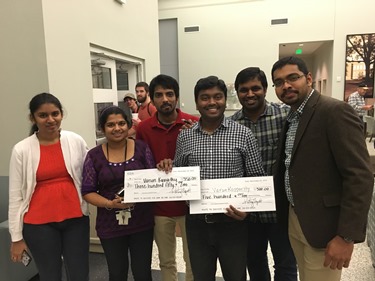 Daniel Okougbo's solution for delivering reliable power in locations plagued by inconsistent electrical service, such as Nigeria, earned him the People's Choice award and a cash prize of $750. "Chicken Checkers," presented by Sawyer Stone, and "BioSense Labs," presented by Varun Kopparthy, divided the $750 award for Best Student Presentation. Each of these student teams proposed a different approach for identifying potential food contamination, with Chicken Checkers focusing on in home use by consumers and BioSense Labs emphasizing improved detection at processing facilities.
The second place award of $500 also went to Varun Kopparthy and BioSense Labs. Katherine Hall was awarded the third place prize of $250 for her product designed to assist tennis players with keeping score.
In addition to vying for cash prizes, all of the competitors received feedback from the panel of judges, discovered resources and expertise helpful for developing their products and met other innovators from across the region. "Won in One" provides the entrants an opportunity to present their concepts in a way that is exiting, informative, and financially appealing. The competition is a component of the I-20 Corridor Regional Accelerator and, despite the competitive elements of vying for prizes, contestants and spectators engaged in energetic conversations about their ideas, the commercial potential and the resources available to support their success.
Many of the "Won in One" participants will apply to and participate in the I-20 Corridor Regional Business Accelerator which begins in January 2016. Individuals selected for the Accelerator receive intensive training, coaching and interaction with experienced professionals who help guide them through the start-up process.
For more information or an application for the Accelerator, email tbdc@latech.edu or call (318) 257-3537.
Written by Judith Roberts – jroberts@latech.edu