College of Business' DBA program ranked No. 5 in nation
Top Management Degrees, an online resource for information about business and management education and careers, has ranked Louisiana Tech University's Doctor of Business Administration (DBA) program No. 5 in the nation in its 2016 list of the Top 50 Doctorate in Business Management Programs.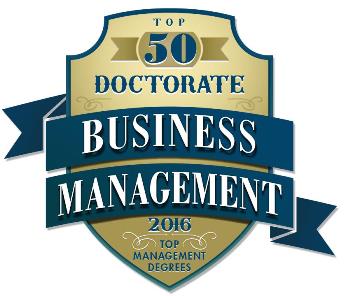 Designated as an Area of Excellence by the University of Louisiana System and residing in the College of Business, Louisiana Tech's DBA program is designed to prepare graduates for careers as effective university researchers and teachers or for senior research positions in business or government.
Louisiana Tech was the only institution in Louisiana to earn a spot on Top Management Degrees' Top 50 list. Doctoral business programs at the University of South Florida's Muma College of Business topped the list at No. 1 followed by Harvard University Business School, University of Florida's Warrington College of Business, Creighton University's Heider College of Business and Louisiana Tech's College of Business.
"We are honored to be ranked among the top five doctorial business programs in the nation," said Dr. Chris Martin, dean of Louisiana Tech's College of Business. "This recognition is an affirmation of our faculty's commitment to excellence in teaching and to producing research with significant impact on the practice of business."
Top Management Degrees' Top 50 list were analyzed and ranked based on factors such as accreditation, prestige, estimated cost, student satisfaction and business management curriculum. Each criterion was given equal weight in order to identify a well-rounded and high quality doctoral business management program. Data was gathered from each program's website and external sources such as U.S. News and World Report, the Princeton Review and the National Center for Education Statistics.
According to their website, Top Management Degree says that with MBA professionals flooding the business world, an executive doctoral degree in business management helps business professionals differentiate themselves from their peers. These degrees include Doctor of Business Administration, Doctor of Management, and an Executive Doctor of Business degrees, which are seen as being equal in status and rigor to the Ph.D., but different in focus.
This latest ranking comes on the heels of several other national accolades for Louisiana Tech. In September, U.S. News & World Report ranked Louisiana Tech No. 1 in the nation among public National Universities for graduating students with the least average amount of student debt. Louisiana Tech also achieved a Tier One National Universities ranking for the fifth consecutive year.
In addition to its U.S. News & World Report rankings, Louisiana Tech was ranked No. 1 in the State of Louisiana recently for highest average mid-career earnings for graduates, according to PayScale.com's 2015-2016 College Salary Report. Tech was also ranked among the top universities in the nation in Forbes' list of America's Top Colleges 2015, and in the top 2.6 percent of the world's degree-granting institutions by the Center for World University Rankings.
For Top Management Degrees' complete Top 50 Doctorate in Business Management Programs list, visit http://www.topmanagementdegrees.com/rankings/best-doctorate-in-business-management-2016.