College of Business receives $500,000 gift for scholarships
The College of Business at Louisiana Tech University has received a generous gift of $500,000 for scholarships from an anonymous donor.
The "College of Business REAL Scholarships" are for incoming freshmen (high school seniors) living in Caddo and Bossier Parishes, and are received in addition to funds from Louisiana's Taylor Opportunity Program for Students (TOPS). Although TOPS covers more than 25 percent of total annual expenses for a full-time undergraduate, many students need more assistance to be able to attend college.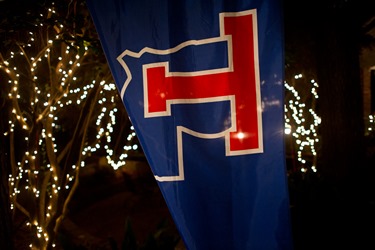 The scholarship funds the College of Business received will help cover tuition, room and board, books, and fees – up to 80 percent of the total cost of a Louisiana Tech education.
"The roughly 11,000 Louisiana alumni living in the Caddo and Bossier area, including myself, are blessed to have had the opportunity to attend this outstanding University," said the donor. "A solid education has helped enrich my life beyond my wildest dreams. In establishing this scholarship, more students in Caddo and Bossier Parishes will have the opportunity to attend the College of Business at Louisiana Tech and improve their quality of life.
"I hope other alumni will be inspired to give back to one of our states greatest assets in Louisiana Tech University."
"We are honored and thankful to receive this support for our students," said Dr. Chris Martin, dean of Louisiana Tech's College of Business. "With the rising cost of education and declining state funding, this money will put a Tier 1 Louisiana Tech education within financial reach of many more students."
Through market-driven academic programs and impactful scholarship and teaching, the College of Business at Louisiana Tech University produces business and academic leaders who are innovative, entrepreneurial, analytical and technologically skilled for a competitive global marketplace.
For more information on how you can support the College of Business, please contact
Mary Susan Britt, University Advancement/External Relations, at marysusan@latechalumni.org or (318) 257-3741.
Please visit www.business.latech.edu or connect with the College of Business on Facebook (www.facebook.com/LATechBusiness), Twitter (@LATechBUSN) and Instagram (@LATechBusiness).
Written by Mary Susan Britt – marysusan@latechalumni.org