Louisiana Tech earns 10-year accreditation from SACSCOC
Louisiana Tech University has received official confirmation of its decennial accreditation from the Southern Association of Colleges and Schools Commission on Colleges (SACSCOC.)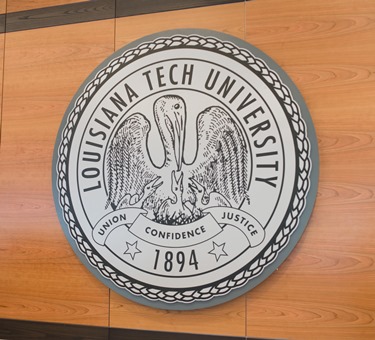 The accreditation, which Louisiana Tech has held continuously since 1927, was approved in December 2015 during the SACSCOC annual meeting in Houston, and officially awarded to Louisiana Tech by SACSCOC's Board of Trustees last month.
"SACSCOC accreditation is essential to Louisiana Tech's institutional mission and our efforts to enhance academic quality and educational experiences for our students," said Louisiana Tech President Les Guice. "I am proud of our reaccreditation with SACSCOC and sincerely thank all those who worked tirelessly to prepare for this review and present the strengths and merits of Louisiana Tech."
For several days in March 2015, an on-site team of external peer reviewers visited Louisiana Tech for meetings and discussions with faculty, staff, students, alumni and community leaders. The SACSCOC team conducted a detailed analysis and examination of over 90 core, comprehensive and Federal standards. The entire accreditation review process, which represents approximately two years of planning and coordination, concluded with final approval at the annual SACSCOC meeting on December 5-8, 2015.
"This is a rigorous, multi-year process consisting of the completion of a self-study Compliance Certification document addressing approximately 100 standards and the development of a Quality Enhancement Plan (QEP)," said Dr. Sheryl Shoemaker, Louisiana Tech's SACSCOC accreditation liaison and dean of Louisiana Tech's Graduate School. "Every unit on this campus contributed to this process."
One of the cornerstones of the SACSCOC review process was an examination of Louisiana Tech's proposed Quality Enhancement Plan called "BLUE FIRE: Igniting Communication Experiences." BLUE FIRE is designed to improve student effectiveness in communication skills and improve student engagement in personal development skills through a robust first-year interdisciplinary experience.
"The SACSCOC process for reaffirmation of accreditation is a rigorous, peer-driven process aimed at continuous improvement of student learning in the context of the University community," said Dr. Terry McConathy, vice president for academic affairs at Louisiana Tech. "Every aspect of the roles and functions of the University is scrutinized by off-site, on-site, and members of the SACSCOC Board of Trustees and delegates to the annual meeting."
Louisiana Tech is accredited by the SACSCOC to award associate, baccalaureate, master, and doctoral degrees. For a full listing of Louisiana Tech's accreditations, visit http://academicaffairs.latech.edu/accreditation.php.