Louisiana Tech inducts new Order of the Engineer members
Louisiana Tech University and its College of Engineering and Science has inducted 62 new members into its chapter, "Link" of the "Order of the Engineer" – a national organization established and dedicated to upholding devotion to the standards and dignity of the engineering profession.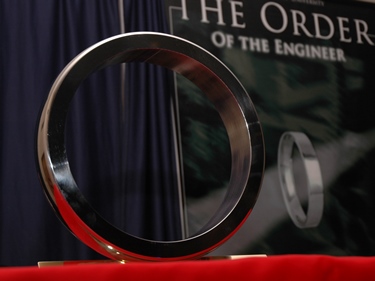 During the ceremony, initiates received a stainless steel ring to wear on the fifth finger of the working hand and accepted the Obligation of the Engineer, a code of ethics that promotes honesty and integrity in engineering professions.
Seniors who are within one year of graduation from an accredited engineering program are eligible to join the Order and make the commitment.
"The Order of the Engineer ceremony is a great milestone for many of our graduating Engineers," Dr. Heath Tims, associate dean of undergraduate studies in the College of Engineering and Science. "It is a representation of the academic accomplishments of our students, as well as their commitment to upholding the ethical standards that are expected from the Engineering discipline."
"We are very pleased to have a large number of our engineering seniors recognize the importance of their decisions as engineers will have on society," Dr. Hisham Hegab, dean of Louisiana Tech's College of Engineering and Science added. "Their induction into the Order of the Engineer is a statement of their commitment to honesty and integrity and is a pledge to serve humanity and make the best use of our natural resources."
New members of the Order of the Engineer are listed below.
Seth Thomas Anderson, mechanical engineering, Pitkin, La.
Giovanni Aviles, mechanical engineering, Mandeville, La.
Andy Bajnauth, civil engineering, Mandeville, La.
Zachary Belton, mechanical engineering, Simonton, Texas
Morgan Mary Bollich, chemical engineering, Eunice, La.
Daniel Borders, electrical engineering, Harvey, La.
Dillan M. Boudreaux, mechanical engineering, Prairieville, La.
Hunter Breaux, electrical engineering, Theroit, La.
Matthew Brewer, mechanical engineering, Ruston, La.
David Tyler Burdeaux, mechanical engineering, West Monroe, La.
Dalton Champagne, civil engineering, Arkadelphia, Ark.
Anesu Samuel Chigumira, mechanical engineering, Belle Chase, La.
Warren Dante Clardy, chemical engineering, Greenwood, La.
Ishani Colombage, biomedical engineering, Batuwatta, Sri Lanka
James Gary Delatte, Jr., mechanical engineering, Ponchatoula, La.
Jigar Dhimmar, mechanical engineering, Ruston, La.
Ahmed Emad El-Giar, chemical engineering, West Monroe, La.
Matthew Charles Gandia, industrial engineering, Shreveport, La.
Joseph Theodore Hagensee, mechanical engineering, New Orleans, La.
Morgan Adam Harris, civil engineering, Shreveport, La.
Samuel James Helman, mechanical engineering, Amarillo, Texas
Cartez Sawatski Jack, Jr., mechanical engineering, Jena, La.
Nadini Ivanthi Jayathilaka, electrical engineering, Malabe, Sri Lanka
Courtney Jennings, chemical engineering, Saint Francisville, La.
LeDarious Keyun Jones, mechanical engineering, Shreveport, La.
Ryan J. Joseph, mechanical engineering, McKinney, Texas
Dylan Levi Lawrence, mechanical engineering, El Dorado, Ark.
James Tyler Lawson, mechanical engineering, Spearsville, La.
Katherine Lee Lybrand, civil engineering, Hot Springs, Ark.
Pabitra Malla, electrical engineering, Ruston, La.
Mapa M. Chethiya Mapagunarathne, mechanical engineering, Santa Cruz, Calif.,
Chandip Maskey, nanosystems engineering, Charlotte, N.C.
Evan McDougall, chemical engineering, Prairieville, La.
Leslie Buffington McKeever, mechanical engineering, Benton, La.
Alexander Nicholas Monistere, mechanical engineering, Baton Rouge, La.
Matthew Lane Moore, electrical engineering, Daingerfield, Texas
Chaz Oubre, mechanical engineering, Lake Charles, La.
Adam Fisher Parker, industrial engineering, Shreveport, La.
Cullen David Pearce, mechanical engineering, Boyce, La.
Jordan Lee Pixley, mechanical engineering, Bernice, La.
Nicole Poirier, cyber engineering, Coral Springs, Fla.
Jason Porter, cyber engineering, Benton, La.
Dinesh Poudel, mechanical engineering, Ruston, La.
Nathaniel Joseph Pruden, industrial engineering, West Monroe, La.
Valaree Rachal, mechanical engineering, Lake Charles, La.
Karen Rispone, nanosystems engineering, Denham Springs, La.
Daniel Alexander Rivera, biomedical engineering, Cape Coral, Fla.
Joshua Roberts, cyber engineering, Slidell, La.
Cody Samples, electrical engineering, Emerson, Ark.
Jean-Paul Sandrock, Jr., civil engineering, Slidell, La.
Ryan Dakota Semple, electrical engineering, Nashville, Ark.
Sean Morgan Semple, electrical engineering, Nashville, Ark.
Zachary Dakota Spurgin, mechanical engineering, Doyline, La.
Xavier Theriot, mechanical engineering, Shreveport, La.
Michael Thompson, mechanical engineering, Ruston, La.
Haylee Thornhill, mechanical engineering, Oakdale, La.
Amara Ijeoma Uyanna, chemical engineering, Lagos, Nigeria
German Velazquez, civil engineering, Gloster, La.
Zachary Lane West, mechanical engineering, Oakdale, La.
Robert Sims Westley, industrial engineering, North Charleston, S.C.
Tyler Wilk, Manahawkin, mechanical engineering, Manahawkin, N.J.
Victor Eduardo Zumaran Justiniano, civil engineering, Santa Cruz, Bolivia
The Louisiana Tech inductees join a dedicated and prestigious group of engineers from across the nation, which includes a number of Louisiana Tech graduates. Louisiana Tech has been a member in the organization since 2005.
Written by Brandy McKnight – mcknight@latech.edu