Spring quarter honors students announced
Louisiana Tech University has announced the names of students on its spring quarter President's and Dean's honor lists.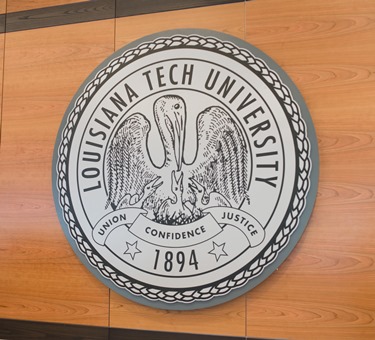 Students whose names are followed by an asterisk earned recognition as members of the President's Honor List. That distinction signifies achievement of at least a 3.8 academic grade point average on a minimum of nine semester hours completed (100-level or higher), with no grade lower than a B.
To be eligible for the Dean's Honor Lists, a student is required to earn at least a 3.5 academic grade point average with no grade lower than a C on a minimum of nine semester hours completed (100-level or higher).
Courses yielding satisfactory/failure grades and courses audited do not count toward eligibility for either recognition. Only undergraduates with no incomplete grades are eligible to make either list.
Honor students are listed below by their hometowns.
ALASKA
Wasilla:  Gabrielle Zaleski
ALABAMA
Bankston:  Tyler M. Perryman
Florence:  Benjamin C. Vanveckhoven
Mobile:  Mallory Elaine Wright*
ARMED FORCES PACIFIC
Apo:  Michael Anthony Lucero*
Fpo:  Sydney M. McCool
ARKANSAS
Ashdown:  Isaac K. Davis, Wyatt D. Manning
Benton:  Wesley Grayson Mitchell
Bryant:  Casey L. Rogers, James P. Seale
Buckner:  Erin Faith Minter
Cabot:  Breyden Caleb Marcantel*, David C. Reicks*
Camden:  Jonathan Steven Lester, Mallory K. Pyron
El Dorado:  Emily Claire Chandler, Rachel Caroline Dixon*, Jonah Devin Haney,
Cameron N. Harper, Hannah F. Johnson, Karl Edward Klappenbach, Lindsey Elizabeth Martin,
Alan M. Roberson, Kimberly Ann Tucker*, Caleh Renee Wall
Eldorado:  Margaret Marie Burchfield*
Emerson:  Cody R. Samples
Fordyce:  Matthew H. Pettit
Hamburg:  Allen Reeves Davis, Christopher Mondragon
Hope:  Hunter C. Calhoon
Hot Springs:  Christopher Tanner Caldwell*, Katherine Lee Lybrand, Megan Ashley Ratcliff
Lewisville:  William Skylar Harbin
Little Rock:  Jackson Taylor*
Mabelvale:  Elizabeth Nichole Crane
Magnolia:  Michael Spenser Madden*, Maggi Elizabeth Roberts*
McCaskill:  Susan Leanne Campbell*
McGehee:  Adam Connor Lee
Mountain Home:  Joshua M. Edavettal*
Norphlet:  Alyssa D. McElveen
Pearcy:  Samuel T. Gallimore*
Prescott:  Dayne Reid Ghormley*
Redfield:  Candace Rae Casey*
Rosston:  Kaitlin Janae Baldwin
Sherwood:  Haley A. Martin
Texarkana:  Tyler Andrew Brown*, Bryanna N. Huntley*
Tollette:  Jordan Leone Miller*
White Hall:  Warren Glenn Wolf*
ARIZONA
Peoria:  Rachel A. Madore
CALIFORNIA
Chino Hills:  Alexa Milan Lister
Covina:  Natalie Christine Moran*
El Dorado Hillls:  Hannah Katherine Pawlek
Elk Grove:  Andrew J. Kraus IV
Huntington Beach:  Samuel Mitchell Johnson*
Meadow Vista:  Bailey Semmens*
Rancho Cucamonga:  Michael Anthony Deceglie
Whittier:  Jezabelle Marie Rubalcava
Winnetka:  Timothy Schuler
COLORADO
Loveland:  Andrew J. Bradberry, Kacie J. Kaufman*
Parker:  Spencer Fox
CONNECTICUT
New Milford:  Zachary David Burger
DELAWARE
Wilmington:  Courtney Dare Swafford*
FLORIDA
Cape Coral:  Daniel Rivera
Cutler Bay:  Brent Rudy Diaz
Gulf Breeze:  Blake J. Meredeth
GEORGIA
Atlanta:  Darius Statham*
Blairsville:  Cameron Brady Kumler
Gainesville:  Harrison W. Potts*, Mackenzie A. Potts
Mansfield:  Celeste B. Rosebrock
St. Marys:  Hannah G. Givens
IOWA
Dubuque:  McKenzie L. Hafkemeyer
Middletown:  Zackary Clark Triplett
IDAHO
Montpelier:  Shelbi Ann Stenholm*
ILLINOIS
Batavia:  Natalie Mueller*
Champaign:  Cassie Elizabeth Oliver*
Chilicothe:  Sarah Marcia Daum*
Normal:  Olivia R. Spears*
Troy:  Daniel S. Thompson*
KANSAS
Overland Park:  Emily Hocker
KENTUCKY
Oak Grove:  Gustavo Adolfo Cabrera
West Paducah:  Kaitlyn Michelle Hastings
Wilmore:  Stephen Matthew Yeich*
LOUISIANA
ACADIA
Rayne:  Adrienne Claire Dailey*
ASCENSION
Geismar:  David Paul Ferrell*
Gonzales:  Anastasia Noel Britton*, Rachel Renee Eddy*, Mia R. Melancon*,
John Paul Soileau
Prairieville:  Blake M. Gautreaux*, Madeline C. Golden*, Gabrielle Rose May,
Nicole Diane Vermaelen, Brady Cole Walker, Charles Vincent Broussard Jr.
Saint Amant:  Clayton Paul Kerek, Devin Michael Savoy*
St. Amant:  Kolby Adam Kunefke, Barrett Patrick Kyle
ASSUMPTION
Pierre Part:  Kaylie E. Theriot
AVOYELLES
Bunkie:  Garrett M. McCoy, Raven Leigh Naquin*
Center Point:  Steven D. Scanlan
Effie:  Jacob R. Brouillette*
Marksville:  Morgan Ray Bernard, Colin D. Dunbar*
Moreauville:  Joshua B. Joffrion*
Plaucheville:  Derrick J. Foti
BEAUREGARD
Deridder:  Shelby Sue Brown, Hannah Rhea Hasty, Brett I. Hooks,
Katey R. Kelly, Katherine Hadden Pope, Austin Jake Stuart*, James A. Stultz
Longville:  Matthew G. Fults*, Adam Stuart Graves
Merryville:  Tanner James Stark
BIENVILLE
Arcadia:  Christopher J. Antee*, Kishan Ashok Desai*, Sarah Faith Grimm,
Hannah Mae Myles*, Abigail Schroeder
Bienville:  Casey Coleman*
Castor:  Morgan Danielle Dison, Teresa Kolleen Joyner, Lori Wallace*,
Christian Warren
Gibsland:  Zack A. Kidd III
Ringgold:  Aubrey Marie Jaeger, Valerie Elaine Morgan
Saline:  Michelle Nicole Bartlett*, Sarah Diana Caskey
BOSSIER
Barksdale AFB:  Donovan J. Ward*
Benton:  Kelsey E. Childers, Peyton Deen Coker*, Jennifer Wynne Cox*,
Ethan Shane Cram, Anna Abigail Crooks, John M. Davis*, Emily Anne Digiacomo*,
Ashleigh Renae Dodds*, Nicholas Marshall Eikeseth, Addison R. Emory, Bradley A. Ewing*,
Katelin Elizabeth Ewing*, Nicholas Ryan Fulco, Hollie Wood Gordon*, Kaleigh M. Key*,
Lauren Atkins Leflett, Sarah E. McComic*, Kylie Paige Moore, Neil Brennan Mosley,
Christian Sterling Mudd, Jason Lee Porter, William A. Sanguinetti II, Marshall G. Schoth*,
Jordan B. Shaffer, Aaron J. Sheppard*, Tyler Strother*, Kadarius D'sean Thomas,
Madison McKenzie White*, Alexander Heath Whittington*, Quinci Vivette V. Middlebrooks*
Bossier City:  Charissa Ann Aalgaard, Lauren Richelle Adams, William Coleman Allred II*,
Lathenia G. Bailey*, William Paul Blackburn, Cassandra Bradford*, Austin Connor Brannon*,
Matthew Logan Byrnes, Logan Edward Caskey*, Nicholas Reno Casteen*, Savannah Claire Cheney*,
Brandon Alan Cockerham*, Calvin Johnathan Combs, Claire Elisabeth Crawford*, Katelyn Elisabeth Crump,
Derrick Davenport*, Anna Caroline Davis*, Philip Jeffrey Defatta*, Kelly Michelle Dickson*,
Michael Scott Dickson Jr., Caroline Olivia Fargerson, Sarah G. Fisher, Jasmine A. Frazier*,
Megan E. Fream, Gabriel Cornelius Gafford*, Jacqueline Novese Gatson, Taylor Aubrey Giddens,
John C. Hackleman*, Callie Nicole Hammerbeck, Ashlin Sierra Harper, Robert Brandon Harper,
Carlos Matthew Harris, Nicholas A. Henry*, Celeste Rebecca Keys, Katie J. Kitchings,
Haley C. Krumpelbeck, Micaela A. Labarron, Richard Gordon Laframboise, Conrad Raymond Langston,
Michael A. Lasuzzo Jr., Amber Nicole Lenard*, Allison S. Lockhart, Alexis G. McCown,
Andrew K. McMillan, Kelli Dianne Miller, Angela Christina Nier, Alexander Blake Partain,
Kimberly Rayvon Patterson*, Ashley Faye Penrod, Alexandrea D. Perales, Stephanie Wells Plaisance,
Alexander Gage Pledger, Matthew Jason Pourteau, Alaina Kathleen Proctor*, Kristen Joyce Puzio*,
Amy Claire C. Rabinowitz*, Taylor Rae Raney*, Dorothy Ray, Rich Sangprom,
Jesus David Santillan*, Allen D. Schaefer*, Abhishek Shailesh Shah*, Catherine Tori Shouse,
Gerald Edward Shouse II*, James Michael Sizemore*, Bryleigh Ann Smith, Cecelia Smith,
Tracey Smith, Mandy Kay Sparkman*, Kaitlyn Janine Spearman, Hannah Marie Spence,
Erika L. Strozier, Sheppard Alann Stutts, Carol Thompson*, Brandon S. Toloso*,
Jessica Trinh, Logan Alese Tucker*, Sidney M. Weferling, Madeline R. Wheelahan,
Pamela Jean White*, Monique Renay Wilkins*
Bossier:  Sabrina K. Ferrell*, Kody Ryan Robinson
Elm Grove:  Angela Elston Cash
Haughton:  Darren Keith Alderman, Alicia Bailey*, Courtney Nicole Billberry,
Katelyn Tyler Billberry, Sara Ruth Burkhalter*, Matthew Allen Busby*, Heather Marie Casil*,
Dakota L. Digilormo*, Lauren Feliciano*, Amber Leigh Firth, Caroline Lindsay Francis,
William Marcus Francis, Savannah Nikole Fread, Morgan Gatlin, Kiley Kathleen Gregory,
Brandon Neal Hadley, Kaitlin Christine Haley*, Pearson Garrett Harbour*, Cassie Keckler*,
Alisyn B. Kelly, Christopher John-henry King*, Hannah Brooke Logan*, Christopher A. Meshell*,
Tina Lynn Montegna*, Lillian Katherine Poe, Kyndal Brooke Roden, Kaitlyn Nicole Roten*,
Matthew Robert Sewell*, Rachel Nicole Shumate*, Rebecca Peyton Shumate*, Courtney James Stepp*,
Carson Ilene Thomassie*, John Michael Tomb Jr., William Devone Turner, Justin M. Western*,
Tyler M. Wise
Plain Dealing:  Kaleigh Morgan Cook*
Princeton:  Kimberly Dawn Mitchell*
Shreveport:  Kali Michelle Knighton
CADDO
Blanchard:  Jordan S. Scroggs
Greenwood:  Darrian Caleb Mills*
Ida:  Casey N. Audirsch
Keithville:  Tyler Anthony Jusselin, Grant Hunter Pryor, Mandi Kathryn Rose*,
Brittany Michele Taylor, Courtney J. Tomlinson, Caressa F. Winkler
Shreveport:  Patrycja Adamowicz, Ty H. Adkins*, Anthony A. Agee*,
Korli Shyanne Alford, Cole Dempsey Allen, Garrett Alan Anderson*, Erin Neal Arcement*,
Zachary David Areno, Stephen Glenn Bailes*, Caleb Dolin Basinger, Ideal Bekteshi*,
Madeline Kate Bodden*, Michael Dewayne Bricker*, Rachel C. Briggs*, Martin Donald Brock,
Avery C. Bryan, Sarah Catherine Bryant*, Jacob John Cain, David Witt Caldwell,
Daniel Campbell*, Jacob Cannatella, Annie S. Carlisle*, Ethan Ryan Carlisle*,
Carlos Castillo*, Gillian Aisha Clark, Norman Jesse Cone IV*, Jennifer E. Cook*,
Hayden L. Craig, Lane Elisabeth Craig, Andrew L. Curtis*, Layne Thomas Davison,
Michael Gavin Deere, Audrey Alana Dethlefsen, Natalee Brook Dinkins, Savannah Peyton Dorking*,
Cody Daniel Dunklin*, Darby Lee Durel, Katelyn Susanne Fajardo*, Alexandria B. Feaster*,
Michael Patric Ferguson*, Phillip Garrett Fincher*, Mikaela F. Fitzwater*, Kaylee A. Flowers*,
Ashlee Brionne Ford*, Devin Lane Ford, Stevi Brook Fort*, Matthew James Gieseke,
Ashley Foster Gillespie*, Stefanie P. Gordon*, Christopher K. Graham, Nicole R. Graham,
Alexander Joseph Gras*, Brian Patrick Greber, Taylor Dell Haddock*, Allison Paige Hannon,
Joshua Dillon Harper*, Jessica Jane Harris*, Austin Michael Hazel, Emily Jane Madison Head*,
Nikolaus D. Heitmuller, Samuel David Hendricks, Kayla Monique Hill, Sarah Ashleigh Hodge,
Janna K. Honea, Brady Scott Howard*, Meaghan L. Hughes, Hailey Marie Hutchison*,
Thomas Edward Jaynes, Chlese Rochelle Jiles*, Chase Emery Johnson*, Shamara G. Johnson,
Ledarious Keyun Jones, Megan Bryant Jones, Brittany Karen Kaja*, Madison G. Kane,
Josh G. Keith*, Caroline Grace Kinder*, Reginald Renard Lars*, Katina Evette Lemons,
Brandon D. Lewis-graham, Alexis Denee' Little, Andrew Jonathan Lopez*, Lakenya Louis,
Caitlyn Elizabeth Malloy, Phillip James Mathis, Amanda M. May*, Mitchell J. McCallon,
Shannon C. McCole*, Katherine M. McKay, Camille Alexis Merendino*, Brandi Nicole Miles,
Kathryn Leigh Miller, Janequa Tramone Mitchell*, Michael J. Mobley, Keaira Nicole Musgrove,
Emily Christin Naquin*, Brian Eugene Nims, Madelyn Christine Norwood, Myra E. Owen,
Isabela Palmieri, Mallory Ellison Parnell*, Anthony J. Paro*, Jennifer Kaitlyn Paulovich,
Reagan A. Pearson, Carl Earnest Perez, Samuel S. Pernici*, Kerrigan Lynn Pettis*,
Kevin L. Poole*, Emily Margaret Prestridge, Julianne Marie Raney, Melissa Claire Raney,
Bailey Jane Rasberry, Jeri Rider*, Kailey Andrea Roberson, Chasity D. Robertson*,
Krissy Lyn Salter*, Chase Aaron Sanders, Brittany Renee Shankle, Nicole Elizabeth Shaw*,
Cole McKenzie Smith*, Maleny Melissa Soto-ortiz, Joseph Paul Spratley, Teal Bailey Strickland*,
Miranda Marie Stults, Sydney Taylor Thompson, Ella M. Tichenor, Marin Eileen Tichenor,
Tia Me-lene Timerding*, Allison T. Tran*, Kristie Tso*, Michael Warren Thomas Tullis,
Cameron P. Vauclin*, Zachary Vines, De'andra Alysse Washington, Andrew N. Weaver,
Britt Alan Westby*, James Kyle Widener, Caleb T. Wilcox, Kelsey R. Wildes,
Laura Elise Williams, Michaela Anne Williams, Clint Robert Woods*, Jazmine Mone` Wright,
Cai Alexis Wynn, Jeremiah Matthew-david Pounds
Shrevepot:  Andre L. Cook
Vivian:  Jake Conly, Daniel Weaver McRae, Dakota Scott Oxford*
CALCASIEU
Dequincy:  Reagan A. Reed*
Lake Charles:  Madison Clare Blackwell*, Tyler James Cating, Mary Kathryn Clements*,
Kevin Colimon*, Garrett Jay Davis*, Jacob Todd Fontenot, Matthew R. Johnson,
Maya Virginia Johnson, Nicholas Edward Landry*, Elizabeth Grace Lemons, Brittanie Liane Loftin*, Grant Loupe*,
Seth A. Maggio, Julie C. McClain, Tyler Michael Milanowski, Tristan Nicole Morgan,
Kaelyn Thuy-duyen Nguyen*, Ali April Oubre, Charles Andrew Pousson*, Abigail C. Powers,
Grant William Reddoch, Lauren Eleanor Salvador*, Hannah Gabrielle Theriot*, Victoria Vanover,
Kellie P. Webb*, Ashley Nichole Williams, Erica L. Williams
Sulphur:  William Thomas Breaux Jr., Bailey Nicole Castille*, Brandon J. Cooper*, Jacob Nathaniel Dietz,
Cameron S. Henry*, Patrick N. Hill, Samantha Erin Hill*, Riley Elizabeth Nelson, Bethany P. Parker,
Madeline McKenzie Patton, Troy P. Price, Griffin Schlamp, Allie Leann Young
CALDWELL
Columbia:  Page Mackenzie Jacobson*, Sheri Lynn Piercy
Grayson:  Lane Patrick Dale, Justin Quinn Kelly, April Danielle Palmer*
Kelly:  Jessie A. Cruse, Robert Bryan Lamb III
CATAHOULA
Jonesville:  Cody Alan Ford*, Sunni Rae Gresham
Sicily Island:  Miranda P. Davis*
CLAIBORNE
Athens:  Alexis Devonne Wyatt*
Haynesville:  Victoria Leigh Christian, Charlene Kay Presley, Dekeveon Thomas
Homer:  Paul Garrett Malsam, Kameron Brett Simpson, Franeka Dorianna Taylor*,
Weston Hayes White
Summerfield:  Jacque P. Biggs
CONCORDIA
Monterey:  Kennedy Bryce Poole*, Hunter Dee Wise Randall
Vidalia:  Brian Patrick Walden*, Jacob P. Wilkinson, Maegan Elizabeth Kammerdeiner*
DE SOTO
Frierson:  Meghan M. Johnston
Keatchie:  Lori Deneen Bandy
Stonewall:  Maci Danielle Shinault*
BATON ROUGE

Baker:  Erika Wittenburg

Baton Rouge:  Cody A. Abshire, Jacquelyn Natalie Alfandre, Kayla Elizabeth Bauer*,
Alexis H. Bellows, Kristie Lynn Braud*, Mallory Anne Breaux*, Myles A. Brown*,
Alyssa M. Campbell, Emily M. Caro*, Jonathan Lee Carter, Mazie Marie Dieterich*,
Christopher Charles Dupont, Eulalie Tessier Grodner*, Victor Alexander Gutierrez, Lauren Elizabeth Hart,
Michael James Hilborn, Mary A. Iseral*, Jennifer D. Jones, Jordan E. Lancaster,
Anne C. Leblanc, Susannah Lee Leblanc, Sydney Lombardo*, Andrew S. Mackay*,
Mackenzie A. May, Jacie Jo McClure*, Anna Grace Morris*, Katherine Elisabeth Morris*,
Victoria Renee Reier, Kyle Edward Robichaux*, Bryan Anderson Saffell, Marcus D. Sandifer,
Seth S. Shah, Nathan Joel Turner, Jon-austin Volland, Andrew Lane Wilkinson*,
Michael Anthony Aguillard Jr.*

Baton Rougee:  Jordan Claire Whaley

Baton Roughe:  Madelyn Nicole McKnight*

Greenwell Sprgs:  Cole Clint Rankin*

Greenwell Springs:  Charlotte Elaine Murphy*, Kristen Nicole Shaffer

Pride:  Garret Louis Broussard, Blanton J. Burgess, Payton David Mangham*

Zachary:  Andrew R. Albritton, Brittany Nicole Castello, Preston T. Danielson,
Matthew Michael Flanders*, Kyle David Gordon*, Kaylan Brianna Hebert*, Kaitlin Marie Maloy*,
Seth A. McReynolds*, William J. Reily, Stephen T. Samuel*


CARROLL

Lake Providence:  Frededreia Lar'ne Willis*


FELICIANA

Jackson:  Norman Frank Cook IV*, Sydney C. Womack

Slaughter:  Thomas Denison Arnett, Lawrence Harvey Dautel IV*, Quinton L. Townsel*


EVANGLINE

Ville Platte:  Lauren Elizabeth Guillory, Katie M. Holden*, Montrell Reshawn Thomas*


FRANKLIN

Baskin:  Lane David Robertson*

Crowville:  Aleah King Pylant*

Winnsboro:  Tieonna A. Davis*, Lauren Rene' Guice


GRANT

Colfax:  Garth Wayne Lasyone*, Taylor Renae McCoy

Pollock:  Auston W. Aymond, Darin Tyler Pasche*, Chelsea Lanae Paul*,
Billy D. Smith


IBERVILLE

New Iberia:  Paige M. Boudreaux*, Morgan Elizabeth Fangue, Kyla Marie Hebert,
Janzen Viator, Luke Joseph Villermin*

Plaquemine:  Luke Paul Hebert*

Saint Gabriel:  Alphonse Bienvenue Coco III*


JACKSON

Eros:  Molly M. Butler, Mallory D. Chapman, Yasmeen A. Lebbad,
Ryan T. Moore

Hodge:  Emiley L. Sessions

Jonesboro:  Katherine Brumfield*, Skyler John-scott Canady*, Emily Nicole Foster,
Courtney Jade Paul*, Ethan Taylor Robison, Reanna Lashay Rowden*, Aaron M. Shows,
Catherine Brooke Shows, Victoria Leann Smith, Jamie Hunter Strickland, Madison P. Wyatt*,
Seth D. Young, Misti Renee Broadway Wilkerson*

Quitman:  Savannah Maxwell Carson*, Kaelyn Alexa Culpepper*, Sarah-marie Brandi Griffin,
Fallon Alexandra Mitchell*, Joanna Brooke Petersen*, Mary Fayth Rudd*, Bethany J. Schimmel*,
Victoria C. Sharplin*, Phildarrian Devante' Richard*


JEFFERSON

Gretna:  Johnny Ray Negrete

Harvey:  Daniel Evan Borders*, Emily Elizabeth Fettet*, Madeleine Mary Fettet*,
Janelle M. James, Nathan E. Jordan, Shyanthony Rashone Synigal

Kenner:  Jared Austin Dembrun, Hossam A. Elsaadawy, Jacob Cusimano Porche,
Christopher Paul Rhone, Daniel J. Vogel Jr.

Lafitte:  Mary Justine Voisin*

Marrero:  Travis W. Evans*, David Christopher Plaisance

Metairie:  Amanda M. Abadie*, Victoria Elizabeth Badeaux, Austin Joshua Delaune,
Colleen Ann Heneghan*, Gabriella M. Perez

New Orleans:  Niguel Veal


JEFFERSON DAVIS

Elton:  Wakeland Heath Harriman

Lacassine:  Drew Ann Racca

Roanoke:  Joshua Matthew Granger

Welsh:  Makenzie Klaire Miller


LA SALLE

Jena:  Caitlyn C. Gallaspy, Ethan James Welch

Olla:  Hunter Lynn Johnson, Macy Jean Tullos*

Trout:  Katie Alexis Netherland

Tullos:  Macy L. Mills*


LAFAYETTE

Carencro:  Brooke Noelle Devillier

Duson:  Samantha Dawn Prejean

Lafayette:  Adam James Derouen, Nicole M. Dincau*, Sarah Kathryn Evans,
Adele Q. Hicks*, Hannah Maureen Jumonville*, Haley Kristine Laque*, Traci Barr Plaisance,
Caitlin Marie Smith*, Arthur Hartie Spence III, Amy Alicia Stratton*


LAFOURCHE

Cut Off:  Sarah Elizabeth Dickinson

Thibodaux:  Robert Patrick Gorman, Christopher David Kotar*, Tyler David Pellegrin*,
Christopher William Rodriguez*


LINCOLN

Choudrant:  Mallory P. Austin*, Kirsten Mae Chapman, Rachel Elizabeth Danzy*,
James Ellis Davison, Christan Q. Dillard, Paisley Marie Futch*, Trevor M. Hammons,
Rebekah A. Kirkpatrick, Shelbey Lee McGivney*, Sarah Grace Minter, Christopher Wayne Riggin,
Aaron Christopher Taylor, Katherine Leslie Willrich*, Anna Claire Wyatt

Chourdrant:  Whitney Wheelis*

Dubach:  Timothy Brian Bond, Cannon Reid Brasuell, Christopher Luke Broom*,
Laura Elizabeth Cason, Zeping Cheng, Chaning Elizabeth Dorr*, Traci Michelle Evans,
Emily Brooke Fulton*, Sydney Nalley Guyotte*, Kaitlyn Elizabeth Heiden*, Morgan Alexander Humble*,
Sara Jones*, Benjamin Tyler Mann*, Cody S. McCullin, Wendi Nicole Morgan*,
Ashley Kay Reynolds, John E. Stack*, Andrew Thompson*, Lauren Marie Vann*

Grambling:  Maryann Ada-nta, Lovely Kanyia Wilkerson

Ruston:  Cameron Nicole Adams*, Nadeem Ahmed Al-yassin, Garrett Christian Allen*,
Moaid Mohamed Alosta, Abdulah Abdulaziz Alzayer*, Angeline Baker*, Erica Lianne Baker*,
Bibhuti Baral, Savannah Lane Bearden, Jonathon Wayne Beauregard II, Parker William Begale*,
Trevor Blair, Anna Elizabeth Blake*, Jessica Analeah Boagni, Elizabeth Jordan Bonnett*,
Logan D. Bowe*, Sarah Anne Bowman, Romain Brabant-vila, Hunter D. Bradshaw*,
Shaina Bridges*, Justin R. Bruner, Alexandre Harrison Buck*, Gretchen Marie Budds,
Katelyn Marks Burkholder, Trinity W. Burns*, Elijah Garrett Cain*, Yifei Chen*, Nina N. Collins,
Emily Claire Colvin*, Emily Linnea Compton, Brennan Noel Confer, Farryn Cooper*,
Rachel Laine Cowell, Adam Lee Crawford*, Meryl Culot*, Kerry Curry,
Ashley Elizabeth Davis, Payal Ashok Desai*, Anna K. Deutschman, Melissa Ann Dosher*,
Jacob Duke*, Ryan Duke, Eva Burt Edinger, Batse Smart Ekanem*,
Zakaria El-awadi, Perny Alba Escalona, Elizabeth A. Ewing, Paula Faircloth*,
Mercedes Kathryn Fife, Alexandra Marie Fiorvento*, Desmond Fonkwa*, Christopher George Forester*,
Hannah Claire Francis*, Tanner Frasier*, Benjamin Larkin Fuller, Emilija Gacic,
Bailee Kate Golden, Anna M. Greer*, Chandler Grace Haddox, Bryan Matthew Hagans*,
Arman Hajiesmaeili, Anna Whitley Hall*, Zachary Daniel Hannibal, Claudia Elizabeth Hayes,
Breanna E. Hebert-griffin, Rachel Ann Hegab*, Elizabeth Phillips Henley*, John Steven Herren,
Christopher Jacob Hiers*, Timothy Christopher Hoff, Taylor Christine Hogan*, Jiaming Huang,
Madison O. Huckabee*, Tristen Huff*, Nhut Minh Huynh*, Hanna Jembere*,
Rachel M. Judd*, Vipasana Kansakar, Madison Grace Kaufman*, Elizabeth Ann-marie Kimble*,
George Njoroge Kimwaki, Kendall Ann King, David Kirkland, Lisanne Kleygrewe*, Hoai Duc La*,
Christopher Michael Lachney, Lauren Elizabeth Laughlin*, Kaitlyn Rose League, Montana Little,
Huimin Liu, Virginia Lauren Logan*, Morgan Elizabeth Lolley*, Rodriguez Erik Martinez*,
Rachael Lynn Maxson*, William Nicholas McWilliams, Maria Lynn Meadows*, Farah Ravindra Sanjee Mendis,
Fernando Salvador Merino*, Breanne Adele Mertz*, Kaitlyn G. Meyers, David Christopher Milam,
Olivia Alice Millington*, Kamga Adrien Loic Monkam*, Barrett Andrew Moore*, Mary Margaret Morgan,
Aaron Lynn Napper, Elia Ariel Nero, Brandon Newton*, Hai Thuan Thi Ngo*,
Olinga Victoire C. Ngono, Hieu Tri Nguyen, Quyet Van Nguyen, Harb Dafne Luciana Nogales,
Nicole Nwoha, Madeleine M. O'Rear, Catherine Louise Olsen, Juwon Park*,
Joshua Pate*, Jordan James Patrick, Katie Michelle Payne, Anita Pecurcika,
Makayla Jordan Perez*, Shilo Ethan Perry*, Mary Katherine Peshoff, Brittany Eillen Pierre,
Dinesh Poudel, Annabel Jayne Prior*, Nadun Waranga Pullaperuma, Adam Ra Ramachandranjiv*,
Pawan Rayamajhi*, David Austin Reid*, Juan Paul Richardson*, Kailee S. Rivera*,
Adolfo Lizandro Rodriguez, Laura Catalina Rodriguez, Nicholas Arthur Ruff*, Rachel Danielle Ruff*,
Donya Salomon-ali, Sai Spurthy Sathineni, Benjamin Slade Serio*, Michael Lamar Skipper Jr.,
Garrett P. Soileau, Natalie M. Songer*, Erica Sorensen, Nadia Martina Soria*,
Marta Sramkova, Taryn Fuller Stark, Jeffrey A. Stepp, Taylor L. Stroud-woods,
Macey B. Sutherland*, Nathan Andrew Taylor*, Fallyn T. Thompson, Joshua Tully*,
Kathrine A. Upshaw, Alexandria Reid Viola*, Katerina Voziyanova, Brianna Jean Walker*,
Sarah Keil Waller*, Ryan A. Walters, Kiara Renee Washington*, Kendell Knight Webb*,
Taylor Weeks*, Menglan Wen, Victoria L. Wheat, Rebecca Wheelis,
Caleb Tanner White*, Graham Williams White, Jon Russell White*, Laura White*,
Sarah E. Wilkerson, Antonio Kenterrian Wilson, Yuan Xu*, Dongyi Yang,
Yajuan Zhang*, Victor Eduardo Zumaran*, Martinez Miguel Angel Jimenez,
Mark Edward Vandenlangenberg*, Martinez Gabriel Tomas Jimenez,
Sulaiman Najib Mohammed Yousef

Simsboro:  Raigan R. Talbert*


LIVINGSTON

Denham Springs:  Catherine Mary Chatelain, Joshua P. Chopin*, Bryce Anthony Dugas*,
Krista Raquel Hebert, Maryanne Calyn McClure,
Alison Nicole Perregrino*, Karen Marie Rispone*,David Sasser*

French Settlement:  Philip R. Matherne*

Livingston:  Luther Richard Pringle III

Springfield:  Cheyanne Malinda Demars*, Erica Kay Jubin

Walker:  Logan W. Finnell, Samantha Renee Nuza, Mitchell Harrison Odom


MADISON

Tallulah:  Sunny M. Gaumnitz*, Matthew Tristan Watson

West Monroe:  Zachary D. Walsh


MOREHOUSE

Bastrop:  Jordan M. Caldwell, Claire Ashtin Pitts, Zachary Taylor Stephenson*,
Abigail M. Watson, Clay T. Winnon*

Mer Rouge:  Mary Margaret Dixon


NATCHITOCHES

Goldonna:  Marcus Aaron Babers*

Natchitoches:  Khalilah Maryam Al-amin, Kourtney Sierra Bush, Kristen M. Chatelain*,
Nathaniel Adam Gardner*, Tristan Gregory Hare, Ian Matthew Lovemore, Quincie J. McConathy,
John Charles Mertens, Holden R. Murphy*, Hannah Shae Nichols*, Caitlin Paige Raupp,
Lesley Virginia Tucker, Warren Tyler Ward*, Kelsey K. Woodard*

Provencal:  Emily Elizabeth Vice

Robeline:  Brooke Nichole Townsend*


ORLEANS

Haynesville:  Michael David McKnight

New Orleans:  Elijah Thomas Gerhardt, Joseph Theodore Hagensee*, Brandon J. Johnson*,
Krishara L. Johnson, Rachel Emily Morris*, Colin Wade Rousset*, Brianna Michele Skinner,
Luke Joseph Walker*

River Ridge:  Tyler W. Turner*


OUACHITA

Calhoun:  John Chance Allen, Haley Michelle Cohenour, Donja Dee Moody Colvin,
Marco Anthony Guirlando*, Kimberly R. Hodge*, Hope Elizabeth Johnston*, Dakota Charles Morgan,
Jonathan Tyler Peacock*, Destiny Brooke Raney, Mallory Elaine Russell*, Zachary Ryan Staples,
Hannah Paige Willis

Monroe:  Hannah G. Altick*, Sarah Elizabeth Aydelott, Afinju Bailey*,
Akin Christian Bailey*, Haley Nicole Ballinger, Henry A. Barham IV, Jeffrey Kaleb Blondin*,
Almira Kathryn Bradford, James Peyton Braswell, Anne Nichols Brown, Blaine Bulloch*,
Lillie Caitlin Burroughs*, Christopher S. Carlson*, Khailin Alyse Chambers, Bailey Elizabeth Chenault*,
James Cole Dewitt*, Randi Elizabeth Domingue*, Jaeda Aleigha Dunn, James Brunot Gaiennie,
Ashton J. Garner, Edward Thomas-james Hayward, Jessica Lianne Hearn, Emerson Marie Heflin,
Roderick O. Jackson Jr., Anna Elysse Lee, Anna L. McCarter, Caroline Hughes McVay,
Katie L. Minyard*, Emily Kathleen Mouk, Nisha Surendra Patel, Caroline Lori Ray*,
Hampton Sanders Roane, Kendra Danielle Rowell*, Sydney Renee' Shelby*, Jeri Hannah Smith*,
Kristyn Rae Smith*, Nikki Lynn Sykes, Shelby E. Sylvester*, Ronni Nicole Tilmon*,
Laura M. Vidrine, Alyssa P. Vingiello, William Graham Weaver, Kenneth West III*,
Hannah Nicole White*, Eboni M. Williams, Molly S. Williams, Gertie Alexis Woods*

Sterlington:  Krystian Danyale Hutson, Timothy Noah Hutson

West Monroe:  Alexandra Lea Albritton*, Taylor Everett Antley, Emily Ruth Bishop*, Victor S. Bivens*,
Michael H. Black*, Ibrahim Bouchaffra*, Chester Arthur Bradley IV*, Matthew John Brandl*,
Dustin Cleveland Brooks, Kerrie Layne Cammack, Nicholas Kyle Clampit*, Joseph Kyle Coburn,
Julianne Elizabeth Cousans*, John C. Cox*, Sarah Caroline Cox*, Henry David Craighead,
Whitney Marie Denton, Shelby Leigh Dubos*, Savanna Hope Edwards, Kayla Robin Fontenot*,
Sari R. Freeman*, Perresha R. Gaines, Erin Taylor Gentry*,
Emily Claire Greene*, Faith Elizabeth Hable, Allison Nicole Hale*, Tyler Christian Hall,
Laken Michelle Hampton*, Lauren Brooke Hampton, Jessica Catelin Hawkins, Jacob Heimbuck*,
Hannah Nicole Henry*, Anahy Hernandez*, Nathan Dakota Hill*, Yasmine R. Hines*, Allison Anne Holtzclaw*,
Jeb Russell Houston, Connor L. Howington*, Sarah Grayce Johnston, Austin John Knies*, Amanda Elizabeth Labude*,
Alexandra Michelle Lee*, Chase E. Leehy, Edmond Paul Linder Jr.*, Grant Cameron McKee,
Adriane Grace Meggs, Olivia Michele Meggs*, Jonathan D. Mercer, Landon Paul Mims, Michael David Mims,
Devin D. Mitchell, Dustin Douglas Mitchell, Meredith Shelby Moore, Hannah Wheeler Morrison,
Dillon James Morvant, Malia Kay Munn, John William Murray, Gary Lane Newman, Colby Ray Nichols*,
Taylor Brooke Nugent*,  Joshua Kaleb Osborne*, David B. Page, Sydney Jewel Phillips*, Tyler James Pitson,
Allison N. Redding*, Sommer Michelle Riggin*, Mary E. Riggs*, Summer Celeste Risinger*,
Cole Roberts*, Katie L. Rountree*, Ashton Jolyn Russell, Anna McClain Sartor*, Kayla Nicole Schubert*,
Peyton Samuel Sidders, Allison Jill Smith, Tori Alecia Smith*, Tyler John Soileau, Lauren Nicole Telano*,
Bradley Charles Thomason, Caitlin Nichole Tindell*, Ashley Marie Tubb*,
Jeffrey C. Tyler, Matthew Thomas Upshaw*, Claire Elizabeth Vidrine, Madison Elizabeth Vige*,
Chase Garrett Walker, Chelsey Danielle Ware, Madeleine Sinclaire Wassan, Skylar U. Winters*,
Nicholas Ryan Young*, Victoria Ashlyn Taylor Johnson*


PLAQUEMINES

Belle Chasse:  Jeremy Ryan Sirven*

Ruston:  Jessi Lynn Stack*


POINTE COUPEE

Lottie:  Betty Robillard


RAPIDES

Alexandra:  Olivia Nicole Loewer

Alexandria:  John Aguillard*, Alexandra E. Barbe*, Sarah Ashley Boothe, Kristyn Elizabeth Bordelon,
Courtney Lyn Chamberlin*, Jackson Reeves Close, Drake Wimberly Daily*, Drayton Lee Daily*,
Hannah L. Delgado*, Elizabeth Anna Dixon*, Eden Danielle Gills, Lauren Grant*, Hunter C. Greene*,
Rachel E. Gremillion*, John Spencer Hedrick*, C. J. Hicks*, Mitchell Hutchison,
Tristan Marie Kramer*, Samantha Noel Lang*, Ashley Marie Lewis, Morgan Simone Mallory,
Matthew Luke Margheim*, Miranda Paige McMickens*, Walker Harrison Neal, James T'frere Ortis,
Michael T. Osmun*, Avery Reaves Polk, Brittica Lynn Reed*, Jamarcus Shabazz Malik Reed*, Kaitlyn Elaine Robinson*, David A. Slater,
Kirsten R. Willis*, Matthew Shea Willis*

Ball:  Therese R. Hadwin*, Demi Alexandra Sandel

Boyce:  Taylor Rene Delrie*

Deville:  Megan A. Green, Victoria Hardy, Kelli Colleen Lucas,
Haley Nicole Williams

Forest Hilll:  Nicolas Andrew Winners

Glenmora:  Caisha Ann Bell

Hineston:  Devin Dewayne Locke

Lecompte:  Madeline Marie Beauregard*

Libuse:  Joshua Logan James*, Lauren Brooke James*

Pineville:  Victoria Elizabeth Barber, David York Boothe, Katherine Elizabeth Carter,
Hailey Veronika Chaudoir*, Kacie Michelle Chenevert*, Cameron Charles Curtis*, Waylon P. Davis,
Maria D. Gallent*, Rachel L. Halbrook, Ryan Adam Laborde*, Kathryn Elizabeth Lafleur*,
Brittany Rochelle Leger*, David Christopher Love, Katherine Ann Mashburn, Moath Mohammed Mohammed*,
Kevin August Moran*, Mary Reagan Moran*, Bryce Dylan Pfeiffer, Brittany L. Pippen*,
Jasmine Joy Rogers*, Carly Marie Sjoberg, Shelby Toms, Meredith Verret*,
Emily Rose Williams

Woodworth:  Anna Maria Stephenson


RED RIVER

Coushatta:  Caitlin Nicole Finton, Steven Lee Longino


RICHLAND

Delhi:  Benjamin Seth Albritton, Abigayle Renee Ryan*, Kelly A. Scurria

Mangham:  Justin Thomas Biggs*, Logan Evan Slade*

Rayville:  Bailey Renee Adams*, Elizabeth A. Durbin, William Aaron Gibson*,
Mackenzie Lynn Hendrix*, Kelsie Alane Miller, Linda-claire C. Morris*, Orie O'Briant Morris,
Katelyn G. Mullins, Cynthia Michelle Strahan

Richland:  Holly Claire Johnson


SABINE

Florien:  William R. Cook

Many:  Marshall R. Harris


BERNARD

Chalmette:  Kelly Nicole Kneale*, Daniel Evan Humphrey*


CHARLES

Des Allemands:  Drew Patrick Melancon*

Luling:  Jarrod Richard Bernard, Mia Elizabeth Bosco*, Michael Bourgeois*,
Eric Joseph Buras, Rebecca L. Robert*, Kristen L. Seal

Norco:  Peyton James Steib*

St. Rose:  Megan Marie Ruiz*


JAMES

Lutcher:  Daniel Christopher Wahl*


JOHN

Garyville:  Juan Manuel Chavez

La Place:  Amanda Jean Allday

Laplace:  Jared Matthew Keating

Montz:  Denver Wayne Perilloux


LANDRY

Arnaudville:  Garrett J. Sweeney

Eunice:  Shelby Denise Olivier*


MARY

Berwick:  Randi Carol Hoff


TAMMANY

Abita Springs:  Camille E. Leblanc

Bush:  Matthew Charles Blohm

Covington:  Christian Joseph Arcement, Daniel Robert Crain*, Zachary J. Dale, Kevin L. Dang*,
Jason M. Diggs*, Kaitlin Joie Fouquet, Catherine R. Hunter*, Owen Carlton Langston*, Eric M. Ortiz*, Ashley L. Owens*,
Jonathan Edward Reppel, Delaine C. Rodick, Frances Josephine Tarantino*, Theresa Marie White,

Folsom:  Rachael Lynn Kennedy, Marcus Antoine Kety*

Madisonville:  Carson P. Mendel

Mandeville:  Kyle A. Anderson, Barry W. Auxilien*, Cameron Taylor Broussard,
William David Byerley*, George J. V. Cazenavette*, Justin Robert Coe,
Scott Allen Eberhart*,Casey Nicole Fernandez, Sarah Elizabeth Goodgion*, Hannah Carlyle Green, Kayla Marie Houte, Elizabeth Lyn Hummel,
Ryan Raymond Jones, Dominic Louis Lallande, Tiffany Marie Marlbrough*, Kailey Claire Mataconis, Walden Walter Perry*,
Courtney M. Smith, Eric Marcelo Valverde*, Sarah Kristen Van Houten

Pearl River:  Madison Claire Doll*, Michael R. Meltz, Jacob Ray Turner

Slidell:  Charles M. Adeola, Jenae Gabrielle Arceneaux*, Simon Pierre Blache, Christina Leigh Dorsett*,
Austin Reed Dugas*, Brianne Nicole Edmiston, Caroline Renee Fontenot, Adrianna Renee Iennusa,
Brittany Ann Kastner*, Shannon Olivier*, Hunter Joseph Rasnic*, Andrew Brenden Spencer,
Reed Douglas Streets*, Austin D. Ward*, Brittany Cheri Warren*, Allister Julian Wright


TANGIPAHOA

Amite:  Marlie Louise Giardina

Fluker:  Zachary Douglas Kent

Hammond:  Kirsten L. Jackson*, Jonathan David King*, Dillon M. Sullivan*, Daniel J. Trypaluk*, Spencer D. Wyld

Independence:  Dani E. Schillace

Loranger:  McKenna Rae Jenkins*, Juan Jose Valenzuela Jr.

Ponchatoula:  Dana Leanne Reno*

Ponchtoula:  Heather Laine Lobb

Tickfaw:  Julie Marie Gaudin*


TENSAS

Newellton:  Sarah E. Head*


TERREBONNE

Gray:  Seth James Louviere

Houma:  Cole William Bergeron*, Rachel Marie Billiot*, Matthew Edward Braud,
Mary A. Burlette, Danielle A. Eschete, Emily Elaine Lajaunie, Zeke John Marcel, Eric John Martinez, Madeline Marie-angelle Ordone*


UNION

Bernice:  Khaki Savannah Coggins, Jeffrey Brandon Darden, Shelby L. Flowers,
Kailee Ashton Harkins*, Robin Nicole Jiles*, Jordan W. Lee, Alexis Brooke Oliver*

Downsville:  Harold W. Cox*, Gregory Wayne Justus*, Adam Reese Taylor

Farmerville:  William M. Baldwin*, Sabrina Bhayani, Sarah Blazier*,
Ann Marie Bryant, Claire Cobb, Tori Danae Constant*, Ragan Tyler Dendy,
Amber Renee Dodd*, Sarah Katherine Drost*, Brittany Gray Durr, Matthew Hunter Fuller,
Ethan Lane Ginn, Wesley Wilson Gray, Lauren Dianne Guillot*, Jordan R. Harris,
Jessica Renee Hicks*, Haidyn Mackenzie Long*, Nicholas Christian Nevala, Amy R. Royal*,
John David Sawyer, Deanna Williams Sepulvado*, Morgan Lefaye Sutton*, Haley Savannah Temple,
Baileigh D. Wilson

Junction City:  Jordyn L. Jerry*

Lillie:  Breann Elizabeth Chrisman*

Marion:  Jake Hunter Auger, Abigail Lynne Baker, Mary Elizabeth Hickman,
Jared Alan Williams

Spearsville:  Anna Clair Evans, James Tyler Lawson, Jeremy Russell Rockett*


VERMILLION

Erath:  Jena Rose Suire


VERNON

Anacoco:  Jenna Marie Price*, Brianna Danielle Stinnett

Fort Polk:  Elisabeth Ann Sanders

Leesville:  Lauren Ashley Hoecker, Brooklyn Paige Robinson

New Llano:  Faith E. Toups

Pitkin:  Joshua Scott Miller

Simpson:  Victoria Leigh Self*


WASHINGTON

Angie:  Emily Beth Hartzog*

Bogalusa:  Hannah M. Moore

Franklinton:  Brad Alan Cooper*, Hunter A. Cooper, Bailey N. Fournier


WEBSTER

Doyline:  Amy J. Callahan*, Molly Joyce Day*, Erin Renee Smith*,
Ethan Michael Sullivan*, John Gilbert Valdez*, Cassidy Opal Zanca*

Dubberly:  Paul Daniel Donaubauer, Paige Elizabeth Osborn*, Chelsea Shaw*

Heflin:  Allison Marie Powell*, Nicholas Ray Powell

Minden:  Ragan Elizabeth Beard, Macie Lee Branch, James Austin Drake,
Ryan Andrew Garcia, Gracyn Lee Gorman, Joshua S. Harden, William Graham Lemoine,
Mitchell Allen Mays*, Molly McCann, Allison Faith Mourad, Kathryn Ann Murphy*,
Alycia Nikole Parker*, Jordan Lethommius Perry, Claudia L. Pullman, Chesney Nicole Reno*, Kristopher Jopree Sanders,
Asa Quaid Smolenski, Austin R. Snider*, Spencer Lawless White*, Jordan Taylor Wood,
Jimmy Yocom*

Shongaloo:  Hunter Cheyenne Baker, Chesly Johnston

Sibley:  Brandi Victoria Kea*, Caleb Bryant Killian, Kali Rebecca Killian


BATON ROUGE

Port Allen:  Jacob Thomas McGee


CARROLL

Epps:  Keith Crnkovic

Forest:  Alexis A. Trisler

Oak Grove:  Lauren A. Eubanks, Hannah Elizabeth Schrock

Pioneer:  Kody Steven Brown


FELICIANA

Saint Francisville:  James Maxwell Slezak*

St. Francisville:  Russell L. Biggs, Callie A. Bujol

St. Francsisville:  Rosa Catherine Schellinger


WINN

Atlanta:  Jancee Renee Lashley

Dodson:  Mary Ann Rose*

Sikes:  Gavin Thomas Kelly*

Winnfield:  Megan Jordan Crenshaw*, Nicholas H. Goins*, Dailia Michelle Harden*,
Kacie Marie Kieffer*, Savannah L. Lovell*, Matthew Todd Martin*, Rachel Susan Massey,
Alexandra Makay Vanblaricum*



MARYLAND

Frederick:  Lucia Rae House*, Thomas Andrew House

Gaithersburg:  Rasmi Shrestha*


MICHIGAN

Commerce Township:  Taylor A. Parker*

Macomb:  James Hays Ehlmann*


MISSOURI

Belton:  Kathryn Sloan*

Liberty:  Miranda Claire Howland*

Parkville:  Morgan A. Keesee*


MISSISSIPPI

Bay St. Louis:  Jacob H. Johns

Brandon:  Lexi Rei Miller

Columbus:  Margaret E. Lebrun

Fayette:  Marlisha Brinkley

Ocean Springs:  Madeline Claire Gibson*

Oxford:  John S. Abraham, Alexus Nickole Malone

Vicksburg:  Christopher Sean Luke, Mattea Elise Mobley, Caroline Renee Webb


NEW JERSEY

Little Egg Harbor:  Jon Steven Kubricki*


NEVADA

Henderson:  Tyler Ducote*

Moapa:  Zachary Holt


NEW YORK

Bainbridge:  Evan Wolf M. Landau*

Middle Grove:  Mia Paige McClary

New York:  Ivo A. Ilic

Sharon Springs:  Francis Eugene Manning*


OHIO

Chagrin Falls:  Daniel T. Williams Jr.


OKLAHOMA

Alex:  Randall M. Alexander*

Broken Arrow:  Caroline Baxter

Choctaw:  Sean M. Semple*

Edmond:  Trenton Colston Davis*

Jenks:  Amy L. Maroney

Owasso:  Kenneth Andrew Kemp*

Yukon:  Beverly Anne Case


SOUTH CAROLINA

Catawba:  Katy E. McFadden*

Laurens:  Annie Kate Lee


TENNESSEE

Cordova:  Madison T. Ellison*


TEXAS

Abilene:  Stephen Vance Green*

Allen:  Alexis N. Barnes, Connor H. Costello, Luke D. Guillemaud,
Patrick Read Morgan

Arlington:  Joshua David Haire

Arp:  Tanner David Starr

Athens:  George Rittman Hutson

Austin:  Bailey M. Martinez, Emma Nicole Mele*

Beaumont:  Corbrielle Nelena Boulard, Christopher Connor McClain*, Brian K. Spikes Jr.

Bedias:  Tyler J. Leblanc

Bullard:  Caitlin Rhea Denman

Carrollton:  Kendall Lee Hoy, Benjamin Ashton Rice*

Cedar Park:  Victoria A. Browder

Cibolo:  Jacob S. Weissmann

Colleyville:  Anna R. Popkin*, Trevor Vaughn Tedder, Karley Kristine Westman*

Dallas:  Brittany Nicole Beasley, Stephen G. Bierschenk*, Sarah Ann Jolly*

Double Oak:  Grant Armstrong Andries

Eustace:  Mark Thomas Zimmerer

Farmersville:  James Payton Potter*

Flower Mound:  Taylor Douglas*, Matthew Tyler Holcombe, Makenna M. Johnson,
Emma Lynn Paille

Fresno:  Daphney M. Campbell

Frisco:  Mitchell Brandone, Joshua Glenn Moore, Megan N. Nobles,
Madison L. Padgett, Alexander S. Petersson, Piper Alexandra Wilburn*

Ft Worth:  Chase Seuffert

Gilmer:  Kayla M. Guthrie

Gladewater:  Taylor J. Rode*

Hallsville:  Dara Winsted*

Heath:  Abigail P. Scallan*

Henderson:  Reagan Michael Clayton, Andrew Grayson Wylie

Hockley:  Mayra Rodriguez*

Houston:  Devon L. Dollahon, Rebecca C. Doucet, James Grant IV

Katy:  Rodger W. G. Advincula Jr.*, Connor John Jeffries, Audrey Rene Kolde,
Hunter Layne*, Kylie Elizabeth Nunmaker, Evelyn R. Skinner*, Tynea D. Starks

Keller:  Victoria Brooke Charters

Kingwood:  Danielle Elizabeth Odle

Laneville:  Dylan S. Bridges

League City:  Elizabeth Claire Smith*

Lewisville:  Marcus Lee Ash*, Keith R. Bailey, Emeline Rose Bennett,
Matthew Bret McDougal*

Lindale:  Samuel Robert Saunders*

Longview:  Kayla Faye Farrar, Taylor Jennings-whisenhunt*, Sarah Michelle Smith,
Ariel Jade Wayne

Magnolia:  Michael L. Bullock*

Mansfield:  Hayden Frederick, Luke R. Neeley*

Marshall:  Kelly A. Bullis, Jacovin Antwon Coats, Trent Alexander Harrison*

McKinney:  Madison E. Amick*, Kathryn Dianne Jordan*

Mesquite:  Shinonya Richard

Montgomery:  Chandler Nash*

Nash:  Lauren Michelle Caswell, Candace Renee Davis*

New Braunfels:  Hayden P. Schmitz

North Richland Hills:  Taylor Nicole Moore*

Omaha:  Pablo K. Johnson*

Pearland:  Kylie Alexandra Brame*

Plano:  Joshua James*, Kristen Miles

Richardson:  Anna Mozelle Whitaker

Rockwall:  Destinee A. Patterson

Rowlett:  Alexandra Blake Beauregard*

San Antonio:  Autym C. Scales

Sanger:  Morgan Taylor Turkoly

Seminole:  Mark R. Harms*

Sheppard AFB:  Angel Cymone` Sims

Southlake:  Jeremy D. Gonzales, Alya B. Shams

Sugar Land:  Kevin Matthew Kovacs

Temple:  Thomas W. Hughes*

Texarkana:  Kevin Dell Paxton

The Woodlands:  Mason C. Mills*

Tioga:  Brittany N. Beddow*

Tyler:  Kennedy Renshaw*, Stephanie Elise Renshaw*, Kathleen Elizabeth Schmidt*

Universal City:  Allyson A. Roessler

Waskom:  Brooklyn Mackenzie Philpot

Waxahachie:  Matthew P. Louque, Natalie Marie Perry

White Oak:  Samantha Crossland*, Morgan Kathleen Marsh*

Willow Park:  Emily S. Robinson


VIRGINIA

Portsmouth:  Doshua Leondre Barksdale

Richmond:  Kiersten Eilish Slack


VERMONT

Arlington:  Amber N. Harrington*


WASHINGTON

Bellingham:  Stefon-julien Shawn V. T. Dunha

Prosser:  Zachary Stewart Call*

Redmond:  Naeemah Abdus-salam

Tumwater:  Anne Marie Armstrong


TEXAS

Bedford:  Carrington Sinclair McCallister
Written by Judith Roberts – jroberts@latech.edu