Forbes ranks Louisiana Tech among top universities in nation
Forbes' list of America's Top Colleges 2016 has once again ranked Louisiana Tech University among the top higher education institutions in the nation.
Only the top 660 public and private higher education institutions in the United States make the Forbes Top Colleges report.  Louisiana Tech came in at No. 392 in the nation with only LSU (171) ranked higher among Louisiana's public universities.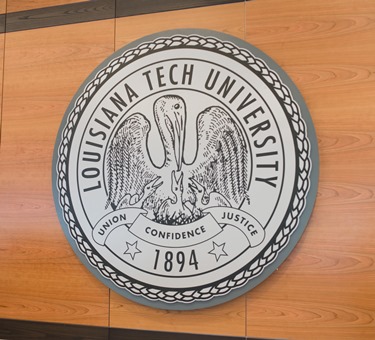 Louisiana Tech also ranked No. 122 in the nation among all public universities and No. 161 in a list of all research universities.  Other Louisiana institutions to make the Forbes Top Colleges 2016 list included Tulane University (129), Loyola University-New Orleans (486), Centenary (490), University of Louisiana-Lafayette (531), University of New Orleans (577) and Southeastern Louisiana University (626).
"The Louisiana Tech community has committed itself to providing students with an unparalleled educational experience and building a nationally-respected research university to serve the State of Louisiana," said Louisiana Tech President Les Guice.  "I am pleased to see these efforts being recognized and would like to sincerely thank the faculty and staff of Louisiana Tech for their dedication to our institution and the positive impacts they have on our students.  We will continue to focus on elevating our university and the graduates and leaders we produce."
According to Forbes' methodology for its America's Top Colleges 2016 report, the list of 660 schools distinguishes itself from competitors by "our belief in 'output' over 'input.'"  Forbes says it is not interested in what gets a student into college, but has set their sights directly on ROI and what are students getting out of college.  Specifically, the 2016 list focuses on measurements of post-graduate success, student debt, student satisfaction, graduation rate and academic success.  Forbes utilizes resources such as the Center for College Affordability and Productivity, the Department of Education database (IPEDS) and PayScale.com to calculate its rankings.
"College has become one of the biggest financial decisions students and their families make," says Forbes' Caroline Howard in her release of the America's Top Colleges 2016 list.  "They deserve all the information they can get on the questions that directly concern them: Are current undergrads satisfied? Is it likely I'll graduate on time or incur a ton of student debt? Will I get a good job and be a leader in my chosen profession?"
Stanford University topped the America's Top Colleges 2016 list followed by Williams College (Massachusetts), Princeton University, Harvard University and the Massachusetts Institute of Technology (MIT).  The U.S. Military Academy at West Point ranked as the highest public institution in the nation.
Forbes' America's Top Colleges 2016 report is the latest in a list of recent national rankings for Louisiana Tech in measures of quality and value. In addition to a fifth consecutive Tier One National Universities ranking last September, U.S. News & World Report placed Louisiana Tech at No. 1 in the nation among pubic institutions for graduating students with the lease average amount of debt. PayScale.com also ranked Louisiana Tech No. 1 in the state and No. 70 in the nation in its 2015-2016 College Salary Report for average mid-career salaries for graduates.
For the complete list of Forbes' America's Top Colleges 2016 rankings, visit
www.forbes.com
.