Louisiana Tech alumni bring their Fabulous Equinox Orchestra back to Ruston
— Big-band concert experience to benefit Louisiana Tech School of the Performing Arts —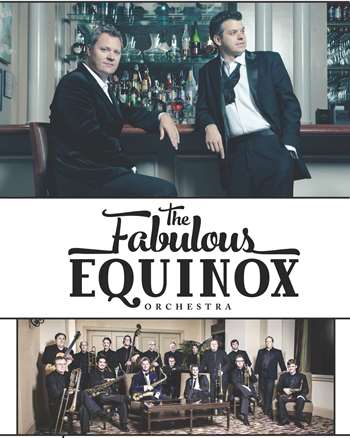 Louisiana Tech University alumni Jeremy Davis and Clay Johnson are bringing their Fabulous Equinox Orchestra back to their alma mater on September 26 for an exclusive north Louisiana performance in the Howard Center for the Performing Arts on the Louisiana Tech campus.
The exclusive fall big-band jazz concert experience will begin at 7:00 p.m. and feature a variety of original arrangements and American classics from the likes of Frank Sinatra, Harry Connick, Jr., Elvis Presley and others.  Proceeds from the concert will benefit Louisiana Tech's School of the Performing Arts in the College of Liberal Arts.
"We are thrilled to have the Fabulous Equinox Orchestra back on Louisiana Tech's campus," said Dr. Don Kaczvinsky, dean of Louisiana Tech's College of Liberal Arts.  "Jeremy and Clay are Tech alumni, and their special brand of music not only brings the sounds of swing and the big band era to Ruston, but allows us to highlight the great talent that is rooted in north Louisiana."
Fashioned in the style and swagger of the legendary entertainers led by Frank Sinatra, Davis and Johnson are putting their own stamp on the Great American songbook, graced with a touch of Motown, Ray Charles, Johnny Cash, Elvis and more, offering a freshness and relevance that speaks to every soul.  Along with the greatest songs, the best original arrangements and phenomenal musicianship, these two bring their rich friendship and charm to the stage.
"We're fresh off the premier of our very own PBS Special and a European tour, and have embarked on our largest national tour to date," said Davis. "Clay and I are Louisiana natives and life-long friends, and are proud to present this unique brand of big band, featuring a hearty portion of classic, Sinatra-style swing and swagger with side of Rhythm & Blues and a spicy dash of Louisiana Soul.  We know it'll leave our audience at Louisiana Tech exhilarated, on their feet and cheering for more."
Prior to the public performance, Davis and Johnson will meet with students in the School of Performing Arts to share their music and stage experiences, and offer insights into their time as students and alumni of Louisiana Tech.  Davis, Johnson and the other members of the Fabulous Equinox Orchestra say they are dedicated to the preservation and advancement of the classic American big-band jazz art form through educational outreach.
"We are fortunate that so many Louisiana Tech School of the Performing Arts distinguished alumni provide a rich and fabulous resource for our students," said Mark Guinn, director of the School of Performing Arts.  "It's a pleasure to host the Fabulous Equinox Orchestra and celebrate the successes of our former majors Jeremy and Clay, and for them to generously support our students by sharing their knowledge and experience. Outreach sessions like these are what make this program unique and wonderful."
Tickets for "The Fabulous Equinox Orchestra – LIVE at Louisiana Tech" are $20 for adults and $10 for seniors, students with ID, military, and youths.  Group rates are also available.  Adult tickets only are now available by visiting
www.latechuniversitytheatre.com
.
All tickets will be available for purchase from the Stone Theatre Box Office in the Howard Center for the Performing Arts beginning on Monday, September 12.  Box Office hours are 1:30 p.m. to 4:45 p.m., Monday – Friday.  Tickets can also be purchased by calling the Box Office (318) 257-3942.
For more information on Davis, Johnson and the Fabulous Equinox Orchestra, visit
http://equinoxorchestra.com
.