A.E. Phillips Lab School named top elementary school in state
A.E. Phillips Laboratory School at Louisiana Tech University has been named Louisiana's top elementary school by StartClass, an education research site powered by Graphiq – an international technology company that delivers insights and analyses from worldwide data.
StartClass released its findings Wednesday, ranking the top elementary schools in every state based on metrics such as exam passing rates, school environment and disciplinary actions.  According to the study, exam passing rates include math proficiency rates and reading and language arts proficiency rates, over the last three years.  School environment consists of factors such as the student-teacher ratio, teacher experience and teacher absence rate.  Disciplinary actions measures take into account the school's retention rate, in-school suspension rate and out-of-school suspension rate.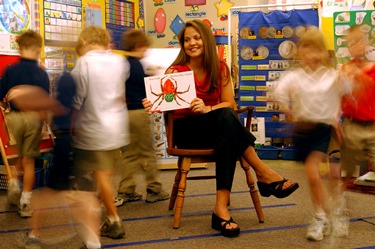 "It is such a blessing to be a part of A. E. Phillips Laboratory School where educational excellence has been the focus for ninety-nine years," said Dr. Joanne Hood, principal of A.E. Phillips.  "The combination of great students, great faculty, great parents and a great university all play a part in our school's success. We take pride in the various educational opportunities we can offer our students and are honored to have been recognized as the top school in Louisiana."
The StartClass study analyzed data from the National Center for Education Statistics and the Civil Rights Data Collection to determine the top schools in every state.
"This high ranking is a testimony to the leadership provided by Dr. Joanne Hood, the school's director, our dedicated teaching professionals, quality staff, and of course, the exceptional students and their families who all contribute to Excellence Through Education," said Dr. Don Schillinger, dean of Louisiana Tech's College of Education.
In Louisiana, A.E. Phillips achieved a School Performance Score of 123.2 in the most recent assessment by the Louisiana Education Department, earning the school an overall grade of "A" which was the highest of any school in north central Louisiana, and one of the highest in the northern region of the state.  Louisiana's School Performance Scores are based on a variety of factors including student achievement, academic indicators and measures of career and college readiness (such Carnegie credits earned through 9th grade), and graduation rates.
Known for its strong academic focus and innovative teaching strategies as well as its emphasis on the arts, A.E. Phillips is a K-8 school that serves as a model for the use of research-based instructional practices as well as the integration of technology in the classroom. Additionally, it offers a site for Louisiana Tech education majors to observe and practice effective teaching strategies in a supportive environment.
To see the complete rankings from StartClass, visit
http://public-schools.startclass.com/stories/19061/top-elementary-schools
.