Cast for Stone Theatre production of 'Tartuffe' announced
Louisiana Tech University's Department of Theatre is proud to announce the 12-member cast for its first production of the 2016-2017 season, "Tartuffe," written by Moliere and directed by Cherrie Sciro.
Following campus and community-wide auditions held last month in Stone Theatre, the cast of Tartuffe includes: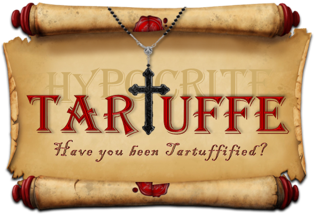 Alexis Landry as Madame Pernelle (Appomattox, Virginia),
Ashley Fairbank as Elmire (Covington, Louisiana),
Austin Harrison as Police Officer (Mandeville, Louisiana),
Collin Cagle as Tartuffe (Covington, Louisiana),
David Miller as Valere (Lawerene, Kansas),
Emilie Belisle as Flipote (Dayton, Tennessee),
Kaitlin Perry as Mariane (Clinton, Louisiana),
Millie Omps as Monsieur Loyal (Slanesville, West Virginia),
Nick Reeve as Cleante (Charlottesville, Virginia),
Olivia Willcox as Dorine (Bossier City, Louisiana), and
Travis Fontenot as Orgon (Ville Platte, Louisiana).
Performances of this 18th century comedy classic in Stone Theatre, located in Louisiana Tech's Howard Center for the Performing Arts, are scheduled for 7:30 p.m. November 1-5, and 2:00 p.m. on November 6.  For ticket and performance information, please contact the Louisiana Tech Theatre office at (318) 257-2930.
Tartuffe is Moliere's comic masterpiece and a hilarious use of satire about a religious zealot con artist extraordinaire who oozes godliness and charisma. Will Tartuffe's hypocrisy be found out before Orgon's family is completely given to the madness of Tartuffe's secret plan, which is to take everything that is important to Orgon, his wife, family, money, and place in the community?  Tartuffe will stop at nothing to achieve it, and Orgon's son will stop at nothing to prevent it from happening.  This famous farce is a cautionary tale told with lightning quick wit, complete with star-crossed lovers, a very frustrated wife and a badgering grandmother.
Join the cast and the Louisiana Tech Theatre Department to be a part of Moliere's slapstick comedy and an experience that you can't turn down.  For more information on Tartuffe or the Louisiana Tech Department of Theatre, please call us at (318) 257-2930 or visit us at www.latechuniversitytheatre.com.  You can also "like" our Facebook page: facebook.com/latechtheatre, or follow us on Twitter and Instagram at @LaTechTheatre.
Written by Katie Brumfield – stonetheatre@gmail.com