Poinsettia auction breaks record, helps fund student scholarships
Brightly-colored poinsettias helped Louisiana Tech University's Department of Agricultural Sciences bring in a lot of green at its annual Poinsettia Show and Auction held recently at Squire Creek Country Club.
The auction brought in a record $25,575 that will primarily be used to fund student scholarships for the department.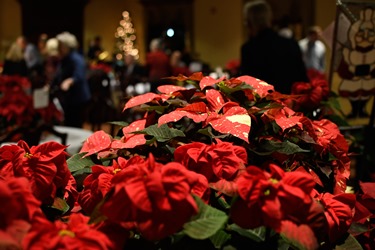 "I was pleased and surprised," Kennedy said. "I don't expect it to keep growing and wouldn't have been shocked if we actually would have dropped from last year's total, which was $24,830. When we moved the auction out to Squire Creek, my goal that first year was to break $10,000, which we did. And it took bigger jumps every year until coming closer to balancing out this year, although we did set a new record. We also had a $1,000 donation at the end. I don't know what drives it and even expected it to fall off a little bit this year after it took such a big jump last year."
Proceeds from the auction are used to pay for the event with the remaining being used for scholarships.
"This year we'll net out about $22,000 for scholarships after paying expenses to hold the auction," Kennedy said.
A stained glass artwork piece featuring a Mama Santa and Papa Santa with a poinsettia in-between them that was created by Louisiana Tech Vice President Emeritus Dr. Virgil Orr earned the highest bid of the night, selling for $2,250.
"Dr. Orr said this might have been last year because he said he just can't do it like he used to," Kennedy said. "The poinsettia was kind of on a different plane than the Mama and Papa Santa figures. It was kind of 3-D. It was an usual piece — a big piece. The bidding for it got pretty fierce for a while there."
Kennedy said a number of the lots auctioned off sold for $1,000 or more.
"We had four lots go for $1,000 each, one for $1,100 and one for $1,200," Kennedy said. "The last lot of the night sold for $1,400.  There were 30 lots we sold with somewhere between three and seven plants each, and the stained glass piece included two poinsettias."
Kennedy said the Tech Farm Sales Room's supply of holiday poinsettias is already running low for those who wish to purchase them.
"We're about out of them quickly," Kennedy said. "We're still moving a few out of the Sales Room, but there's really not much left. Pre-orders this year pretty much did it for us. We've had years where we had a lot of poinsettias left after the auction, but that's not the case this year. People just got them early this year. We're not usually done by now, but there's that much left this year. It's been a really good year."
Proceeds from the Sales Room poinsettia purchases go to the Tech Farm greenhouse fund.
"Those proceeds are crucial toward making the greenhouses self-funded," Kennedy said. "We had somewhere in-between and 4,000 plants to begin with, so it's been a good year."
Written by T. Scott Boatright – boat@latech.edu