Cast set for Theatre Department production of 'She Kills Monsters'
The Louisiana Tech Department of Theatre is thrilled to announce its seventeen-member cast for its third production of the 2016—2017 season,
She Kills Monsters
, directed by Mark D. Guinn.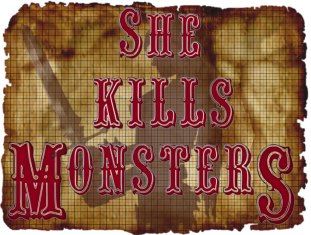 Come and experience this thrilling, heart-pounding, action-packed, and sword-swinging show in Stone Theatre, located in Louisiana Tech University's Howard Center for the Performing Arts on February 7-11, 2017 at 7:30 pm and February 12, 2017 at 2:00 pm. For more information, please contact the Louisiana Tech Theatre office at (318) 257-2930.
The talented individuals selected by Director Mark D. Guinn for the winter production are:
Ashley Fairbank as Agnes (Covington, LA)
Jessica Cashion as Tilly (Joplin, MO)
Lyndsay Manson as Lillith (Haslett, MI)
Olivia Willcox as Kaliope (Bossier City, LA)
Madelyn Deason as Vera (Simsboro, LA)
Emilia Meinert as Evil Tina (El Dorado, AR)
Anne Brown as Evil Gabbi (Monroe, LA)
Millie Omps as Farrah The Faerie / Monster #5 (Slanesville, WV)
Brittany Butler as Narrator / Monster #6 (Jackson, MS)
Cameron Harmeyer as Chuck (Covington, LA)
Collin Cagle as Orcus (Covington, LA)
Austin Harrison as Miles (Mandeville, LA)
Manuel Garcia as Steve (Shreveport, LA)
David Miller as Monster #1 (Lawrence, KS)
Travis Fontenot as Monster #2 (Ville Platte, LA)
Tony Slapper as Monster #3 (Portland, OR)
Quinton Williams as Monster #4 (St. Amant, LA)
A quick-paced comedy fraught with aggressive fairies, fiendish cheerleaders, and slacker demon lords,
She Kills Monsters
is a heart-pounding homage to the warrior (and geek) within us all. Obie award-winning playwright and Louisiana Tech Theatre Alumnus, Qui Nguyen gives us yet another brilliant, action-packed piece of geek theatre that redefines the genre, keeping you on the edge of your seat at one point and in tears the next. Qui has written Louisiana Tech University Department of Theatre its very own unique version of
She Kills Monsters
, making this version of the show a world premiere!
For more information on the Louisiana Tech Department of Theatre, please visit us at www.latechuniversitytheatre.com , "like" our Facebook page: facebook.com/latechtheatre, or follow us on Twitter and Instagram at @LaTechTheatre.
Written by Olivia Wilcox – stonetheatre@gmail.com