Growth, leadership highlights Louisiana Tech's success in 2016
— Ten stories from past year that defined strength of university's impacts and achievements —
Institutional growth, strength of leadership and the significant impacts of its regional and national partnerships are just some of the successes that helped to define Louisiana Tech University in 2016.
In chronological order, the following are ten of the most impactful stories released this past year by Louisiana Tech's Department of University Communications.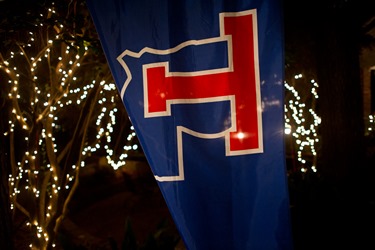 Louisiana Tech ranked No. 1 in state in MONEY's 2016-17 Best Colleges report

Louisiana Tech was ranked No. 1 in the State of Louisiana according to MONEY's 2016-2017 Best Colleges report. The annual report evaluated the top public and private higher education institutions in the nation to determine those that offered students the best value and return on investment. Louisiana Tech also ranked No. 14 in the nation in lowest estimated price for 2016-2017 for students without aid, and No. 15 nationally in lowest estimated price for students with average financial aid.
Louisiana Tech researchers use radar technology to locate post-Katrina damage

An innovative underground radar technology developed at Louisiana Tech's Trenchless Technology Center is helping the City of Slidell to identify and document underground infrastructure damage that had gone undetected in the months and years following Hurricane Katrina. The pipe-penetrating scanning technology, based on ultra-wide band (UWB) pulsed radar, allows for the inspection of buried pipelines, tunnels and culverts to detect fractures, quantify corrosion and determine the presence of voids in the surrounding soil often caused by storm water leaks and flooding.
A.E. Phillips Laboratory School named top elementary school in state

A.E. Phillips Laboratory School at Louisiana Tech was been named Louisiana's top elementary school by StartClass, an education research site powered by Graphiq – an international technology company that delivers insights and analyses from worldwide data. StartClass ranked the top elementary schools in every state based on metrics such as exam passing rates, school environment and disciplinary actions.
Louisiana Tech cited among global universities that could 'challenge the elites' by 2030

Times Higher Education and World University Rankings identified Louisiana Tech as one of 20 universities in the world and just one of nine universities in the U.S. that could "challenge the elite universities" and become globally renowned by the year 2030. A study conducted by Firetail, a strategy consulting firm in Great Britain, identified a "Class of 2030" that consisted of an emerging group of "challenger" universities that are quickly rising in the world rankings and "have an opportunity to become globally renowned in the next 10 to 20 years."
PayScale.com ranks Louisiana Tech No. 1 in state in average mid-career salaries

Graduates with a bachelor's degree from Louisiana Tech earn higher average mid-career salaries than graduates from any other public or private university in the state, according to PayScale.com's 2016-2017 College Salary Report. In addition to leading the State of Louisiana, Louisiana Tech is ranked No. 57 in the nation in median mid-career earnings among public institutions and No. 81 in the nation in median earnings for graduates from research universities.
Louisiana Tech achieves record enrollment, increase in freshman class

Louisiana Tech announced that it enrolled more students for the fall term than at any time in its history, and had achieved a nearly 55 percent growth in first-time freshmen since fall of 2012. Tech enrolled 12,694 students for the fall quarter – a 2.3 percent increase over last year and eclipsing the previous record enrollment of 12,414 students set last fall. Louisiana Tech also had an all-time high of 155 incoming students who earned an ACT score of 32 or higher, and met the qualifications for Presidential Scholar or National Merit Scholar designation.
Louisiana Tech earns another Tier One ranking from U.S. News & World Report

For the sixth consecutive year, U.S. News & World Report ranked Louisiana Tech in its highest tier of "National Universities", according to its 2017 Best Colleges list.  Louisiana Tech and Louisiana State University were the only two public institutions in the state to achieve a Tier One National Universities designation. Louisiana Tech's overall score increased by six points over last year, primarily as a result of a rise in its peer assessment score and freshman retention rate.
Architecture faculty win national film prize for inspirational 'Rebuilding MedCamps'

Brad Deal and Robert Brooks, architecture faculty in Louisiana Tech's School of Design, won the Grand Prize and the People's Choice Award in the American Institute of Architects' (AIA) 2016 I Look Up Film Challenge for their inspirational short film titled, "Rebuilding MedCamps." The film showcases an amazing partnership between the Design Build Studios of Louisiana Tech and MedCamps of Louisiana, and tells the story of how the Tech faculty and students partnered with MedCamps to enrich the lives of young campers through the design and construction projects at the MedCamps grounds. View this inspirational, award-winning film at
https://www.youtube.com/watch?v=p4MPd-SpW5w
.
Louisiana Tech creates scholarship to honor first African-American students

Louisiana Tech and its Office of Multicultural Affairs created a scholarship to honor the legacy of James Earl Potts and Bertha Bradford-Robinson, who were the first male and female African-American students to attend Louisiana Tech. The scholarship will support educational opportunities for minority students attending Louisiana Tech and will contribute to enriching the cultural and diversity experiences of the university's campus community.
Kiplinger ranks Louisiana Tech as best public university value in Louisiana

Kiplinger, the nation's most recognized publisher of business forecasts and personal finance advice, has ranked Louisiana Tech No. 1 overall among the Louisiana's public institutions in its Best College Values 2017 report. Louisiana Tech also ranked No. 1 in Louisiana among public universities for out-of-state students and No. 72 nationally, and was second in the state for in-state students and No. 78 nationally.
For the most up-to-date news and information from Louisiana Tech, visit
http://news.latech.edu
.