Percussion Ensemble promises event that 'pops'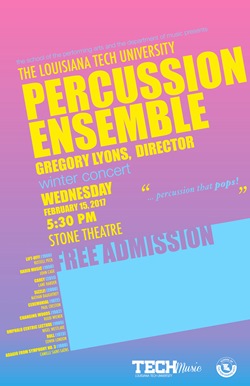 Louisiana Tech University's Percussion Ensemble will present a post-Valentine's Day treat titled "…percussion that pops!"
Slated to begin at 5:30 p.m. Wednesday, Feb. 15, the 15-member percussion ensemble will perform works by Paul Creston, John Cage, Nigel Westlake, Camille Saint-Saëns, Russell Peck, Lane Harder, Nathan Daughtrey, Ruud Wiener and Edwin London.
The concert will take place in Stone Theatre, located in Howard Auditorium on Tech's campus. Admission to the event is free and open to the public.
For more information contact Dr. Gregory Lyons, an associate professor of music, at 318-257-5470, or visit the event's Facebook page at
https://www.facebook.com/events/319738855094380/
.
Written by Judith Roberts – jroberts@latech.edu