Ruston mayor encourages graduates to 'be bold, be brave and believe'
Saturday, February 25 served as commencement for Louisiana Tech University's 326 winter quarter graduates, and Ronny Walker, mayor of Ruston, served as the event's keynote speaker.
Walker focused on three words to emphasize to the graduates: bold, believe and brave.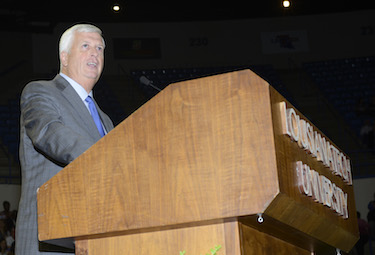 "I want to encourage you to be bold," Walker said. "Bold in your work. Bold in your goals and ambitions. Bold with your dreams… Being bold is one reason you are graduating from a nationally recognized university today. It was a bold move by then President Dan Reneau and his staff, one of which is our president today, Dr. Les Guice, who took this university to selective admissions. A move that many thought would hurt this university, but look at us now."
Walker also encouraged graduates to believe in themselves and others.
"We hear this a lot but I think this is the key to success in so many ways. Have the confidence to move forward," he said. "Believe in the great education you have received at Louisiana Tech University. This wonderful faculty and staff have prepared you for your future so go out and use that education to change the world in your own way."
Lastly, Walker told the graduates they have the tools to succeed in this world – they just need to be brave.
"You are ready to face whatever this world has for you," he said.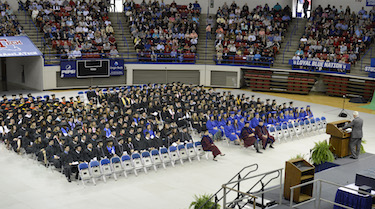 New Louisiana Tech graduate Laura Laughlin majored in family and child studies and will return to her alma mater as a graduate counseling student.
"I'm so blessed to be able to graduate from this university," Laughlin said. "Louisiana Tech has made such a positive impact on my life."
She also had advice for current students on the same path she recently was.
"I would advise current students to be working on their communication skills," she said. "They are so necessary in every part of life. If you can hold an intelligent, flowing conversation with people, you can get very far."
In addition to celebrating the new graduates, the Louisiana Tech Alumni Association inducted Caroline Reaves, a 1985 economics graduate and the CEO of Mortgage Contracting Services, into its Hall of Distinguished Alumni. Brooks Hull, vice president for advancement, presented Reaves with the Tower Medallion officially making her the 78
th
member of the Hall. Established in 1976, the Hall of Distinguished Alumni honors those alumni of the university who have distinguished themselves by exceptional achievement, community service and humanitarian activity.
Upon graduating from Tech in 1985, Reaves moved to Oklahoma City where she began her professional career at Friendly Bank in the Commercial Loan Department. She went on to be a paralegal at Sun Belt Federal Savings and Loan, followed by a position at McAfee & Taft. In 2007, Reaves was offered a position as COO of Mortgage Contracting Services (MCS) and was promoted to CEO in 2009.
Under Reaves leadership, MCS has grown from 40 employees in one office to over 800 employees in multiple offices across the nation. In 2013, MCS made the decision to bring all jobs onshore and chose Ruston as home for MCS' third office. The Ruston office currently has 150 employees and growing. Under Reaves' leadership, the company's revenues have also grown over 300 percent.
Commencement officially ends winter quarter at Louisiana Tech. Spring classes begin Wednesday, March 8.
Written by Judith Roberts – jroberts@latech.edu