Stone Theatre announces cast for Neil Simon's 'Rumors'
Louisiana Tech University's Department of Theatre and the Stone Theatre are pleased to announce the cast for its fourth and final production of their 2016-2017 season, in Neil Simon's "Rumors", directed by Paul B. Crook.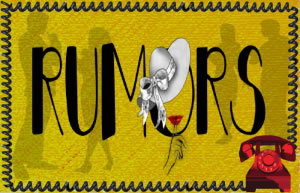 The cast for Simon's classic show will take to the stage at Stone Theatre at 7:30 p.m., May 2-6, and at 2:00 p.m. May 7.  Stone Theatre is located inside Louisiana Tech's Howard Center for the Performing Arts.
The campus and local community are invited to experience this special production featuring a cast that includes the following:
Brittany Butler (Jackson, Mississippi) as Cookie Cusack
Collin Cagle (Covington, Louisiana) as Glenn Cooper
Ashley Fairbank (Covington, Louisiana) as Claire Ganz
Travis Fontenot (Ville Platte, Louisiana) as Ken Gorman
Leah Hanna (Van Vleck, Texas) as Officer Pudney
Cameron Harmeyer (Covington, Louisiana) as Ernie Cusack
Lyndsay Manson (Haslett, Michigan) as Chris Gorman
Nicholas Reeve (Charlottesville, Virginia) as Lenny Ganz
Olivia Willcox (Bossier City, Louisiana) as Cassie Cooper
Chris Williams (Edgewood, Texas) as Officer Welch
The silliness in this production revolves around a dinner party at the home of the Deputy Mayor of New York, who is conspicuously absent from his own party. His lawyer, accountant, psychiatrist, their wives and an assortment of other guests spend the evening trying to determine why he is absent and how that might affect each of their careers.
"(Rumors) has nothing on its mind except making the audience laugh," said Frank Rich's in his review of the original Broadway production in the New York Times in 1988.  Filled with confusion and miscommunication, Rumors is a farcical masterpiece from America's greatest comedic playwright.
For more information on "Rumors" or the Louisiana Tech Department of Theatre, please visit us at
www.latechuniversitytheatre.com
, "like" our Facebook page at
www.facebook.com/latechtheatre
, or follow us on Twitter and Instagram at @LaTechTheatre.
Written by Katie Brumfield – stonetheatre@gmail.com