COES inducts students into Order of the Engineer
Louisiana Tech University's College of Engineering and Science inducted 71 students into the Order of the Engineer on May 5.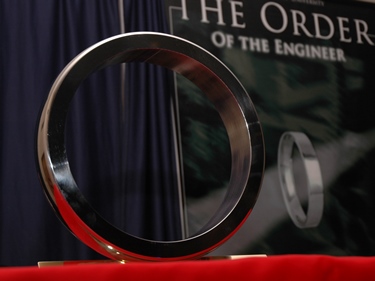 The engineering seniors received rings and professed the Order of the Engineer Obligation to maintain high standards in the engineering profession. The Obligation contains parts of the Canon of Ethics of major engineering societies, and initiates voluntarily pledge to uphold the standards and dignity of the engineering profession and to serve humanity.
Lawrence "Sonny" Adams IV, Mechanical Engineering, Prairieville, Louisiana
Kapil Adhikari, Civil Engineering, Dhading, Nepal
Hunter Thomas Antley, Mechanical Engineering, Ruston, Louisiana
Aziz Avery, Mechanical Engineering, Lake Charles, Louisiana
Sterling Balzer, Chemical Engineering, Prairieville, Louisiana
Ryan Barton, Civil Engineering, Marksville, Louisiana
Paige Boudreaux, Industrial Engineering, New Iberia, Louisiana
Beverly Case, Chemical Engineering, Yukon, Oklahoma
Coleman Case, Electrical Engineering, Ruston, Louisiana
Jade E. Casteel, Industrial Engineering, Sulphur, Louisiana
Rohan Chalise, Electrical Engineering, Ruston, Louisiana
Hannah Rebecca Clark, Mechanical Engineering, Haughton, Louisiana
Madeline Carlisle Collins, Mechanical Engineering, Shreveport, Louisiana
James Covington, Mechanical Engineering, Longview, Texas
William M. Cowles, Electrical Engineering, Springfield, Illinois
Omar Rashid Dawud, Civil Engineering, Shreveport, Louisiana
Dinah V. Diaz, Mechanical Engineering, Delray Beach, Florida
Ethan Dolan, Mechanical Engineering, Baton Rouge, Louisiana
Brendon Doran, Mechanical Engineering, Baton Rouge, Louisiana
Taylor Downhour, Mechanical Engineering, Monroe, Louisiana
Danielle Eschete, Mechanical Engineering, Houma, Louisiana
Sean M. Esponge, Civil Engineering, Poydras, Louisiana
Kylie Jordan Farrar, Civil Engineering, Choudrant, Louisiana
Scott Felder, Mechanical Engineering, Ponchatoula, Louisiana
Sari Freeman, Industrial Engineering, West Monroe, Louisiana
Joshua Gomez, Mechanical Engineering, Shreveport, Louisiana
Habaraduwa Attatage Gayashan Udana Ariyawansa, Civil Engineering, Kaduwela, Sri Lanka
John Steven Herren, Mechanical Engineering, Ruston, Louisiana
Justin Higdon, Mechanical Engineering, Stonewall, Louisiana
Jacob D. Hogue, Electrical Engineering, Spearsville, Louisiana
Ronnie Huckaby, Jr., Mechanical Engineering, Quitman, Louisiana
Peter Idenu, Biomedical Engineering, Gonzales, Louisiana
Miguel Angel Jimenez Martinez, Industrial Engineering, Pachuca, Mexico
Andrew Johnsen, Mechanical Engineering, Flowood, Mississippi
Emily Jean Jones, Civil Engineering, Benton, Louisiana
Kayleigh Jowers, Mechanical Engineering, Vidalia, Louisiana
Marcus Antoine Kety, Biomedical Engineering, Folsom, Louisiana
Andrew LeBlanc, Mechanical Engineering, New Iberia, Louisiana
Matthew McHenry, Electrical Engineering, Monroe, Louisiana
Mohammed Mohammed, Mechanical Engineering, Marrero, Louisiana
John Andrew Moore, Mechanical Engineering, Ruston, Louisiana
Agnes Nwokorie, Biomedical Engineering, Gonzales, Louisiana
Michael Harris Parker, Biomedical Engineering, Bossier City, Louisiana
Gabriella Perez, Electrical Engineering, Metairie, Louisiana
Kelsey Claire Phelan, Biomedical Engineering, Covington, Louisiana
David Plaisance, Mechanical Engineering, Marrero, Louisiana
Luther R. Pringle III, Mechanical Engineering, Livingston, Louisiana
Alexandria D. Proffet, Mechanical Engineering, Baton Rouge, Louisiana
Paul Philip Puneky, Industrial Engineering, Abita Springs, Louisiana
Dhanika Yasodha Ranasinghe, Mechanical Engineering, Ellicott City, Maryland
Grant William Reddoch, Chemical Engineering, Lake Charles, Louisiana
Joseph Richard, Mechanical Engineering, Denham Springs, Louisiana
Zachary Stephen Rotolo, Mechanical Engineering, Rockwall, Texas
David Rowen, Mechanical Engineering, Camden, Arkansas
Alek T. Seawright, Electrical Engineering, Alexandria, Louisiana
Colby Kevin Spears, Civil Engineering, Bogalusa, Louisiana
Cade Ryan Stephenson, Electrical Engineering, Ruston, Louisiana
Ethan Michael Sullivan, Nanosystems Engineering, Doyline, Louisiana
Gerald Austin Taylor, Electrical Engineering, Dubach, Louisiana
Luke Allen Taylor, Mechanical Engineering, Choudrant, Louisiana
Caleb Alexander Thibodeaux, Mechanical Engineering, Prairieville, Louisiana
Austin Kyle Thomas, Mechanical Engineering, Denham Springs, Louisiana
Dekeveon Thomas, Industrial Engineering, Haynesville, Louisiana
Rafael E. Torrealba Suarez, Industrial Engineering, Monagas, Venezuela
Durgesh Trivedi, Mechanical Engineering, Gujarat, India
Luke Joseph Villermin, Mechanical Engineering, New Iberia
Mary Justine Voisin, Civil Engineering, Lafitte, Louisiana
Christian Gentry Warren, Mechanical Engineering, Castor, Louisiana
Chance Washington, Electrical Engineering, Metairie, Louisiana
Richard H Weaver Jr., Mechanical Engineering, Altus, Oklahoma
Bradley Cole Wyant, Electrical Engineering, West Monroe, Louisiana
Written by Brandy McKnight – mcknight@latech.edu