TOP DOG New Venture Championship winners announced
A total of $12,500 in cash and prizes were awarded recently to the most innovative, student-developed product and service ideas at the 2017 TOP DOG New Venture Championship at Louisiana Tech University.
Awards were presented to the top three finishers in the competition with the "Lunch Pad" team of Jon Emas (supply chain), Nathaniel Foster (economics) and Zachary Fussell (accounting) winning first place and a $3,000 prize with a sharing economy style business aimed at connecting hungry people to home cooks.  The Louisiana Tech Innovation Enterprise Fund added a $1,000 prize to Tech Launch Pad's first place award.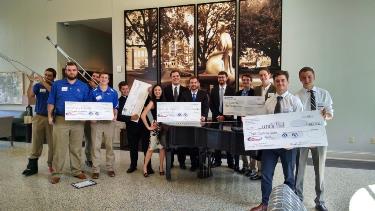 Second place and a $1,500 cash prize were awarded to the "Mallard Hazard" team and Sonny Adams (mechanical engineering), Ethan Dolan (mechanical engineering), David Rowen (mechanical engineering) and Cameron Robertson (entrepreneurship).  Mallard Hazard is a duck decoy accessory product that lures ducks and helps hunters take home their limit on the bird.
The "LifeResin" team of Danielle Eschete (mechanical engineering), David Plaisance (mechanical engineering), Andrew LeBlanc (mechanical engineering), Luke Villermin (mechanical engineering) and Ethan Sullivan (nanosystems engineering) earned third place honors for their developing 3-D printable resin for patients suffering from chronic bodily wounds.  In addition to the third place prize, Life Resin earned the $2,000 Jones Walker Entrepreneurial Spirit Award which recognizes the team with the most entrepreneurial spirit.
Jones Walker, LLP serves local, regional, national, and international business interests in a wide range of markets and industries, and has grown to become one of the largest law firms in the United States.  Today, they have approximately 390 attorneys in Alabama, Arizona, District of Columbia, Florida, Georgia, Louisiana, Mississippi, New York, Ohio and Texas.
Teams competed in the TOP DOG Idea Pitch competition this past October with the top six teams advancing to compete in the TOP DOG New Venture Championship.  In addition to the cash awards presented to the winning teams in the New Venture Championship, the Louisiana Tech Robert H. Rawle Enterprise Center sponsors six months of incubator space valued at $4,500.
Supporting sponsors for the TOP DOG include the Louisiana Tech College of Business, College of Engineering and Science, Center for Entrepreneurship and Information Technology (CEnIT), Louisiana Tech Enterprise Center, Innovation Enterprise Fund and Technology Business Development Center (TBDC).  Judges for the TOP DOG competition included Lance Foster, partner with Jones Walker; Randy Braddock, vice president with Argent Financial Group and Grant Taylor with Buck Commander.
Teams in the TOP DOG competitions are scored on the quality of their new venture investment deck, presentation, and the overall viability of their business concept. The TOP DOG was established in 2002 and is coordinated by Debbie Inman, director of CEnIT. Members of Bulldog Entrepreneurs, a student organization which empowers entrepreneurs and promotes innovation on the Tech campus, serve as facilitators for the event.